Ultimate Couples Bucket List
Starting a couples bucket list is a great way to add fun and spontaneity to your relationship. Below you will find 115 bucket list ideas for couples to help you feel closer together than ever.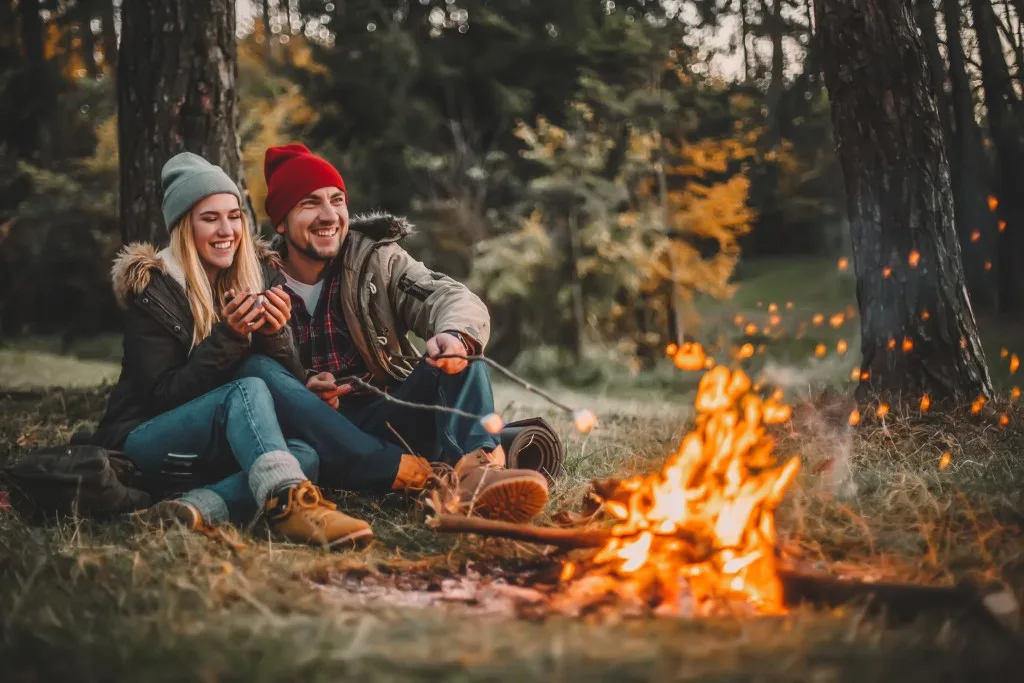 No matter how long you've been together, creating a bucket list of things you want to do together, dates you want to go on, trips you want to take, and experiences you want to have is an amazing bonding activity that will bring you closer together as a couple.
More Bucket Lists For Couples
Summer Bucket List For Couples : 100 Summer Romance Ideas
Spring Bucket List For Couples: 50 Amazing Spring Date Ideas
Fall Bucket List For Couples- 31 Romantic Fall Date Ideas
Having a couples bucket list can help keep your relationship exciting! 
Below are 115 bucket list ideas for couples to give you some inspiration for your own list. 
These are great ideas for a bucket list with boyfriend or bucket list with girlfriend.
And don't miss the ultimate date night bucket list for even more ideas of fun things you can do with your significant other to keep your relationship exciting.
Many of these relationship bucket list ideas are easy and can be done at home or as a fun date on the weekends, while others are bigger adventures that will take your relationship to the next level!
Ready to create your own couples bucket list?
Bucket List Ideas for Couples
Here are 115 fun things to do as a couple. 
1.Go to a carnival together
2. Take silly photos in a photo booth
3. Stargaze on a rooftop with blankets
4. Be each other's New Year's Eve kiss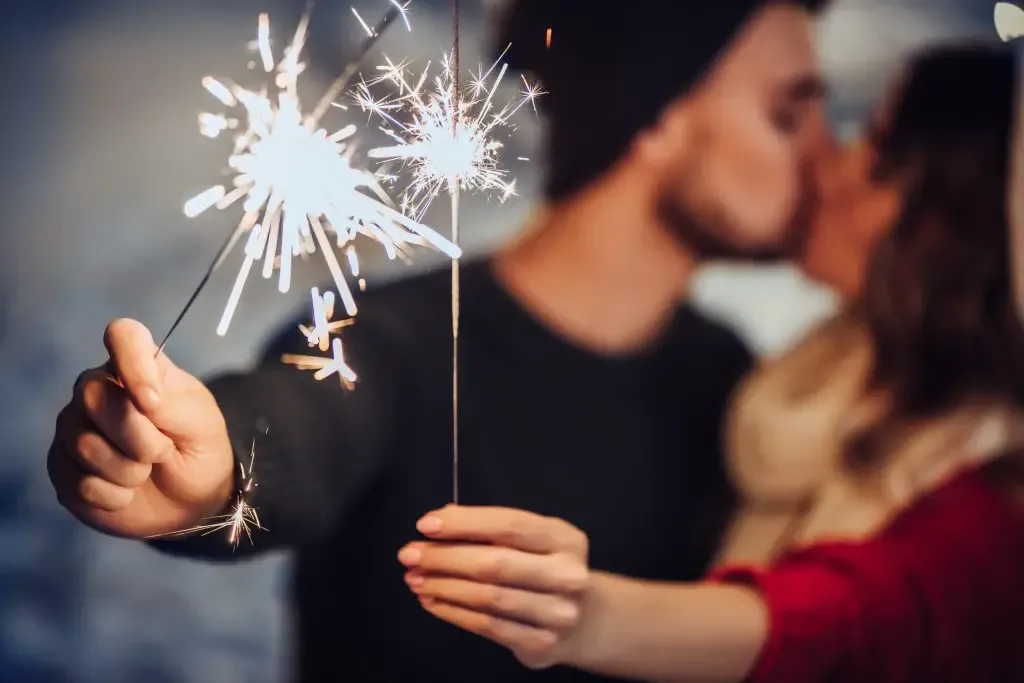 5. Go skinny dipping 
6. Make a wish at the Trevi Fountain in Rome
7. Go on a double date with friends
8. Get a couples massage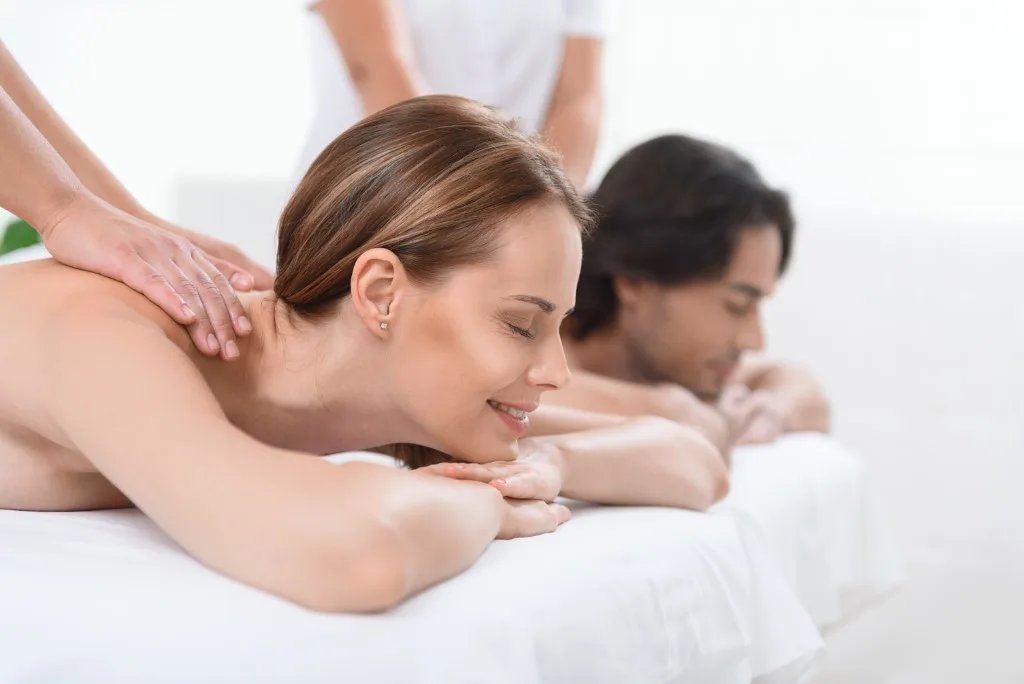 9. Move in together
10.Have a picnic on the beach
11. Take a cooking class together
12. Dress up in a couples costume for Halloween
13. Kiss on top of a Ferris Wheel
14. Take a vacation together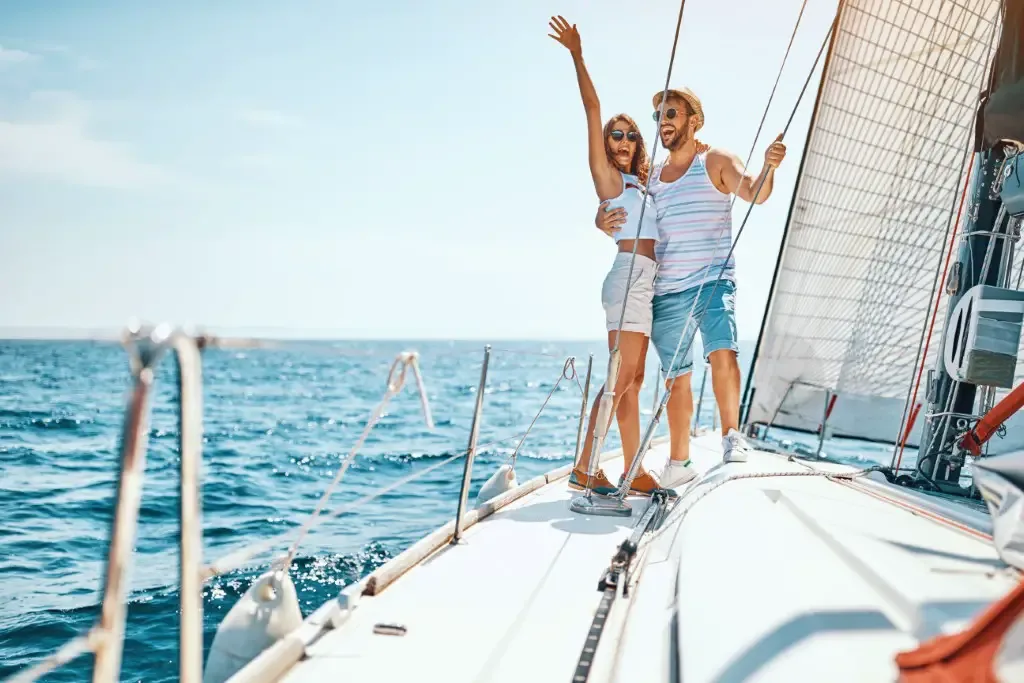 15. Stay up all night and watch the sunrise
16. Go for a hike with an amazing view (here are 25 Bucket List Hikes To Do Before You Die)
17. Take a spontaneous road trip
18. Kiss in front of the Eiffel Tower in Paris
19. Go wine tasting at a vineyard
20. Jump into a pile of fall leaves together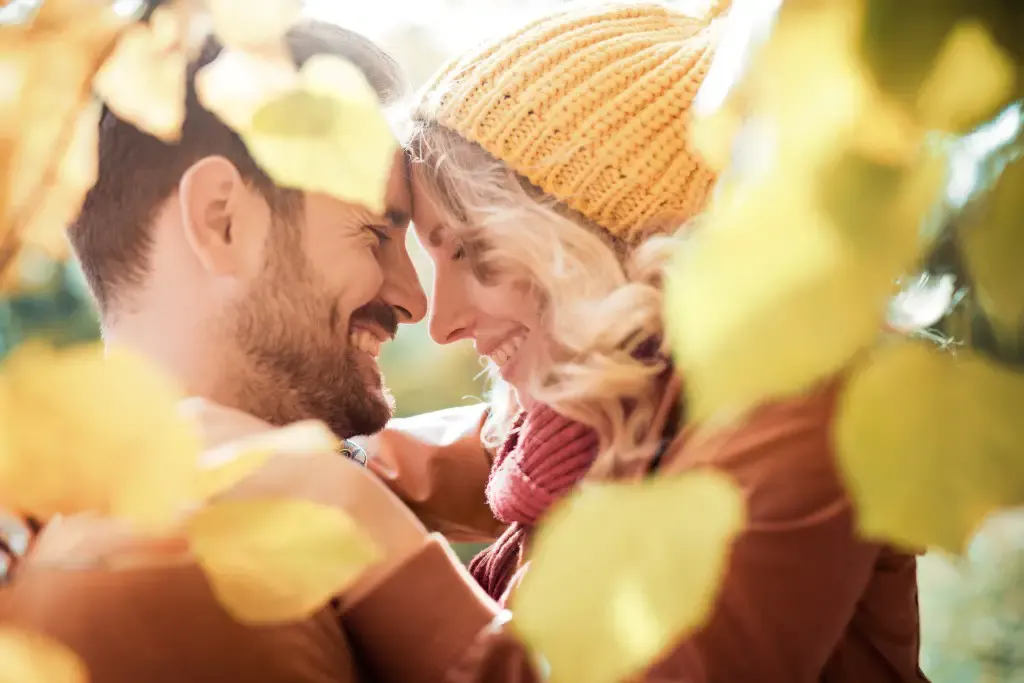 21. Make a couples playlist
22. Take ballroom dance classes
23. Kiss underwater
24. Go to a drive-in movie
26. Rent a cabin with a hot tub for the weekend
27. Recreate your first date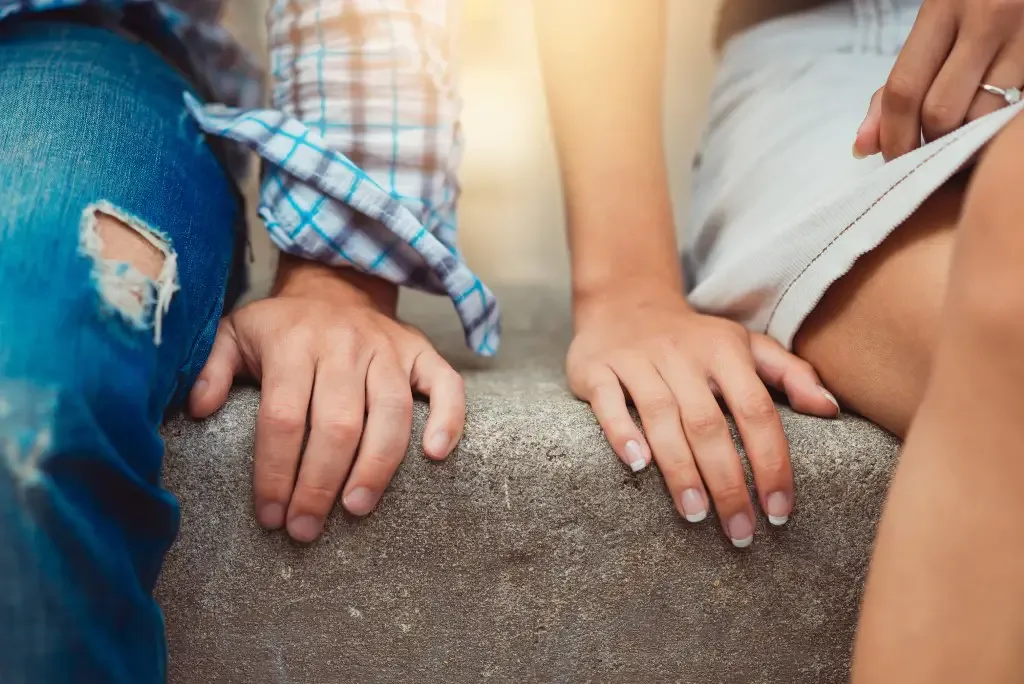 28. Have a snowball fight
29. Dance outside in the pouring rain
30. Have a make your own pizza night
31. Go to karaoke and sing a duet
32. Cut down a Christmas tree together
33. Go apple picking in the fall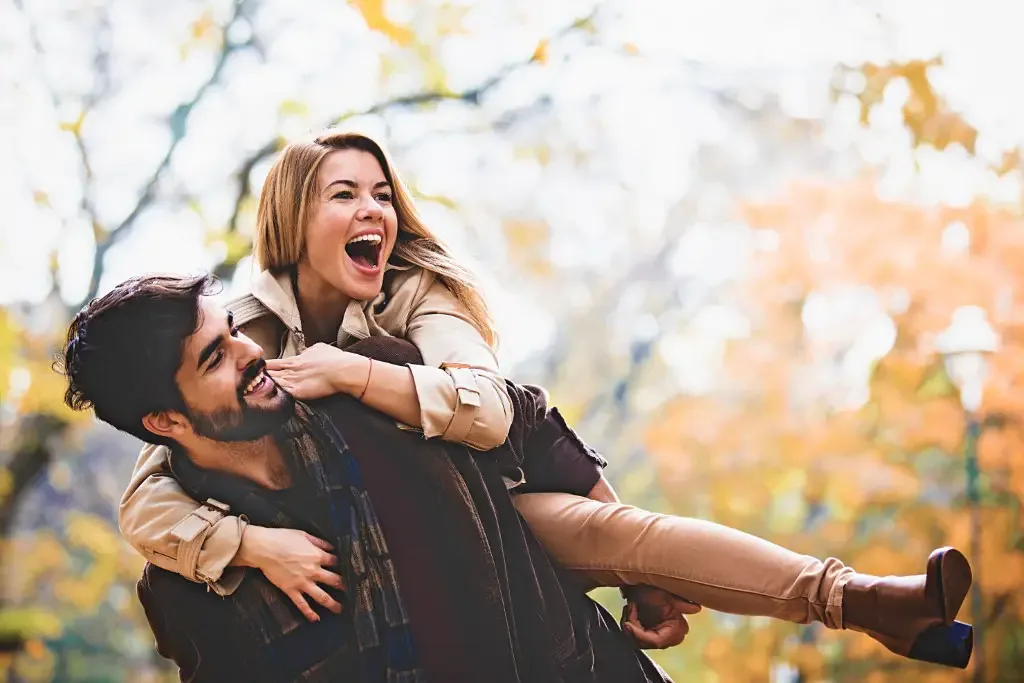 34. Learn something new like painting together 
35. Build a blanket fort
36. Have a movie marathon – here are some movie bucket lists for you
37. Visit a national park together (check out our National Park Bucket List for inspo.)
38. Bundle up and go for a walk in the snow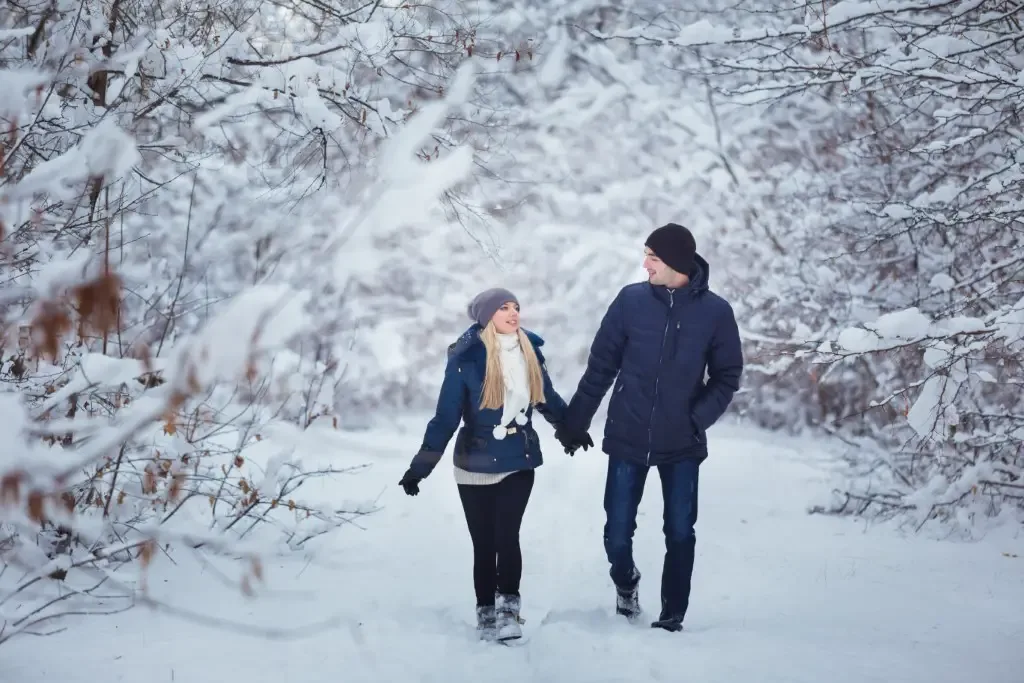 39. Kiss under the mistletoe and other items from our Couples Christmas Bucket List.
40. Go kayaking or canoeing
41. Take a weekend getaway to a quaint B&B
42. Go ice skating together. Check out these ice skating tips for beginners to get you started. 
43. Watch each other's favorite movie
44. Bake and decorate cookies together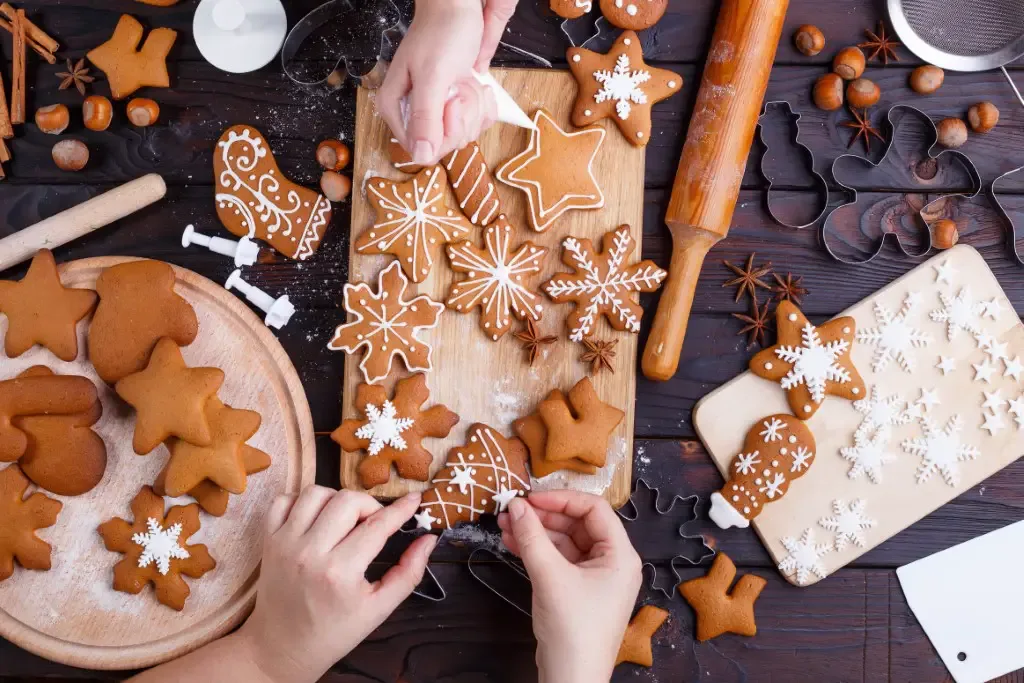 45. Watch the sunset together
46. Get on the kiss cam at a baseball game 
47. Splurge on an all-inclusive resort somewhere exotic
48. Try something crazy like bungee jumping together 
49. Attend a concert for an artist you both love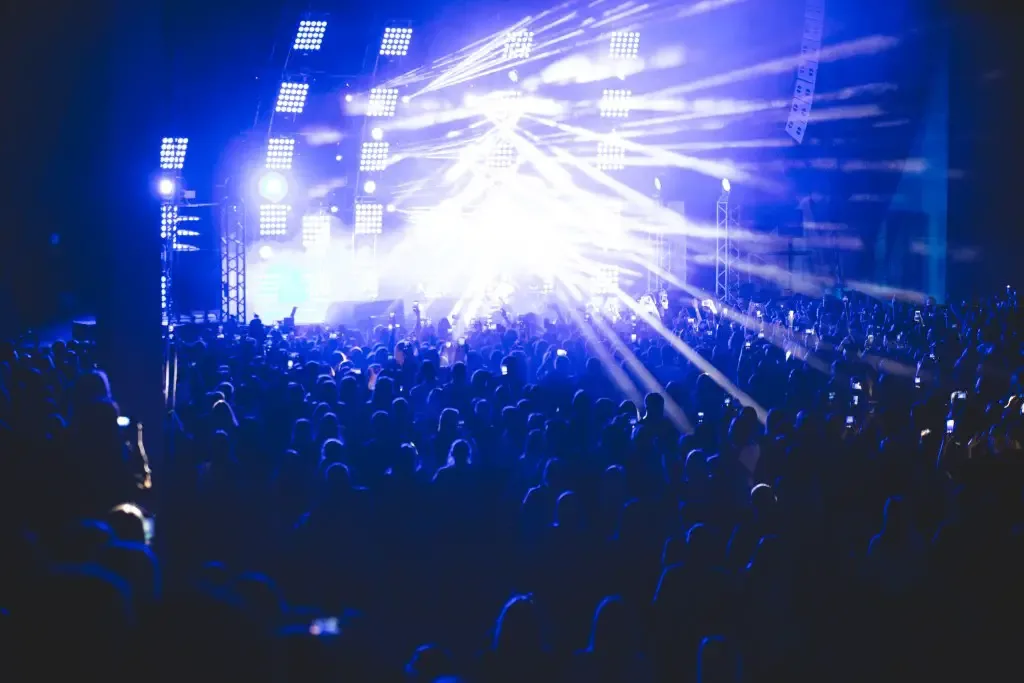 50. Visit each other's hometowns
51. Hike to a waterfall
52. Take cheesy couples' photos
53. Write each other "open when" letters
54. Go mini golfing
55. Adopt a pet together
56. Make a couples' scrapbook
57. Visit the place where you had your first kiss
58. Spend an evening getting cozy by the fire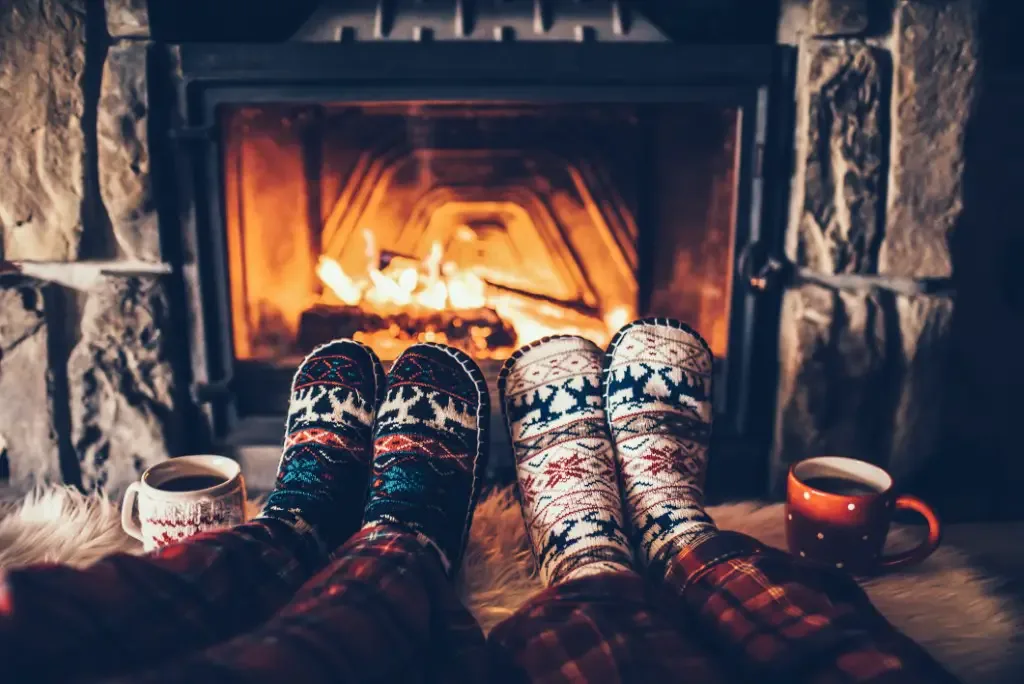 59. Have a technology-free weekend
60. Host a dinner party
Binge watch a TV show together
62. Go on a brewery tour
63. Take a workout class together
64. Plan an amazing wedding and honeymoon. If you are newly engaged, check out the Engagement Bucket List for fun things to do before your wedding. 
65. Learn each other's love languages
66. Go to a haunted house at Halloween
67. Take a hot air balloon ride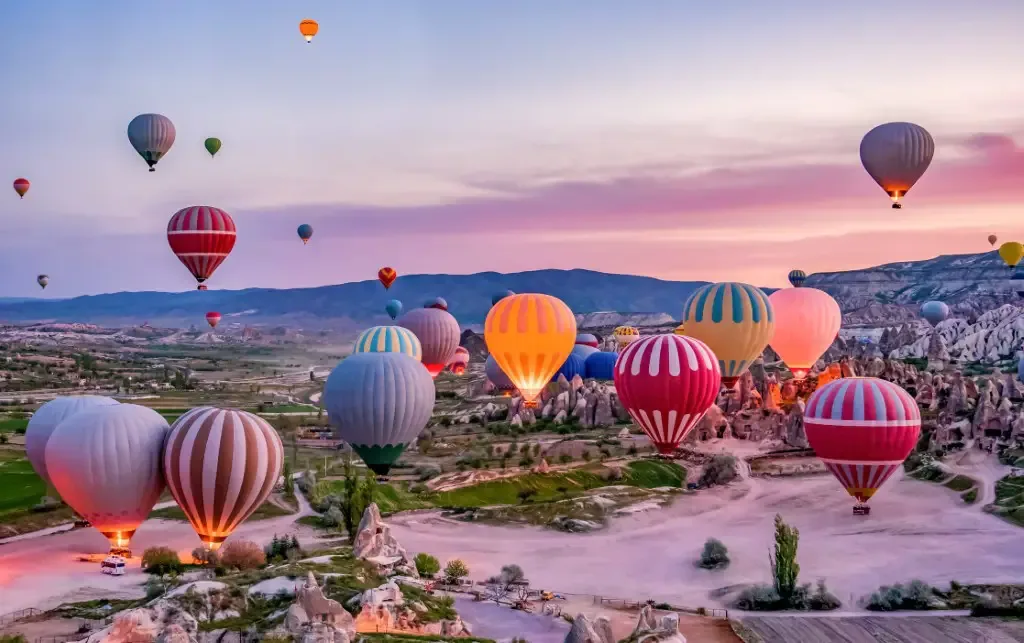 68. Add a love lock to a bridge somewhere in the world
69. Play a sexy game of Twister
70. Go camping and sleep under the stars
71. Take a bubble bath together
72. Make a date jar to never run out of date ideas
73. Share a milkshake or ice cream sundae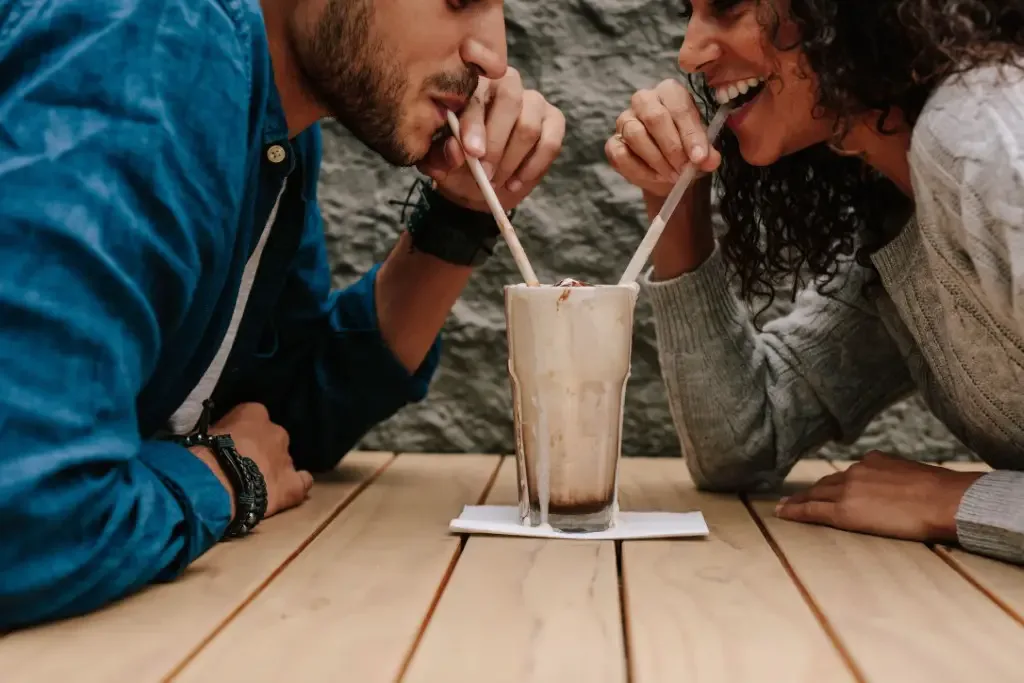 74. Have a water balloon fight
75. Create a vision board for your future
76. Go to the aquarium together
77. Buy ugly outfits at the thrift store and wear them on a date
78. Go to Disney World or Disneyland together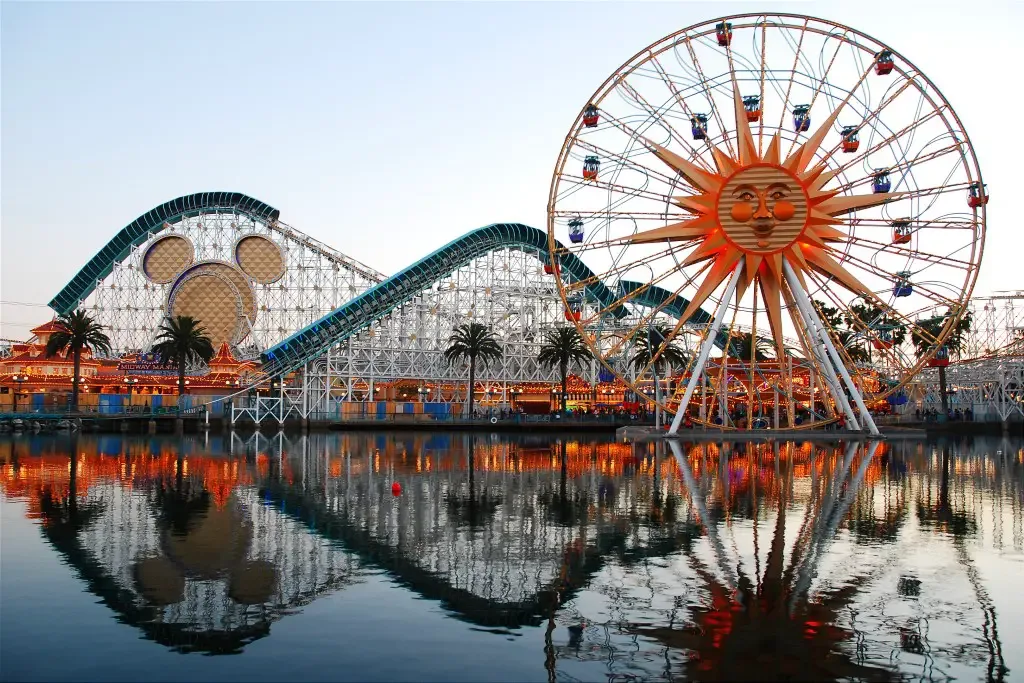 79. Get matching couples tattoos
80. Take a picture of the two of you kissing
81. Relax in a hammock together 
82. Take a bucket list trip to Santorini, Greece
83. Kiss in everyplace on our Kissing Bucket List
84. Visit the zoo together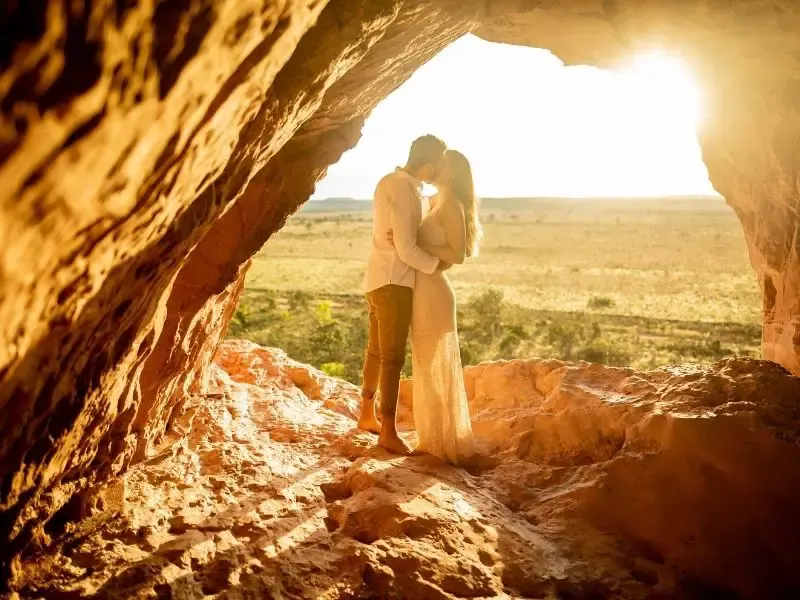 85. Go horseback riding or stay at a Dude ranch
86. Take a pottery class
87. Start your own business together – from an online side hustle to your own farmer's market stall, there are lots of options
88. Have a crazy weekend in Las Vegas
89. Sleep under the stars
90. Go somewhere awesome for new years and kiss as the clock turns midnight (New York, Sydney, London)
91. Learn who is the best driver and who is the best navigator
92. Read a book together and discuss – your own private book club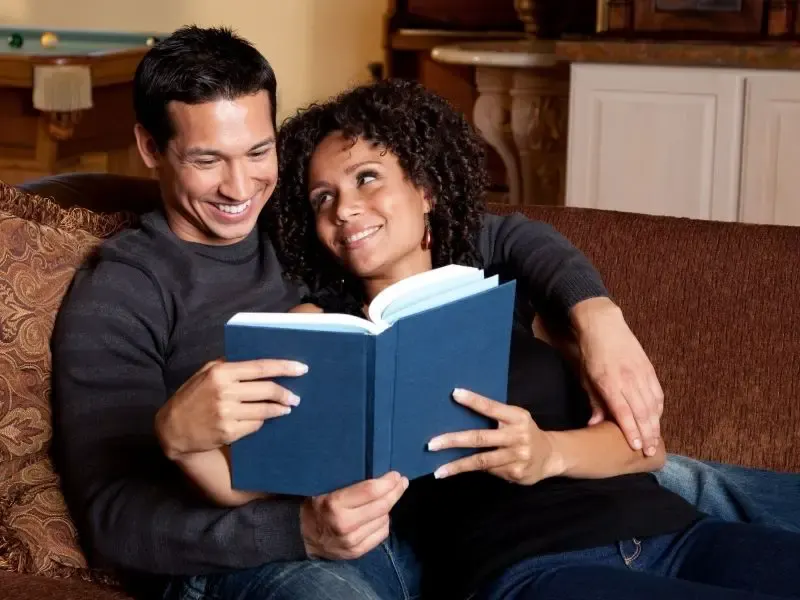 93. Learn to make each other's favorite childhood comfort food
94. Have a spa weekend together
95. Watch fireworks together
96. See all the wonders of the world
97. Go tandem biking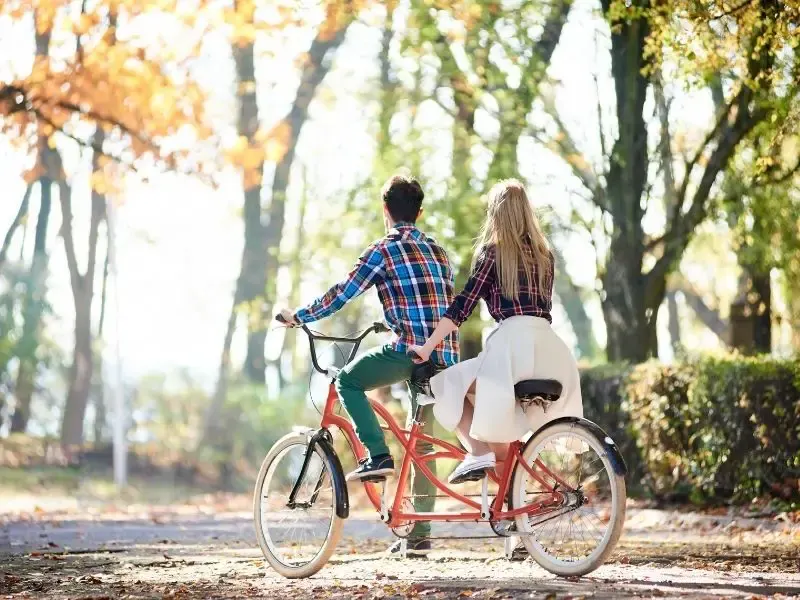 98. Do an escape room
99. Join the mile high club
100. Sleep the night in an ice hotel
101. Volunteer as a couple
102. Sponsor a child
103.Stay in an overwater bungalow
104. Dine at a murder mystery theatre
105. Watch the international championship of your favorite sport
106. Swim with dolphins
107. Go on an RVing vacation
108. Learn to ski
109. Go to a masquerade ball.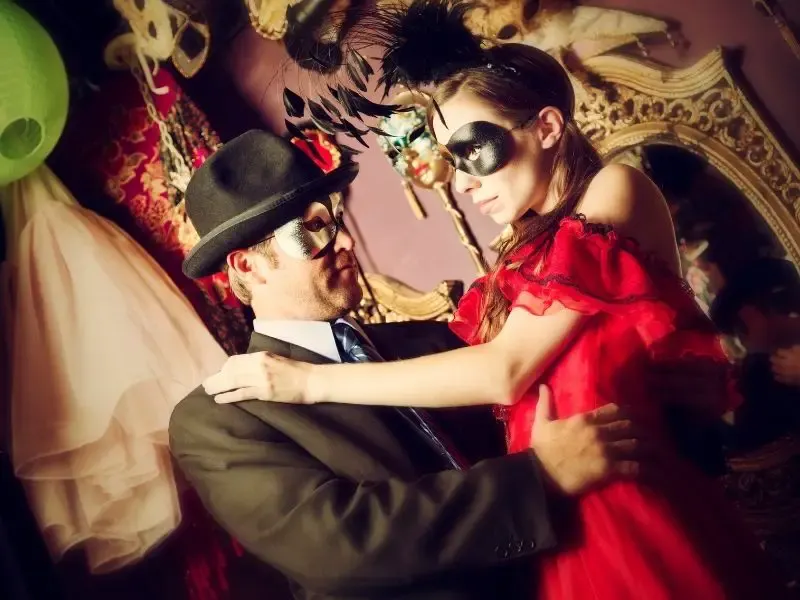 110. Be tourists in your own town and show each other your favorite places
111.Take part in a marathon or obstacle race as a couple
112. Wake up together on Christmas morning
113. Cheer each other on at a competition or work event
114. Go on a game show
115. Win a pub quiz night together
Relationship Bucket List
I hope these ideas gave you some inspiration for your own couples bucket list. 
Having a bucket list is a great way to make the most out of your time together, strengthen your relationship, and make incredible memories together!
If you want to add some excitement to your relationship, creating a couple bucket list full of fun experiences and romantic ideas is one of the best ways to do that.
Now sit down and create your dream relationship bucket list together!
More Bucket List Ideas
100+ Memorable Date Night Bucket List Ideas
The Ultimate Fall Bucket List: 65+ Fall Bucket List Ideas