Michigan is a place of diverse and abundant natural beauty and this Michigan bucket list will help you explore it all.
The state has something for everyone – from lakes, rivers, coastlines, forests, farmland and more.
There are many cities to explore including Detroit, Grand Rapids, Lansing and Ann Arbor.
The following list contains 100 things you should do before you die that are not only available in Michigan but make it worth visiting again and again!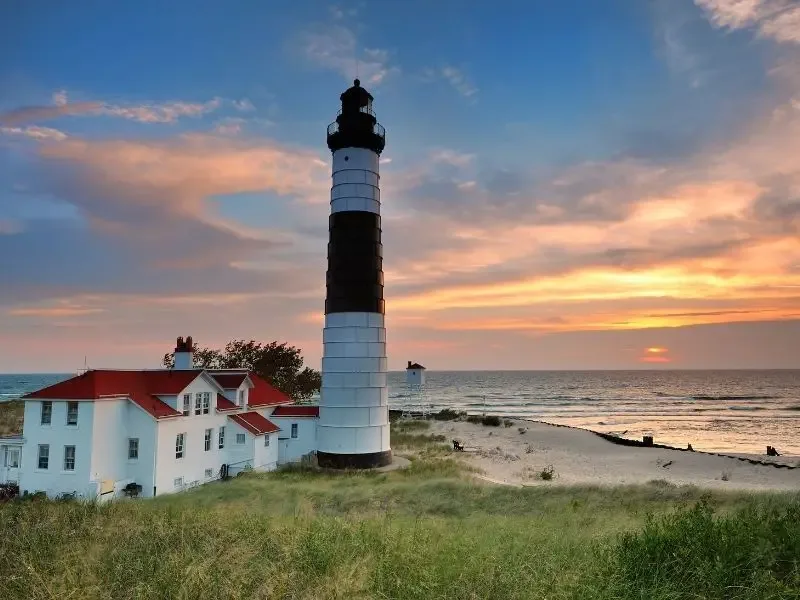 This post contains affiliate links. Please read my  Disclosure for more information
RELATED POSTS
The Ultimate Michigan Bucket List
1. Watch a college football game at Michigan University's huge stadium.
2. Drive through Detroit's historic neighborhoods
3. Attend a live performance at Fox Theatre
4. Get festive at Frankenmuth's Christmas village, this is my favorite thing on my Michigan Bucket list.
5. Take a drive along the Detroit River International Wildlife Refuge
6.Attend the six-day Mackinac Island Fudge Festival, which includes a fudge eating contest and the opportunity to sample different flavors of fudge from around the world
7.Watch daily demonstrations of blacksmithing at the Benjamin Blacksmith Shop on Mackinac Island
8. Experience snowmobiling and ice fishing in Northern Michigan
9. Watch a baseball game at Comerica Park, home of the Detroit Tigers and a Michigan Bucket list essential.
10. Tour the historical Henry Ford Museum, located in Dearborn
11. Stroll through the William G. Milliken State Park
12. Observe Old Faithful at the Great Lakes Science Center's Earth Gallery and Planetarium
13. Visit Mackinac Island's Grand Hotel
14. See a movie at the historic Michigan Theatre
15. Scenic boat tour of Pine Lake in the Huron National Forest
16. Tour North America's largest indoor murals at the Fisher Building in Detroit
17. Attend a performance by Opera Michigan in Detroit or Ann Arbor
18. Indulge in some ice cream at the state's oldest dairy farm, McGonegal's Dairy
19. Tour the Michigan Central Station, former headquarters of Detroit's iconic car manufacturer Henry Ford
20. Bike or hike through Belle Isle Nature Center and enjoy miles of trails on this island park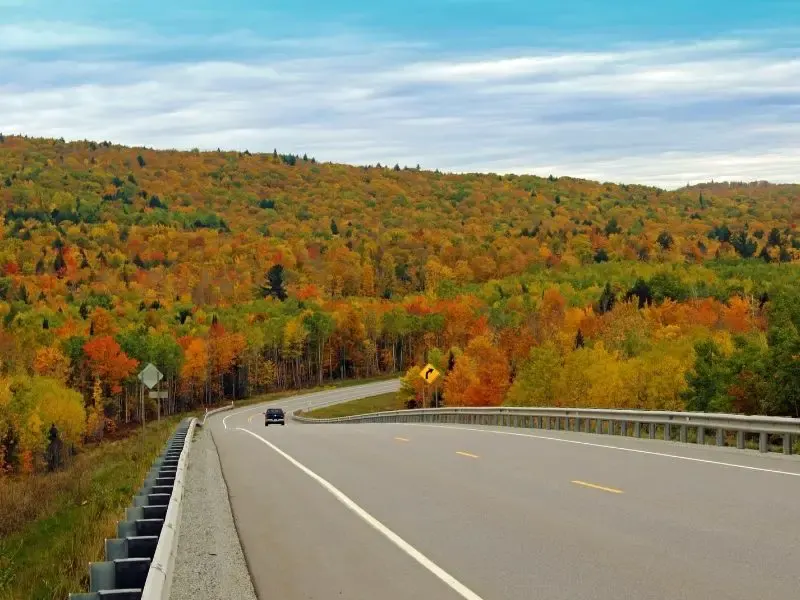 21. Take an afternoon stroll through the peaceful, rolling hills of South Lyon
22. Visit the world's largest freshwater dune system at Sleeping Bear Dunes National Lakeshore – a photographer's paradise
23. Tour Mackinac Island's many historical sites including Fort Michilimackinac and Mission Point Lighthouse
24. See a performance by the Michigan Opera Theatre
25. Tour some of America's largest and most diverse freshwater dune country at Pictured Rocks National Lakeshore, which is part of Lake Superior
26. Step back into history at Fort Wayne in Detroit, home to one of the oldest buildings in Michigan
27. Go for a ride on an authentic steam locomotive at the Henry Ford Museum in Dearborn
28. Tour the Royal Oak Brewery and Pub
29. Attend an event at Cobo Center in Detroit, home to more than one million square feet of space for trade shows, conventions and concerts
30. Visit St. Anne's Hill, Detroit's first suburb
31.Have dinner in historic Ann Arbor, a must visit town on any Michigan bucket list.
32. Experience Michigan's blend of industry, agriculture and natural beauty on a scenic drive through the Irish Hills in southeast Michigan
33. Take a dip in Big Lake swimming pool, Southeast Michigan's largest outdoor swimming pool
34. Tour the Detroit Riverfront, which has been transformed into a premier gathering place for residents and visitors – with parks, restaurants, entertainment venues and more
35. Dine on Michigan's fresh seafood including the state's signature dish: fried perch at Hartzler's Wood Grill in Holland
36. Take a walk through the world's largest known sand dune, the Sleeping Bear Dunes
37. Take a free tour at the at the Morley Chocolate Factory
38. Explore one of America's first garden clubs: The Garden Club of Michigan
39. Experience natural beauty aboard the SS Badger, a self-propelled car ferry that has been sailing Lake Michigan since 1900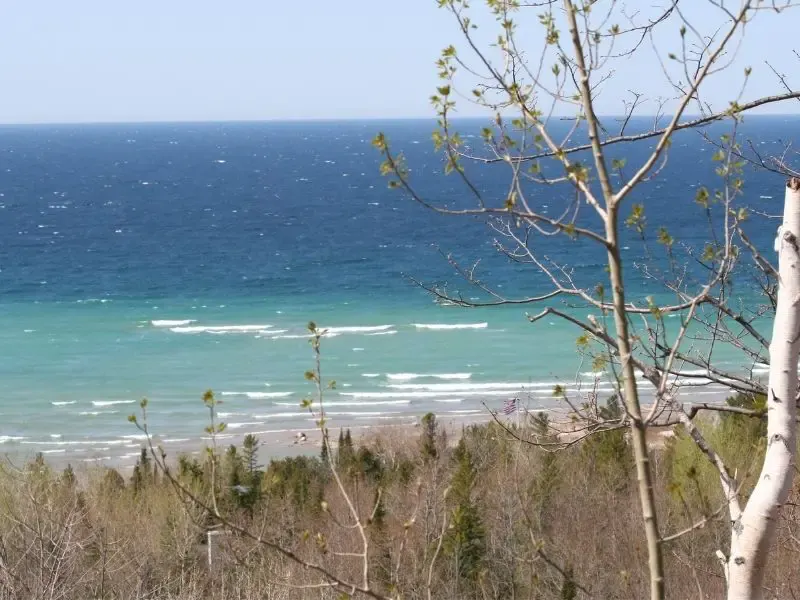 40. No Michigan bucket list would be complete without a mention of the car. Tour the Ford Piquette Avenue Plant to learn about the first car ever built by an American automaker
41. Attend a performance at Detroit Institute of Arts' Orchestra Hall in Midtown and enjoy world-class performances from the celebrated Detroit Symphony Orchestra and classical ballet
42. Tour the historic Michigan Central Station in Detroit, built by architect Cass Gilbert
43. Take a scenic drive along M-22 to Lake Michigan's dune country for an afternoon of fun and adventure at Holland State Park
44. Eat one of America's oldest candy bars – the Baby Ruth – at the Mackinac Island Candy Kitchen
45. Sample some of the state's finest wines at Chateau Grand Traverse in Old Mission
46. Enjoy a walk through Camp Michigania, Michigan's original summer camp for boys and girls from 1904 to 1955
47. See the largest school building in the world. The University of Michigan's Angell Hall is larger than Yankee Stadium
48. Go for a drive along Lake Shore Drive and City Airport Road near downtown Detroit to see some of America's most impressive buildings including the Renaissance Center, Ford Field and Fox Theatre
49. Attend a summer concert at Five Lakes Amphitheatre in Ludington
50. View life-size fiberglass sculptures of world leaders including Ronald Reagan, George H.W. Bush and Wladimir Putin on Mackinac Island
51. Enjoy a unique blend of music, history and scenery along the Great Lakes Circle Tour in Michigan's Upper Peninsula
52. Visit the historic home of Henry Ford in Dearborn to see where he invented the Model T and revolutionized transportation in America
53. Dive into a bowl of Michigan cherries, strawberries and blueberries at one of the many farmers markets across Michigan including MacFarlane Orchards near Detroit
54. Enjoy an afternoon strolling and shopping in historical downtown Bay City
55. Walk through the spectacular architecture of Michigan's historic court house steps – the one-of-a-kind entryway is on the National Register of Historic Places
56. Experience Michigan's diverse wildlife, including bald eagles, loons, deer and wolves at the Shiawassee National Wildlife Refuge near Flint
57. Hike through a dense forest and explore an active copper mine filled with massive mounds of moss-covered boulders at Tahquamenon Falls State Park in the Upper Peninsula
58. Stroll along a picturesque pier on Lake Michigan's Pere Marquette beach in Ludington
59. Savor a taste of apple pie made from Michigan-grown apples at the Melting Pot in Saugatuck, where you can watch them being baked on site
60. Attend one of America's best outdoor classical music performances held each summer in Sylvan Lake near Grand Rapids during the renowned Music Festival at Iroquois Amphitheater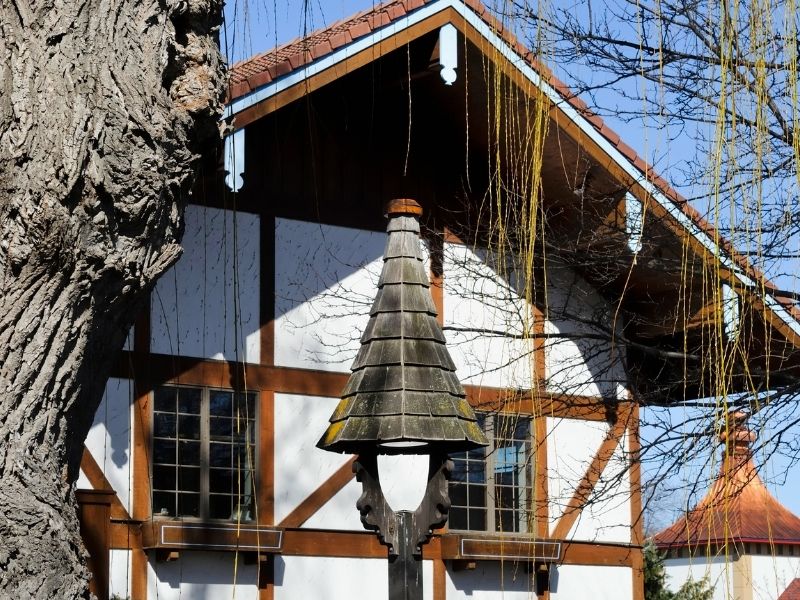 61. Go for a hike along scenic trails and experience Michigan's history and nature in the Upper Peninsula's Porcupine Mountains Wilderness State Park
62. Get ready for fall at the Franklin Cider Mill's fresh doughnuts and cider.
63. Tour historic Fort Mackinac, built during the War of 1812 to protect the Great Lakes from British invaders
64. Visit downtown Charlevoix for a taste of Michigan's French heritage in its unique shops and restaurants
65. Take a rowboat out on Torch Lake in Petoskey for an afternoon of fishing and picnicking
66. Take a trip back in time at Fort Wayne on the Maumee River near Grand Rapids where you can see re-enactments of life during Michigan's pioneer days
67. Stroll along the picturesque riverwalk, take a horse and carriage ride, sip wine and try ethnic food during a weekend trip to Grand Rapids
68. Take a short drive from Detroit Metro Airport to visit Greenfield Village, Henry Ford's world famous outdoor museum where you can see the Wright Brothers plane in which they flew in 1903 and stay overnight at one of the historic cottages
69. Visit one of the oldest lighthouses on Lake Michigan at Grand Haven State Park near Grand Rapids
70. Salute a hometown hero by visiting the grave site of Gerald R. Ford, 38th President of the United States and native Michigander in Crown Hill Cemetery
71. Take a trip down memory lane by visiting one of the many historical landmarks and museums in Detroit
72. Travel back in time by stepping into a genuine post office from 1902 at the Hermann Miller Furniture Company's Factory Tour near Zeeland
73. Spend a weekend exploring Cheboygan, home of Michigan's geographical center – a green village where you can glimpse the "straight line" that divides our state in half
74. Explore more than 140 miles of white sandy beaches on Lake Michigan at Mears State Park near Ludington, including Fort Michilimackinac – a reconstructed 17th century French fort with an onsite museum and old-time gift shop
75. Go for a horse drawn carriage ride through the historic streets of downtown Detroit's Rivertown district and visit the indoor farmers market in mid-summer
76. Have a picnic or just relax on one of Michigan's many pristine beaches along Lake Huron, including Mackinaw City, Leland and Muskegon
77. Visit the Charles H. Wright Museum of African American History in Detroit, which is the world's largest such museum dedicated to black history and culture, as well as explore the Negro League Baseball Museum downtown
78. Brave getting spooked at one of Michigan's acclaimed haunted houses during Halloween season, including the Bates Motel in Battle Creek and the Gotham City Nightclub in Flint
79. Attend one of the many festivals held every weekend from spring through fall, including Traverse City's National Cherry Festival and Bay Harbor's Wine & Blues Festival
80. Go for a scenic train ride on a vintage excursion locomotive between the historic American LaFrance Fire Engine Museum in Pontiac and the Mount Clemens Amtrak Station
81. Experience two of America's most famous poets at the sites where they grew up, including Edgar Allen Poe's childhood home and burial site in Boston (where he spent several years) and Emily Dickinson's Amherst, Massachusetts home where she wrote some of her most well known poetry
82. Take time for an afternoon picnic on one of the many sandy beaches along Lake Superior
83. See the largest sturgeon in Michigan and take a guided tour like you've never had before aboard a Bateau at the Detroit Riverfront Conservancy's Riverwalk
84. Paddle Michigan's largest inland lake on an all-day canoe or kayak adventure with a naturalist guide in the Manistee National Forest
85. Experience the beauty of Lake Huron and its coastline, including one of the nation's oldest lighthouses at Port Huron
86. Visit the Thunder Bay National Marine Sanctuary where you can climb aboard a World War II era shipwreck, watch sea animals and explore underwater shipwrecks during a diving tour
87. Tour one of Michigan's historic quilt museums in Northville, including the Elizabeth Nesbitt House which is considered one of the most significant quilt collections in the world
88. Step onto one of Nature's finest pieces of art at Pictured Rocks National Lakeshore along Lake Superior, including hiking trails and breathtaking views from atop 3,000 foot cliffs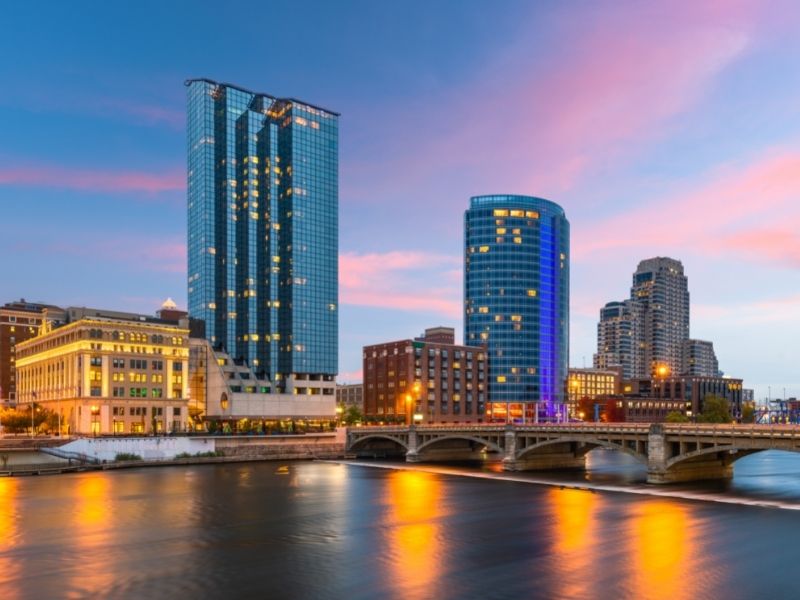 89. Take a self-guided tour of beer history at Bell's Brewery near Kalamazoo, which is the largest brewery in Michigan and home to some of its best-known beers
90. Stop along the Great Lakes Circle Tour at any one of Michigan's 101 Lake freighters during a sightseeing tour across five days or more
91. Boat ride through Grand Haven's majestic locks on the Ottawa River, which regulates traffic and water levels between Lake Michigan and Lake Huron
92. Go on an old-fashioned hayride through a working Amish farm during the corn harvest in Vienna (which is only open to the public for four weeks every fall)
93. Learn about lake surfing at Sleeping Bear Dunes National Lakeshore and test the waters on Lake Michigan at one of Northern Michigan's many resorts or beaches
94. Travel on a Michigan Flyer train from downtown Detroit to the state's northern border along historic Woodward Avenue, which is being transformed into a multi-use trail that will span nearly three hundred miles
95. Hike all 54 miles of the North Country Trail (which is the nation's longest hiking trail) from Lake Michigan to Lake Huron
96. Visit one of many Grand Rapids Art Museums, which includes a collection of American and European art, including The Frederik Meijer Gardens & Sculpture Park and several different galleries
97. Eat a bowl of homemade soup prepared by the monks at St. Francis Seraph Church outside Traverse City
98. Attend one of the many summertime festivals hosted on Mackinac Island, including an authentic Scottish Highland Games and Torchlight Parade and more than 175 fireworks shows every Saturday evening
99. Zip line through Northern Michigan's forests on one of several courses at the Northwood Resort
100. Visit one of Michigan's many lakeside towns, including Petoskey, Mackinaw City and Charlevoix, which has been called "the most beautiful place in America" by the New York Times
Michigan Bucket List – Final Thoughts
Michigan is a state rich with natural beauty and manmade wonders.
The Great Lakes Circle Tour, Mackinac Island Fudge Festival, Pictured Rocks National Lakeshore and Sleeping Bear Dunes National Lakeshore are just some of the many things you should see during your visit to Michigan.
I hope this list of 100 fun things to do in Michigan will inspire you on your next trip!
More Epic Bucket Lists
50 Before 50 Bucket List: 50 Things To Do In Your 50th Year
100 Movie Bucket List- The Best Movies Of All Time
Bucket List Quotes (100 Inspirational quotes)