The bucket list quotes in this post will inspire you to thing about all the things you want to do and see in your life.
Lots of us have ideas of things that we would want to accomplish during our lifetime.
Sometimes these can be mundane (going backpacking in Europe), but more often than not they are adventurous (climb Mount Everest).
In order for us to make sure that we don't have any regrets later in life, it's important for us to live every day as if it were our last. This way, by doing so, there will be no regrets at all!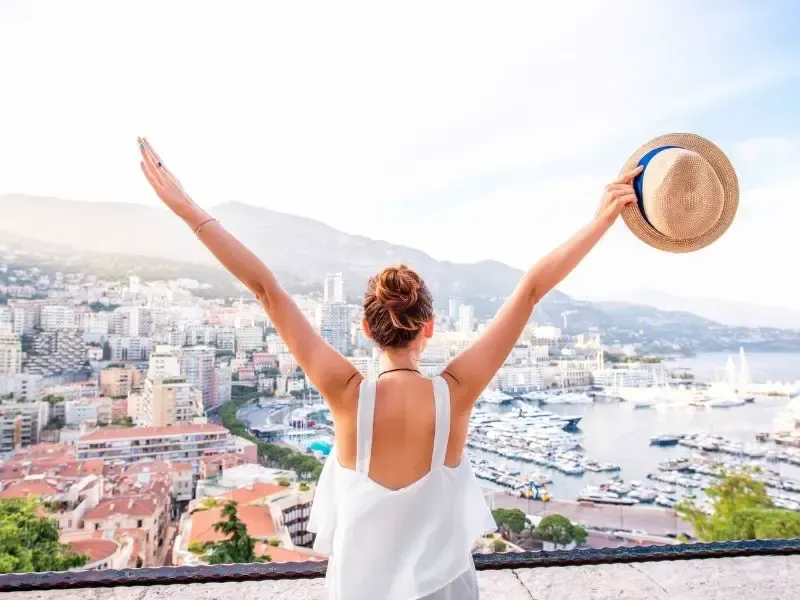 This post may contain affiliate links. Please read my Disclosure for more information.
More Bucket List Ideas
The idea of a bucket list is to have a list of things that you would like to do before you die. It might be travel, career or simply things you would like to do such as reading 100 books in a year or running a marathon.
Lots of famous people have said some really inspirational things about making the most of your life and choosing what to put on your bucket list which I've compiled into this list of 100 bucket list quotes.
Some are about travel while others are more philosophical about life.
Below I have included a lot of these options plus some Instaquotes about bucket lists that you can use on social media.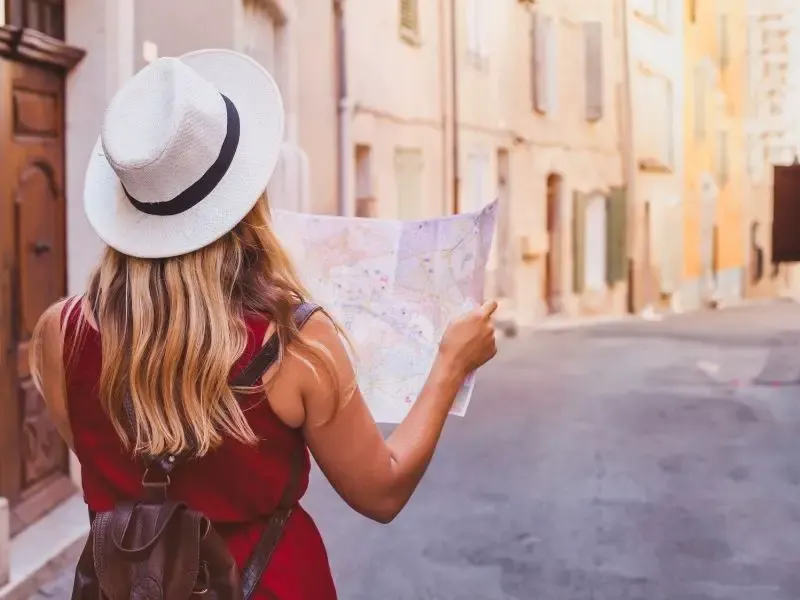 100 Best Bucket List Quotes
1. "If you're not living on the edge, you're taking up too much space." – Clint Eastwood
2. "One of the most challenging things is to learn how to live a life that fully utilizes all that we are." – Malala Yousafzai
3. "It's never too late to get what you want." – Condoleeza Rice
4. "The future belongs to those who believe in the beauty of their dreams."- Eleanor Roosevelt
5. "I've had successes, and I've had setbacks which aren't really setbacks because they have helped me find new ways of doing things, but I don't have any regrets at all because I'm always doing my best to respect what people need and find a new way of meeting it." – Meryl Streep
6. "It's not who you are that holds you back, it's who you think you're not." – Cheryl Strayed
7. "I tell my children, if you have a choice between acting a fool and being one, take the latter every time."- Katharine Hepburn
8. "This is the right day to travel, and the next right day; this self-same road will still be here." – Robert Frost
9. "You don't have to have an incredible dream to make a long journey. You just have to take a step in what feels like the right direction at any point." – Shirley MacLaine
10. "Get busy living, or get busy dying." – Stephen King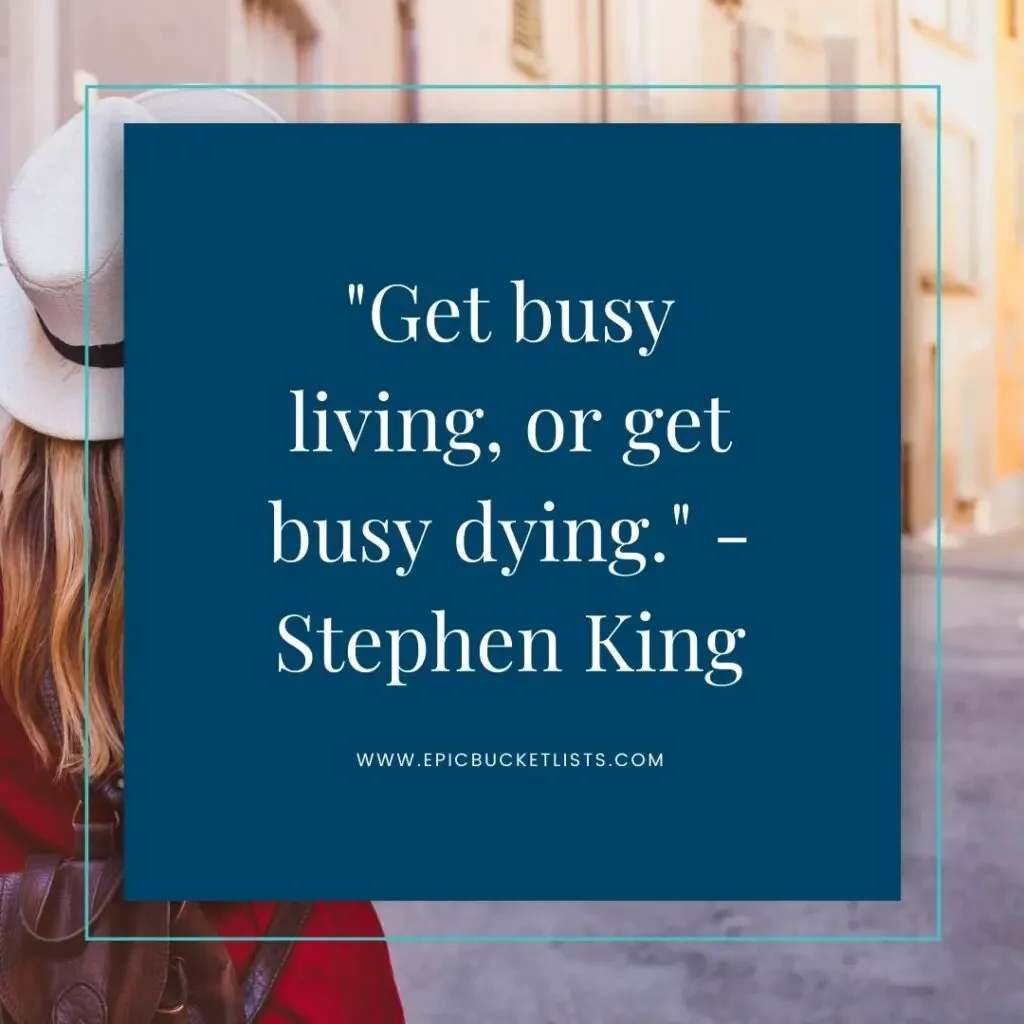 11. "You can't just sit there and wait for people to give you that golden dream. You've got to get out and make it happen." – Norman Vincent Peale
12.  "Taking the initiative does not require advanced degrees, or a high IQ, but merely the ability to act responsibly under any circumstances." – Brock Chisholm
13. "There is no elevator to success. You have to take the stairs." – Lou Holtz
14. "The purpose of life is a life of purpose." – Robert Byrne
15. "Life is 10% what happens to me and 90% of how I react to it." – Charles Swindoll
16. "Never allow a problem to diminish your dreams." – Zig Ziglar
17. "A goal properly set is halfway reached." – Duke Ellington
18. "To live is so startling it leaves little time for anything else." – Emily Dickinson
19. "If you can dream it, you can do it." – Walt Disney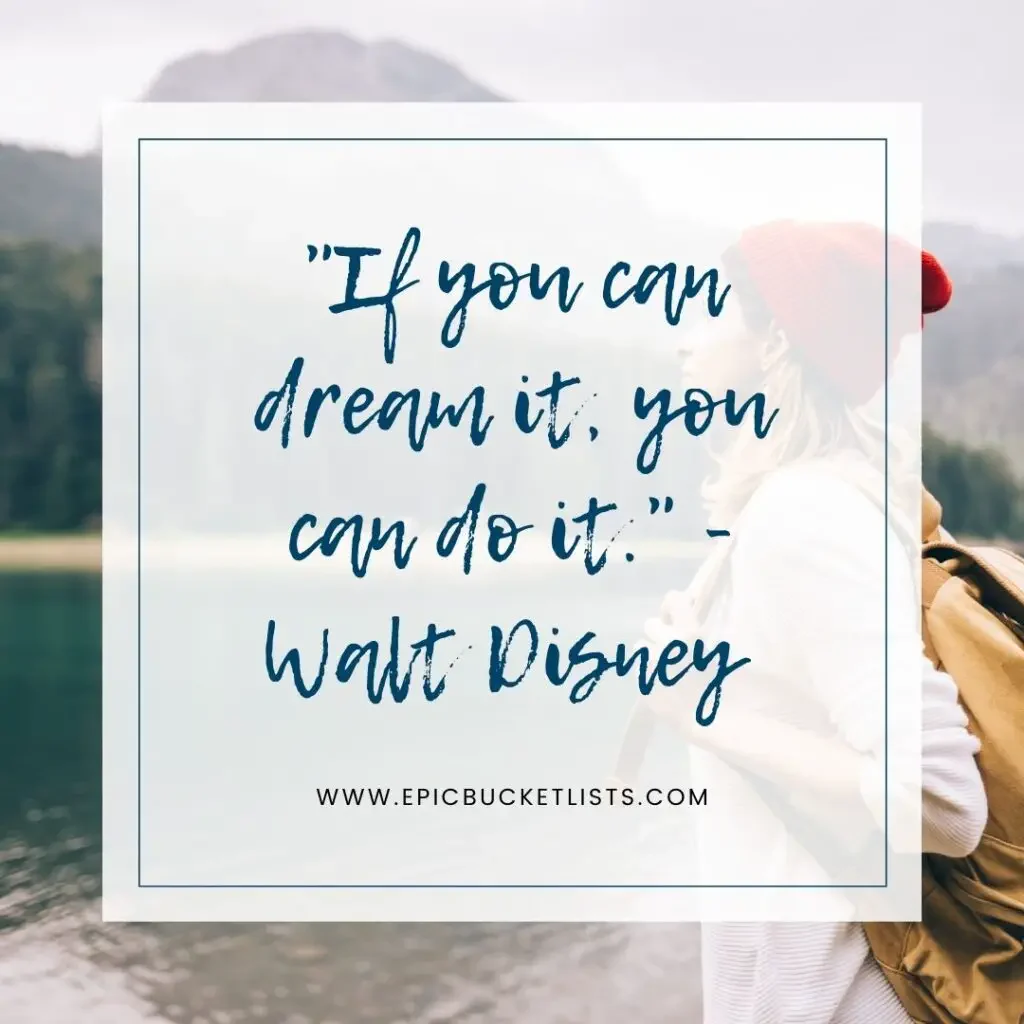 20. "If you stay ready, you ain't got to get ready." – Muhammad Ali
21. "Don't dream it. Be it!" – Paul Haggis
22. "I proclaim myself simply to be a seeker, and as a seeker I am eager to learn from the wisdom of all teachers." -Nisargadatta Maharaj
23. "Begin at the beginning." -Lewis Carroll
24. "We are not human beings having a spiritual experience; we are spiritual beings having a human experience" – Pierre Teilhard de Chardin
25. "Life is ten percent what happens to you, and ninety percent how you respond to it." – Lou Holtz
26. "If you don't know where you are going any road will get you there." – Lewis Carroll
27. "One's destination is never a place, but rather a new way of seeing things." – Henry Miller
28. "You can't live your life for other people" – Princess Diana
29. You have to grab the bull by the horns at some point in your life and say 'this is what I want'.  I don't know when that moment is, but when you do it, you'll know.  Don't be afraid to take risks and don't be afraid to fail at things." — James Durbin
30. "Life isn't about finding yourself. Life is about creating yourself." – George Bernard Shaw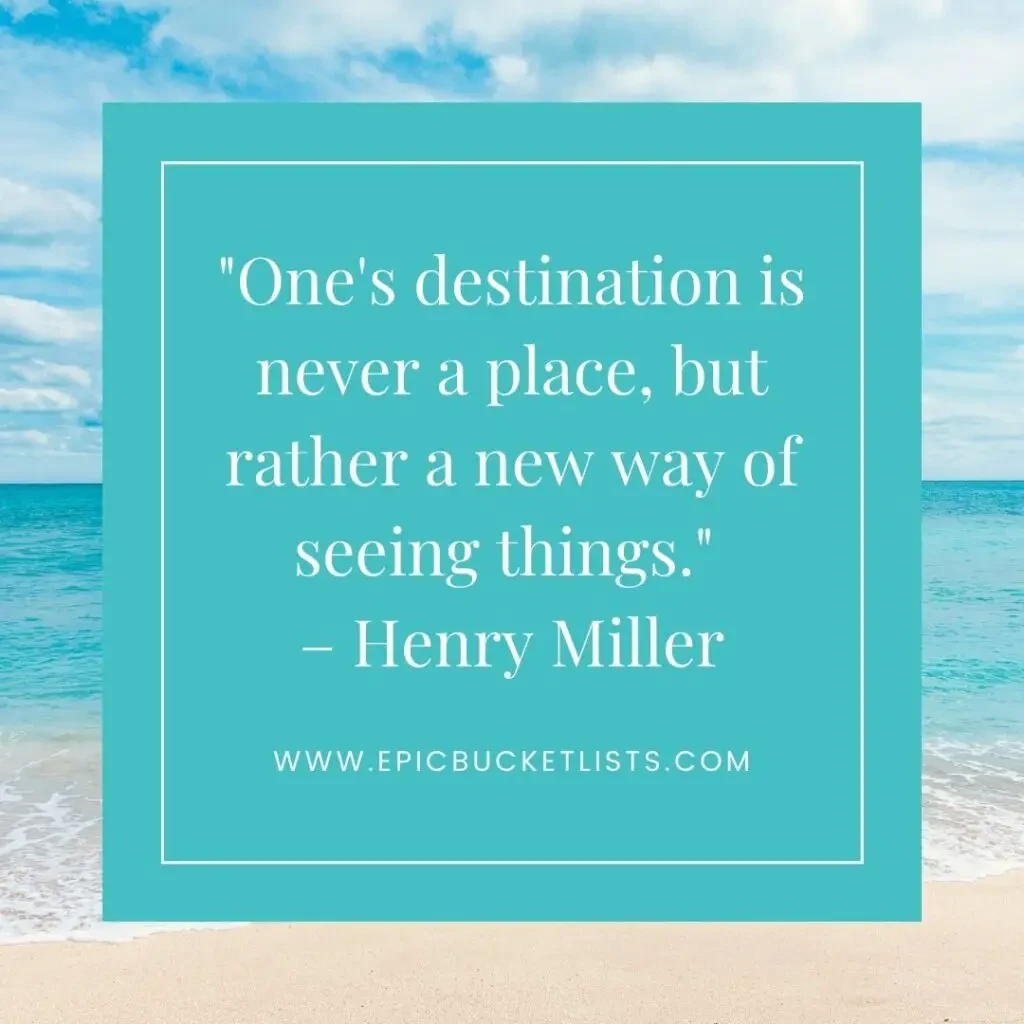 Some Bucket Lists Inspired by these bucket list quotes:
Teen Bucket List: 60+ Things To Do Before You're 20
Senior Year Bucket List: 55+ Things to Do Before Graduation
31. "The only thing we have to fear, is the lack of courage to risk losing it all in order to gain our dreams" – Robert Kiyosaki
32. "No one can guarantee that they will succeed in life; however one can guarantee that they won't if they never try" – Kevin Leman
33."Live as if you were to die tomorrow. Learn as if you were to live forever."  ~ Gandhiji
34."Twenty years from now you will be more disappointed by the things you didn't do than by the ones you did do. So throw off the bowlines, sail away from the safe harbor. Catch the trade winds in your sails. Explore. Dream. Discover." —Mark Twain
35."Embrace the detours." —Kevin Charbonneau
36."If you come to a fork in the road, take it." —Yogi Berra
37."I haven't been everywhere, but it's on my list." —Susan Sontag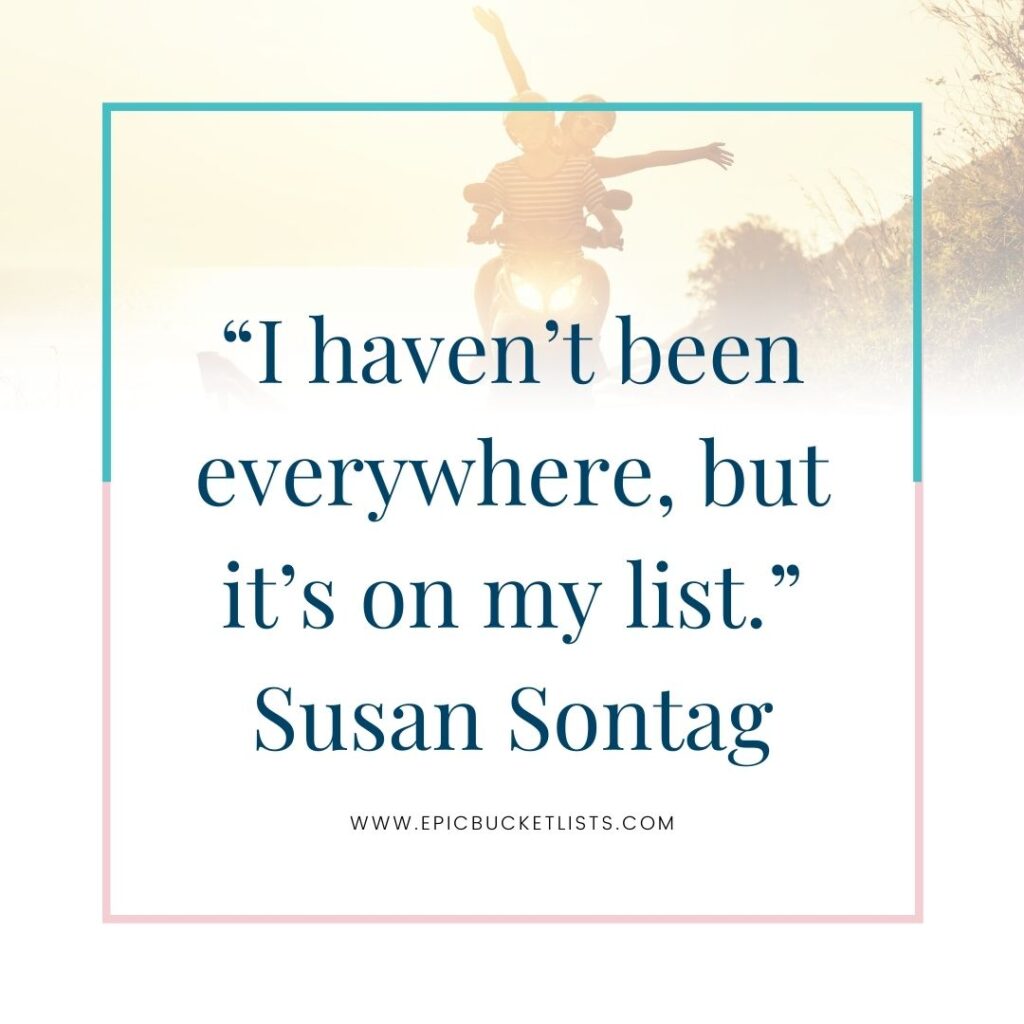 38."Many people die with their music still in them. Why is this so? Too often it is because they are always getting ready to live. Before they know it, time runs out."Oliver Wendell Holmes
39. "In the end, it's not the years in your life that count. It's the life in your years." Abraham Lincoln
40."Life is to be enjoyed-not just endured. We are all given time, and if we have enough of it we must do things that matter." ― John Wooden
41."Living is the thing people do between their 'births' and their 'deaths.'" – George Carlin
42. "Life is a shipwreck, but we must not forget to sing in the lifeboats." –  Voltaire
43. "I'm all right Jack, keep your hands off I tell you. Life is nothing but a game of cards." – Thomas Paine
44. "It's hard to beat a person who never gives up." — Babe Ruth
45. "The secret to happiness is freedom… And the secret to freedom is courage." – Thucydides
46. "What lies behind us and what lies before us are tiny matters compared to what lies within us." – Ralph Waldo Emerson
47 "All our dreams can come true if we have the courage to pursue them." ― Walt Disney
48."Travel is never a matter of money but of courage." – Paulo Coelho
49."Life is either a daring adventure or nothing." —Helen Keller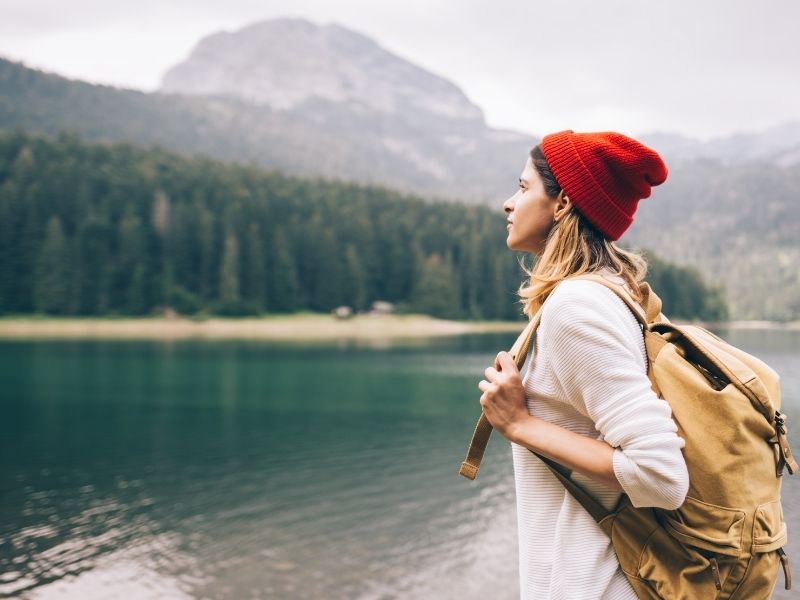 Do you love these bucket list quotes?
If so, make sure to check out these fun bucket lists:
75+ Simple Bucket List Ideas That Anyone Can Do
30 Before 30 – Bucket List For Your 20s.
50."We have two lives: the one we learn with and the one we live after that." — Bernard Malamud
51."I don't want to get to the end of my life and find that I lived just the length of it. I want to have lived the width of it as well" – Diane Ackerman
52."Fill your life with tiny and large adventurous moments." – Sark
53."Not all those who wander are lost." – J. R. R. Tolkien
54. "Actually, the best gift you could have given her was a lifetime of adventures." —Lewis Carroll
55."Oh, the places you'll go." – Dr. Seuss
56. "The world is a book, and those who do not travel read only one page."  – Saint Augustine
57."A journey is measured in friends rather than miles." —Tim Cahill
Loving these travel bucket list quotes:
63."If your dreams don't scare you, they are too small." – Richard Branson
64."You must give everything to make your life as beautiful as the dreams that dance in your imagination." – Roman Payne
65."Be careful who you make your memories with. Those things can last a lifetime." —Ugo Ez
66. "Fill your bucket list with memories for the nursing home" – Epic Bucket Lists
67. "Feel the fear and do it anyway " – Susan Jeffers
68. "A Bucket list is never finished. It's always a work in progress" – Epic Bucket Lists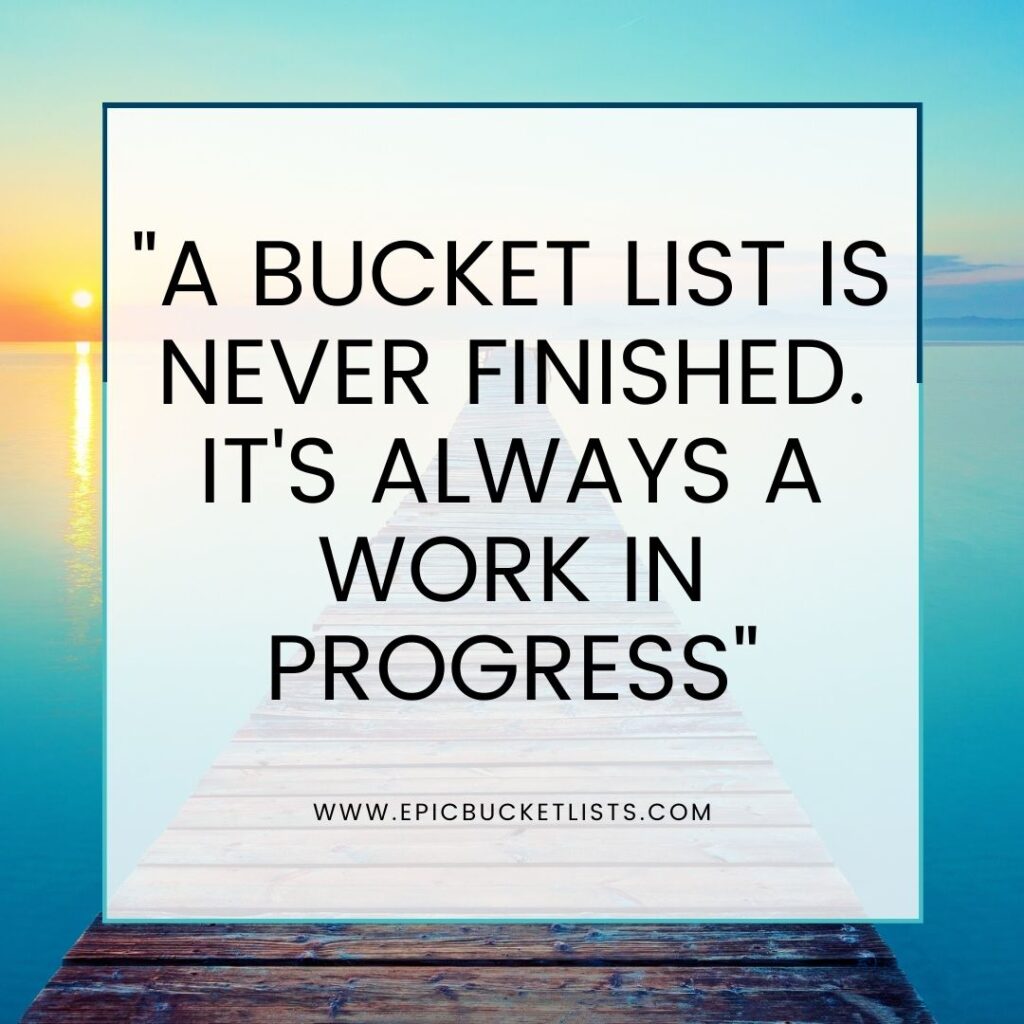 69. "Travel is the best way to learn about yourself" – Epic Bucket Lists
70."You are the one that possesses the keys to your being. You carry the passport to your own happiness." – Diane Von Fustenberg
71. "I always wonder why birds choose to stay in the same place when they can fly anywhere on earth. Then I ask myself the same question." -Harun
72. "Never did the world make a queen of a girl who hides in houses and dreams without traveling." – Roman Payne
73.  "Live your life by a compass, not a clock" -Erica Jong
74. 'It is a big and beautiful world. Most of us live and die in the same corner where we were born and never get to see any of it. I don't want to be most of us."—Game of Thrones
75. "The Best Way To Get Started Is To Quit Talking And Begin Doing." – Walt Disney
76."Security Is Mostly A Superstition. Life Is Either A Daring Adventure Or Nothing." –  Helen Keller
77."You Are Never Too Old To Set Another Goal Or To Dream A New Dream." – C.S. Lewis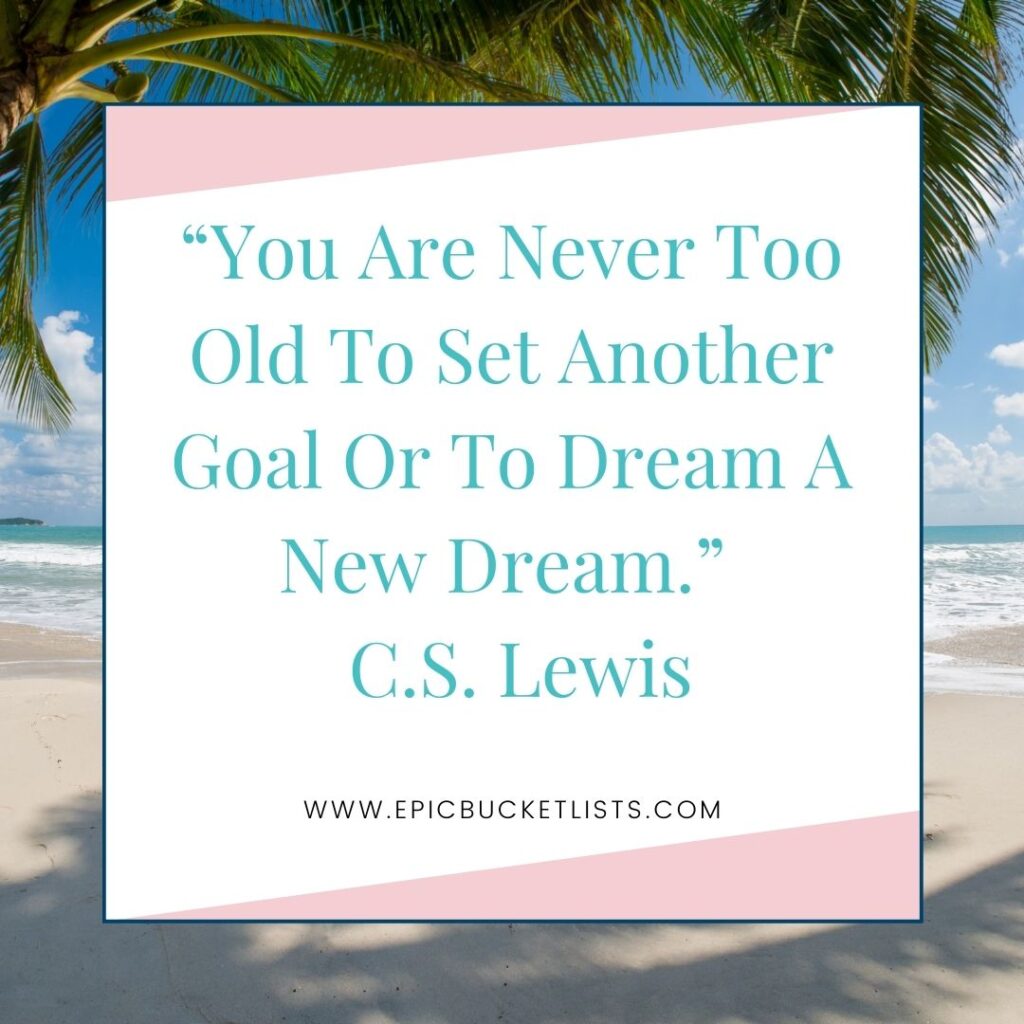 78. "Make a list of everything you want to do this year, this month, this week. Then crush those goals" – Epic Bucket Lists
79."Tell me, what is it you plan to do with your one wild and precious life?" – Mary Oliver
80."You have exactly one life in which to do everything you'll ever do. Act accordingly" – Colin Wright
81."The biggest adventure you can take is to live the life of your dreams." -Oprah Winfrey
82."The bitterest tears shed over graves are for words left unsaid and for deeds left undone." – Harriet Beecher Stowe
83."If you don't get out of the box you've been raised in, you won't understand how much bigger the world is." – Angelina Jolie
84."To travel is worth any cost or sacrifice." – Elizabeth Gilbert
85. "To my mind, the greatest reward and luxury of travel is to be able to experience everyday things as if for the first time, to be in a position in which almost nothing is so familiar it is taken for granted." —Bill Bryson
86."You will do foolish things, but do them with enthusiasm." –  Elizabeth Gilbert, City of Girls
87."There is something about the momentum of travel that makes you want to just keep moving, to never stop." — Bill Bryson, Neither Here Not There
88."You don't choose the day you enter the world and you don't chose the day you leave. It's what you do in between that makes all the difference." —Anita Septimus
89. "Make life the vacation you crave " – Epic Bucket Lists
90."The purpose of life is to live it, to taste experience to the utmost, to reach out eagerly and without fear for newer and richer experience." —Eleanor Roosevelt
91. "There are no regrets in life, just lessons" – Jennifer Aniston
92. "Some people live more in twenty years than others do in forty. It's not the time, it's the person." —Doctor Who
93."Travel is intensified living and one of the last great sources of legal adventure." – Rick Steves
94." God gave us the gift of life; it is up to us to give ourselves the gift of living well." – Voltaire
95."It isn't freedom from. It's freedom to." – Jean Paul Sartre
96."If you ask people what they've always wanted to do, most people haven't done it. That breaks my heart." – Angelina Jolie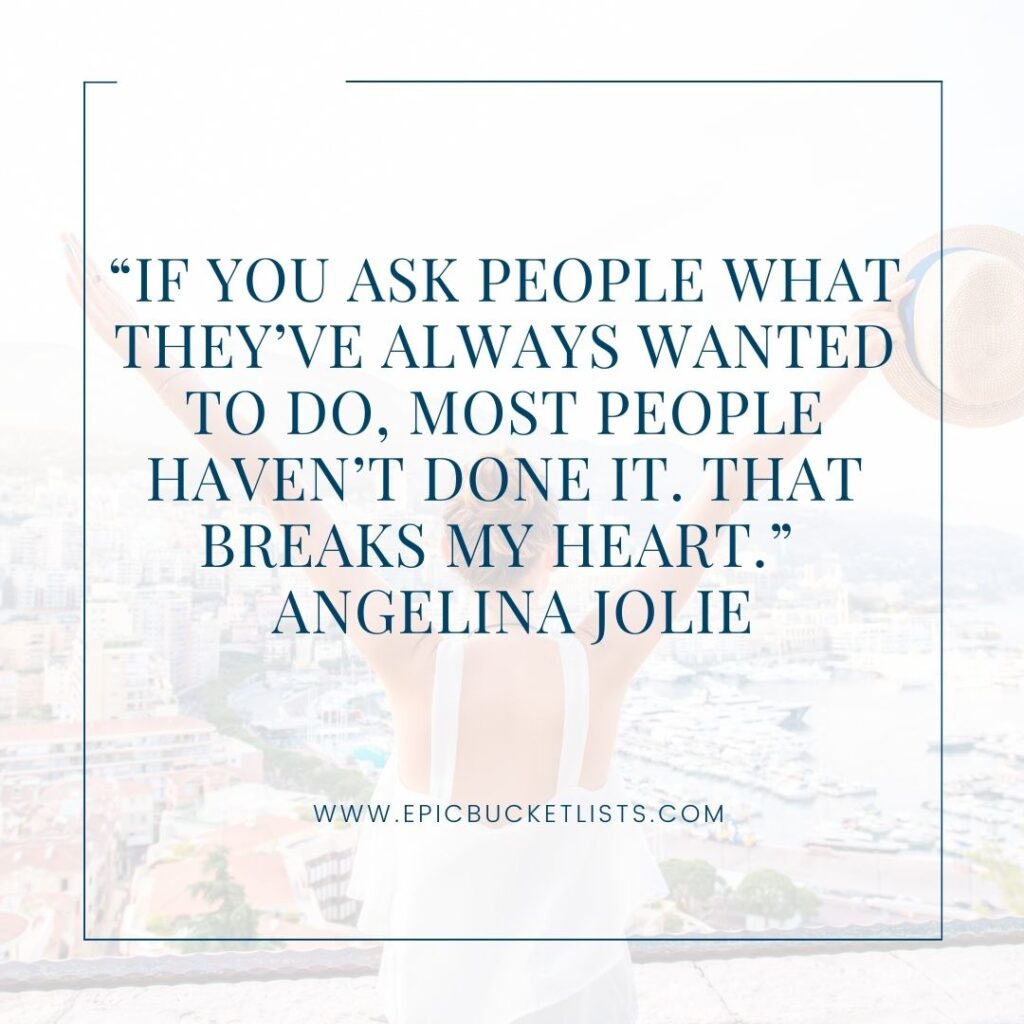 97."You only live once, but if you do it right, once is enough." —Mae West
98."Anytime I feel lost, I pull out a map and stare. I stare until I have reminded myself that life is a giant adventure, so much to do, to see."- Angelina Jolie
99 "Life is not measured by the number of breaths you take but by the moments that take your breath away. " – Maya Angelou
100."Find your humanity! Haven't any of you ever had a dream?" – Rapunzel.
I hope these quotes from people who have inspired others with their words will inspire you to seize the day!
Bucket List Quotes – Final Thoughts
These quotes about bucket lists are a great way to remind yourself of the things you want to do before time runs out.
Why not get started on your own list today?
Here are some more bucket lists to inspire you: