There is so much to do and see in American that a USA bucket list could go on forever. That being said, if you want to make sure you cross off the most important must-see destinations in the country, the list below will get you started.
The USA is best known for high iconic landmarks that have become symbols of the country, such as the Statue of Liberty and the Golden Gate Bridge.
And what about all the amazing natural wonders such as the National Parks and amazing beaches.
Read on for my list of the top 10 places in the USA that everyone should visit before they die. Plus the most important historic monuments in America.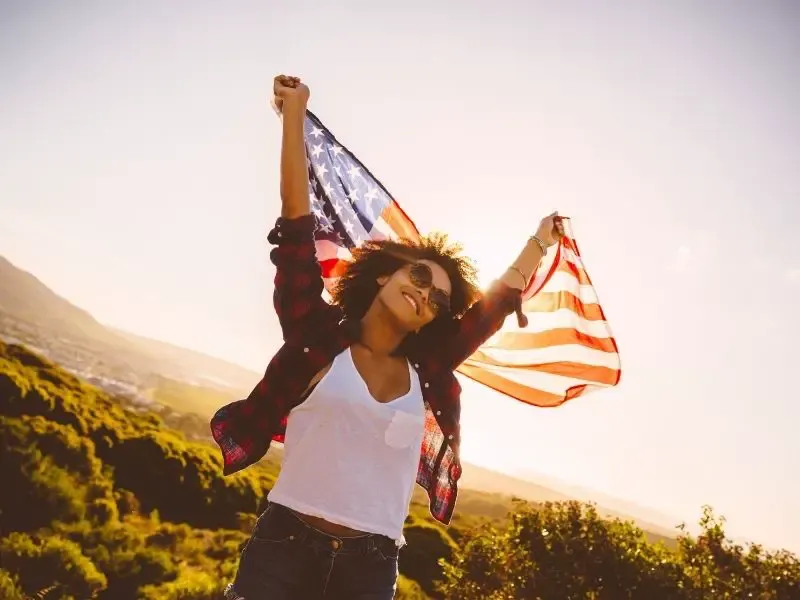 This post may contain affiliate links. Please read my Disclosure for more information.
MORE UNITED STATES BUCKET LIST IDEAS
USA Bucket List Ideas
There are so many beautiful sites to see while visiting our great nation! You will love this ultimate bucket list of places to see in the USA.
The USA is a diverse country, with many beautiful places to visit.
For this article, I am listing the top 10 cities in America every tourist should see before they leave.
This list includes some of the most well-known attractions and iconic landmarks in each city as well as some hidden gems people might not know about!
Here are the top 10 places everyone should visit at least once in their life.
1. The Statue of Liberty
The Statue of Liberty is one of the most visited landmarks in America. It's a symbol for the US and a monument to freedom.
This monument was originally built in 1886 and has been standing since then to represent the friendship between France and America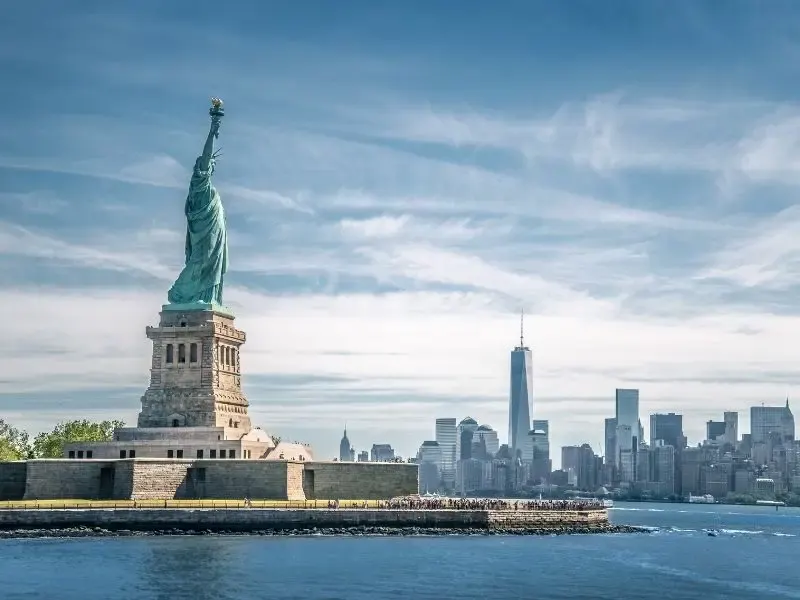 2. New York City
The most populous city in the US that is home to some of the world's largest skyscrapers (Empire State Building), Times Square which has one of the biggest video screens on Earth, and Central Park which offers visitors more than 800 acres of space for outdoor recreation like jogging or biking.
New York is most known for being the center for business and industry on US soil as well as its numerous famous landmarks such as One World Trade Center , The Chrysler Building , The Empire state building , The Statue of Liberty & Ellis Island National Museum which is where many immigrants first stepped foot on US soil.
Along with places to visit you can also find theaters, restaurants & bars such as Times Square , Broadway shows and the infamous Times Square Ball Drop at midnight on New Year's eve .
3. Hollywood
Known for being one of the most well known centers for filmmaking and hosting celebrities (Walk of Fame).
Since its earliest years, the city has been associated with American cinema and is one of the leaders in producing films.
Hollywood has many attractions including Universal Studios, Warner Brothers Studio Tour, Walt Disney's Birthplace Home and Madame Tussauds Wax Museum
If you are visiting Los Angeles, make sure to check out Hollywood plus the other amazing attractions on my Los Angeles Bucket List.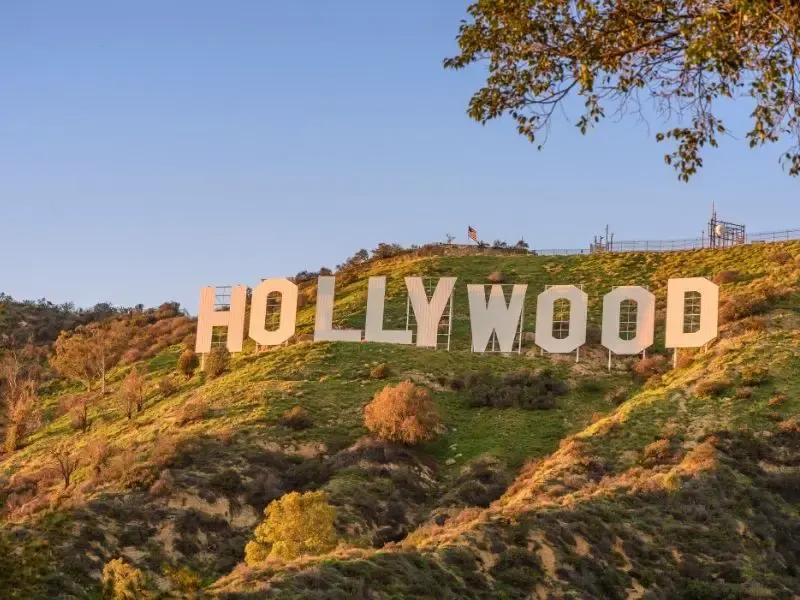 4. Las Vegas
Las Vegas is the entertainment capital of the world with casinos, nightclubs and shows.
The food in Las Vegas is some of the best in the World with world-class chefs in residence in many of the hotels and restaurants.
With so much to do in this city it has become a top tourist destination in America.
Don't forget to visit neighbouring Hoover Dam and The Grand Canyon while on your Las Vegas vacation.
5. San Francisco
San Francisco is one of America's most diverse cities and also one of the most beautiful.
The city hosts many attractions including Alcatraz Island, China Town, Golden Gate Park, Fisherman's Wharf, Nob Hill, Pier 39 and Union Square. You can check out the whole list of amazing places to visit with my Epic San Francisco Bucket List.
6. Golden Gate Bridge
The Golden Gate Bridge is one of the symbols for San Francisco and was opened to traffic on May 27, 1937.
Many people believe it to be the most beautiful bridge in the world!
This suspension bridge stands at a height of 746 ft and is painted orange/red. It connects San Francisco to Marin County across the Golden Gate Strait.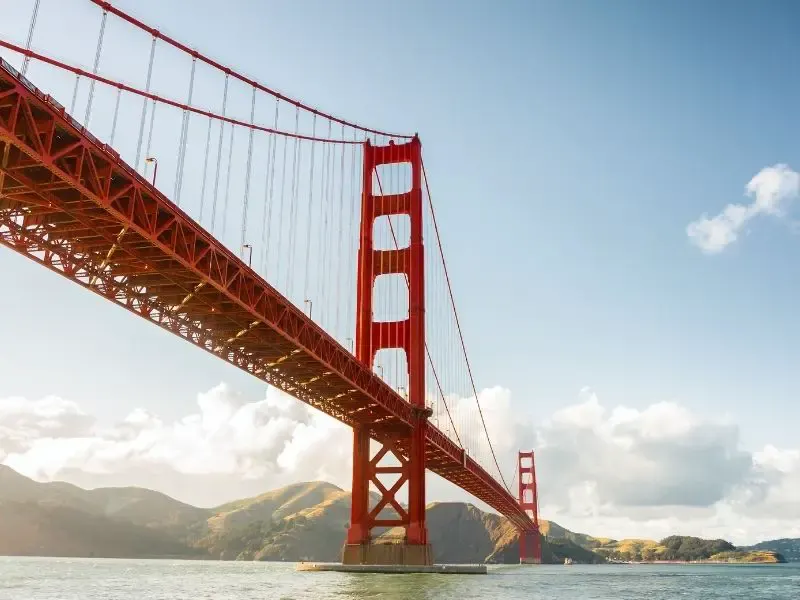 5) New Orleans
Known as the birthplace of jazz music, the birthplace of Mardi Gras and one of the best food cities in America.
With the French Quarter being known as the most active area in New Orleans it is home to famous restaurants like Arnaud's and Antoine's.
The architecture also makes this city stand out with its Spanish-French influence and beautiful buildings in all different colors.
Along Bourbon Street there are many bars that host live jazz bands during Mardi Gras so people can party all night long!
Hot Tip: While you are visiting the Deep South, make sure to spend some time visiting the rest of  Louisiana's tourist attractions too.
7) Washington D.C.
The capital of the United States is known for its government buildings (White House), monuments, museums and memorials (The Vietnam Veterans Memorial Wall).
Many famous Americans are buried there including politicians like John F. Kennedy, Martin Luther King Jr., and Abraham Lincoln as well as war heroes(John Glenn) and writers such as Mark Twain & Robert Frost.
D.C is one of those places that represents how America came to be through the hard work of our forefathers who were brave enough to strike out on their own despite all of the dangers in an unknown land.
8) Yellowstone National Park
Many people have heard about Yellowstone even if they have never visited the USA.
This national park is located in Wyoming as well as parts of Montana and Idaho.
It covers an area of over 9,600 square miles which makes it the world's largest protected area inside of one country .
Located within the park is Old Faithful Geyser that shoots water into the air every hour on the hour.
Also there are other huge geysers like Grand Prismatic Spring and Excelsior Geyser that have risen to over 200 feet high!
Not only is this a very popular place for tourists but wildlife seems to love it too with elk, buffalo, mule deer and bison calling it home year round.
9) Mount Rushmore
Mount Rushmore is a 60ft sculpture carved into the side of a mountain in South Dakota.
It depicts four US Presidents (George Washington, Thomas Jefferson, Theodore Roosevelt & Abraham Lincoln) who were chosen because they set an example of what qualities America should strive towards.
Although Mount Rushmore is really out of the way for most travellers in the USA as it is not close to any of the major cities, it is really worth a visit once in your lifetime.
While you are in the area, make sure to stop by the Crazy Horse Memorial which was started by sculptor Korczak Ziolkowski in 1948  and never finished due to funding issues.
10. South Beach, Miami
No USA Bucket List would be complete without some mention of Florida. This amazing state is packed with things to do including Disney World in Orlando and the Everglades National Park.
One must-have spot is South Beach in Miami that boosts gorgeous white sands, impressive art-deco buildings and a fantastic nightlife.
Top 6 Historic Monuments To Visit In The USA
In America, everyone has heard about how they need to see the Statue of Liberty and Mount Rushmore.
But there are many other monuments that are just as important but not nearly as well-known.
Here is a list of 10 historic monuments in the USA every tourist should visit before leaving.
1) The Declaration of Independence
A document written by Thomas Jefferson with what became known as the "self-evident" truths which include life, liberty & pursuit of happiness.
You can find the Declaration of Independence on display at The National Archives Building where you can also find some interesting facts about the founding fathers such as George Washington cutting down his father's cherry tree.
2) The White House
The Executive Residence in Washington DC  is an essential inclusion on any East coast bucket list.
It holds many events throughout the year such as Easter Egg Rolls & picnics scheduled during summer months with over 30,000 people attending each event.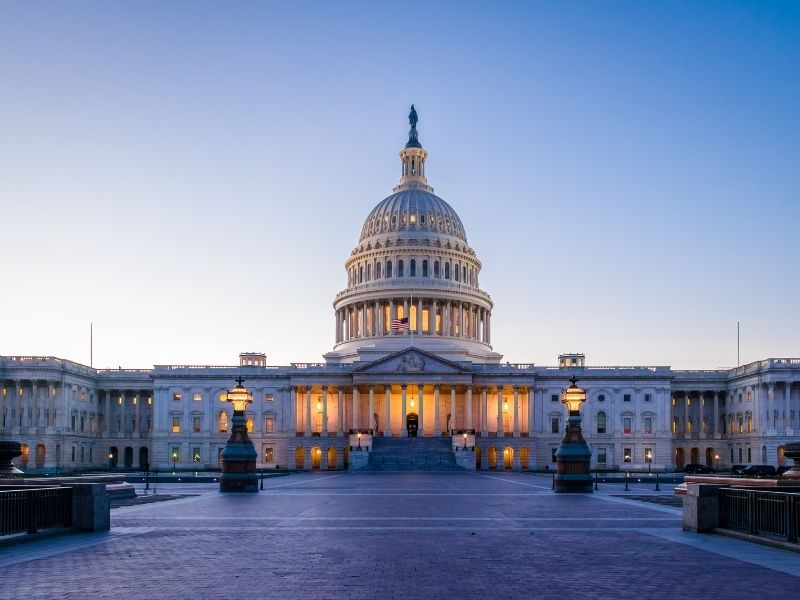 3) Illinois Holocaust Museum & Education Center
You will find this museum in Skokie (Chicago's northern suburb ).
Professor Deborah Lipstadt who survived the holocaust herself and wanted to share her story with the public opened it to educate people about the holcaust.
Inside there are thousands of artifacts & records from the Nazi plus parts of Anne Frank's Diary.
4) Brooklyn Bridge National Monument
A bridge that spans from Manhattan to Brooklyn over East River in New York City – take a stroll over it at it the evening to view Manhattan all its glory.
The bridge was designed by architect John Roebling who died during its construction so his son Washington Roebling continued working on it but sadly passed away as well just a few years later due to decompression sickness (caused by too much pressure being put on his body).
Open since 1883, this is "Americas Favorite Architecture" according to the American Institute of Architects. It is always a favorite on any USA Bucket List.
5) World War II Memorial
This memorial on the National Mall in Washington DC remembers all the military troops that fought in World War II .
The monument was designed by Friedrich St. Florian and has a total area of 53,000 square feet.
The structure itself was built as a half circle with two identical fountains on each side (one representing the Pacific theater and one for the Atlantic theater) along with trees, walkways & benches.
6) Mount Vernon
An estate located on the banks of Potomac River which belonged to George Washington .
As our first President who led us through our independence of America from England this site pays tribute to him and his wife Martha Washington who moved here after he died in 1799.
There are over 70 acres of beautiful gardens & waterfront views that make this trip worth the visit.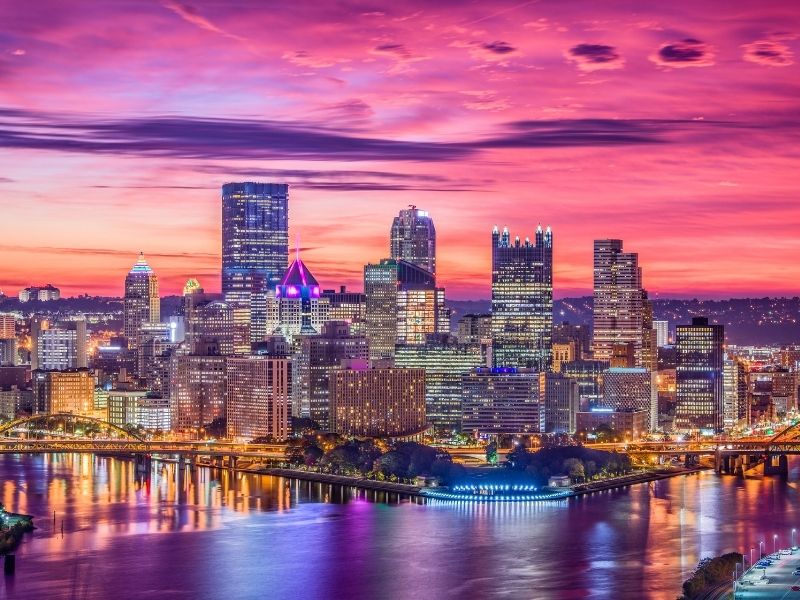 USA Bucket List – Final Thoughts
The USA is a land of many opportunities and countless places to explore.
If you're looking for beautiful scenery, cultural experiences or just a great time with friends then this article should have given you some ideas on the best destinations in America that will suit your interests.
We hope these top attractions inspire you to plan an unforgettable adventure in our country!
It's never too late to start planning because no matter what season it is there are always new things happening in American cities like Los Angeles & New York City.
More USA Bucket List Ideas
Florida Bucket List – The Ultimate List Of Things To Do
Epic San Francisco Bucket List {Must-Do Sights & Attractions}
Chicago Bucket List: 65+ Best Things to Do in Chicago