Winter Bucket List for Kids
The temperature outside might be dropping, but that doesn't mean the fun has to stop! With these simple kids winter bucket list ideas, you and your family can enjoy a season filled with activities.
Bundle up and get out there!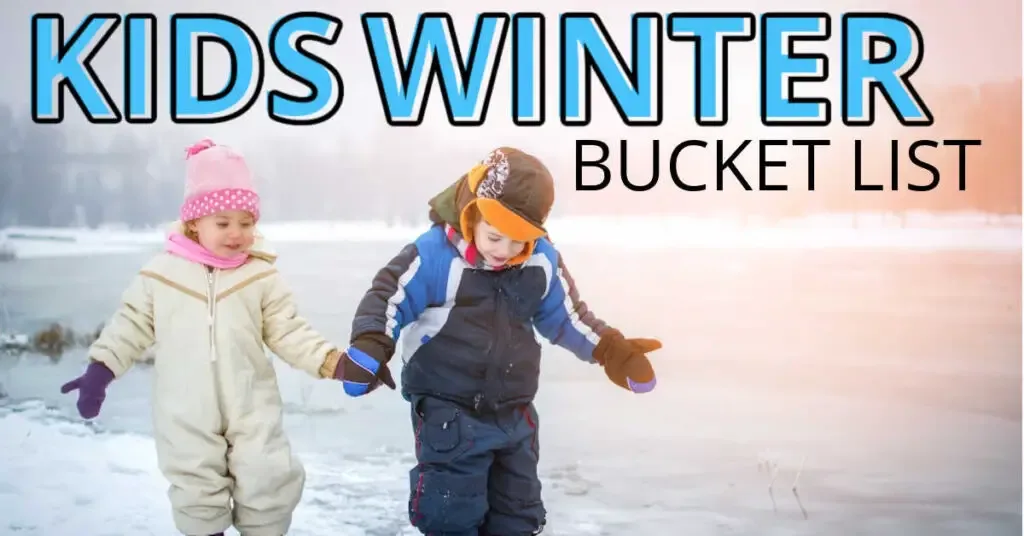 This post may contain affiliate links. Please read my Disclosure for more information
Kids Winter Bucket List
There's no doubt that winter can be a lot of fun. But it's also important to make sure that your kids enjoy every minute of it by creating a winter bucket list.
This way, they can make the most of the season while staying safe and warm. Here are 41 fun ideas to get you started.
Build a Snowman (or snow family)
Make a hot chocolate bar
Go sledding
Make a gingerbread house
Play cards
Have a games night
Go ice skating
Make a bird feeder to hang outside
Make paper snowflakes for the windows
Celebrate Chinese New Year
Do some pre-spring cleaning
Host a winter olympics
Make snow angels
Make puppets and create a show
Hide in a blanket fort
Write letters to friends and family
Make a tent in the living room and have a winter picnic
Have a snowball fight
Do spray-painting in the snow
Have a movie marathon
Go bowling
Take an online class on Outschool
Collect pinecones and cover them in glitter
Try snowshoeing
Make S'mores
Do some puzzles
Make frozen bubbles in the backyard
Go for a winter walk and learn about hibernation
Make a snow fort
Take a sleigh-ride
Stay in your pyjamas all day
Make some sensory bins with rice or shaving cream
Bake cookies
Try snow tubing
Play hockey in the driveway
Cozy up with a new book
Grab some boxes from the holidays and make a house or a robot
Make some handmade gifts
Learn a new hobby – sewing, knitting or cooking
Have a sleepover
Do some online drawing classes. Art for Kids Hub on Youtube has tons of fun ones.
Kids Winter Bucket List – Final Thoughts
Winter is a magical time of year but it can sometimes be hard to fill the days when the weather is bad.
With here are so many fun things to do with your family and friends. Make sure you create a winter bucket list and enjoy every moment!
More Fun Bucket Lists For Kids
Easter Bucket List – 25 Fun Things To Do At Easter
60+ High School Bucket List Ideas to Do Before You Graduate
50+ Fun & Spooky Halloween Bucket List Ideas