As fall approaches and we get ready to start thinking about pumpkin spice lattes, football games, and Halloween costumes; it's time for a new October bucket list.
October is a great month to get out there and enjoy the last of the good weather, in fact, in parts of the country, October has the most sunny days and least rain of any month.
Read on for 31 great fall activities you can do this October to get you in the mood for autumn.
Plus, make sure to download your free printable October bucket list at the bottom of the post.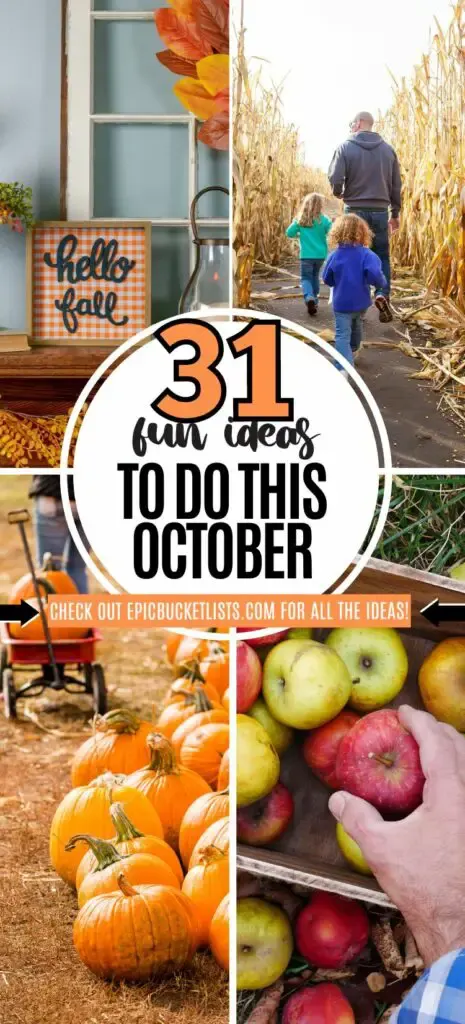 This post may contain affiliate links. Please read my  Disclosure for more information
MORE FALL BUCKET LISTS
The Ultimate October Bucket List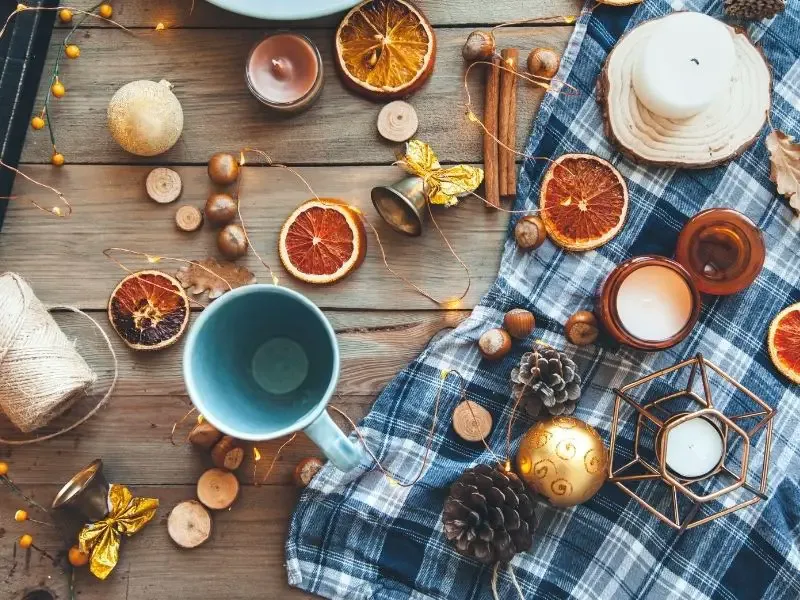 October is the perfect time for a fall bucket list.
This is a great way to get outside with your family and friends before winter begins to set in.
You'll find orchards all over the city that are the perfect place for an afternoon of fun and getting the kids out of the house for a couple hours plus there is Halloween at the end of the month.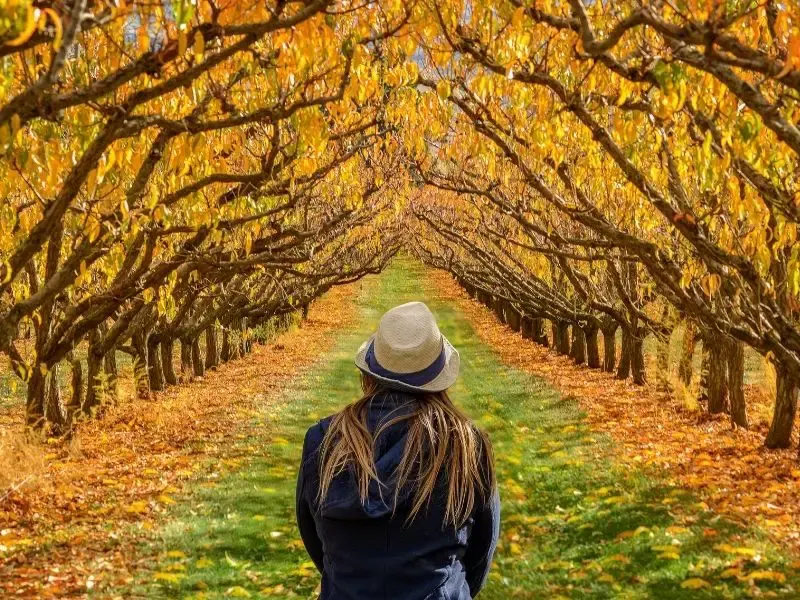 Read on for 31 days of things to do in October:
1.Go apple picking
2. Head out for a fall picnic with friends
3. Take advantage of all that autumn sunshine by going on a hike or bike ride
4. Take a trip to a local pumpkin patch.
5. Visit a local Haunted House
6. Watch some classic horror movies on Netflix or Hulu (Here is a Halloween Movie bucket list)
7. Visit a local fall festival
8. Sip hot apple cider
9. Jump in the fallen leaves
10. Dress up your dog for Halloween
11. Make a hot pot of chilli
12. Go to a fall football game
13. Make caramel apples
14. Drink a pumpkin spice latte
15. Bake an apple pie
16. Get lost in a corn maze
17. Take fall family pictures
18. Make DIY Halloween costumes
19. Collect fall leaves
20. Have butternut squash soup
21. Decorate the house for Halloween
22. Make pumpkin spiced popcorn (get the recipe here)
23. Try geocaching
24. Attend Boo at the Zoo
25. Visit a farm
26. Light a fall candle
27. Curl up in front of a fireplace
28. Roast pumpkin seeds
29.Make homemade apple sauce
30. Make a Halloween Wreath (here are some inspirational ideas)
31. Go trick or treating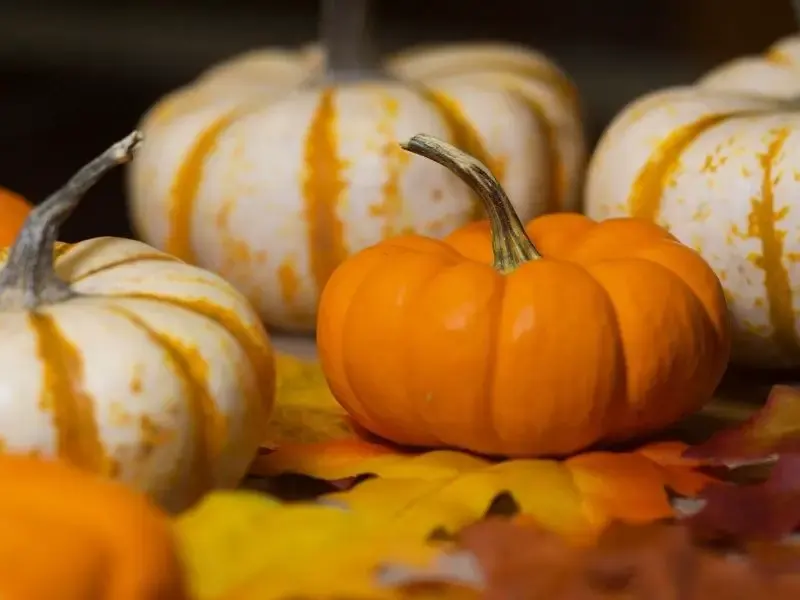 Free Printable October Bucket List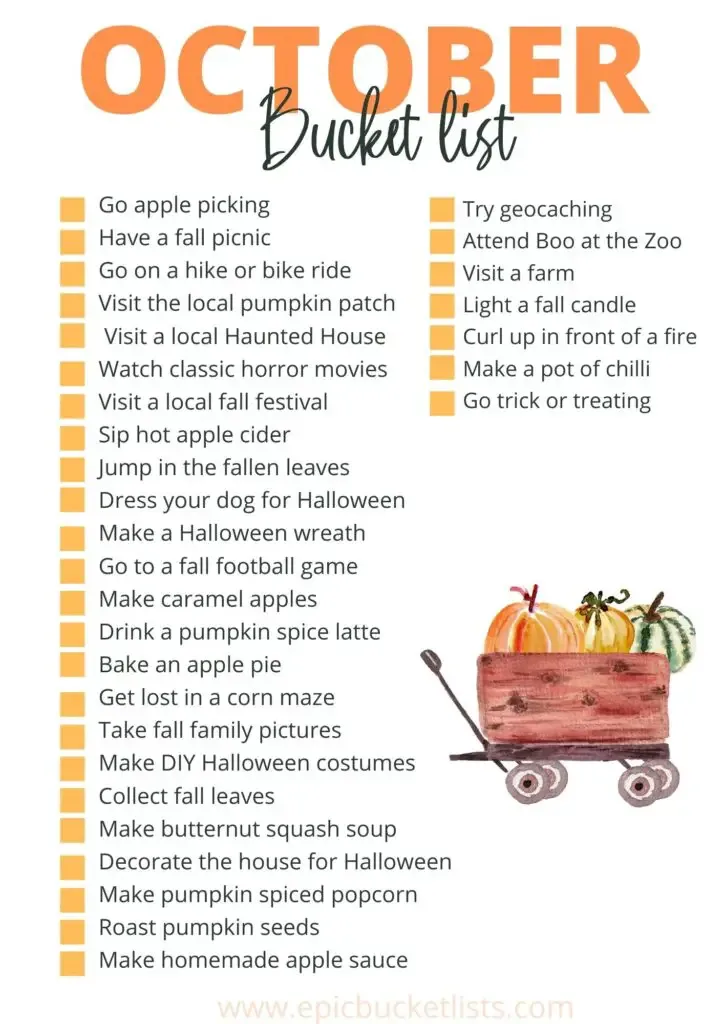 To download your free printable October bucket list, simply click the link below and you will be taken to the instant download page.
October Bucket List – Final Thoughts
This October, get your family together and try some of these fun fall activities. These are just a few ideas for what you can do to make the most out of this autumn season!
What's on your October bucket list? Comment below with anything that is missing from our list so we can add it in!
And don't forget to share this article if you found any of these suggestions useful or interesting. Have an awesome rest of October!
More Epic Bucket Lists
The Ultimate Winter Bucket List: 70+ Winter Bucket List Ideas
40 Christmas Activities For Couples (Couples Christmas Bucket List)
Christmas Bucket List: 90+ Festive Things to Do