This bucket list is packed with fun places to go in California.
With the state's diverse topography, there are tons of different destinations for you and your family to explore.
From it's palm tree-lined beaches, snow capped mountains, sprawling vineyards and verdant forests, this list has something for everyone!
I've also included a free printable checklist for you on your travels in California. Just see the bottom of the post for your instant download.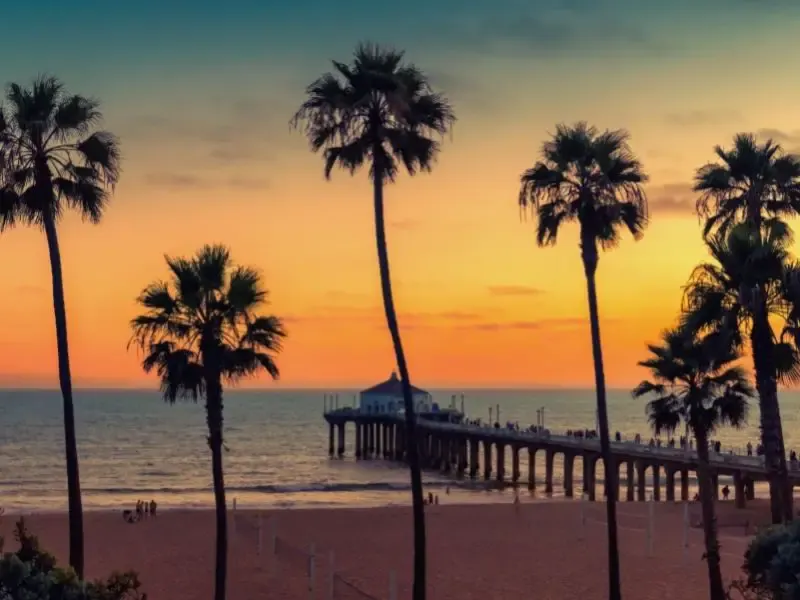 RELATED POSTS
70+ California Bucket List Ideas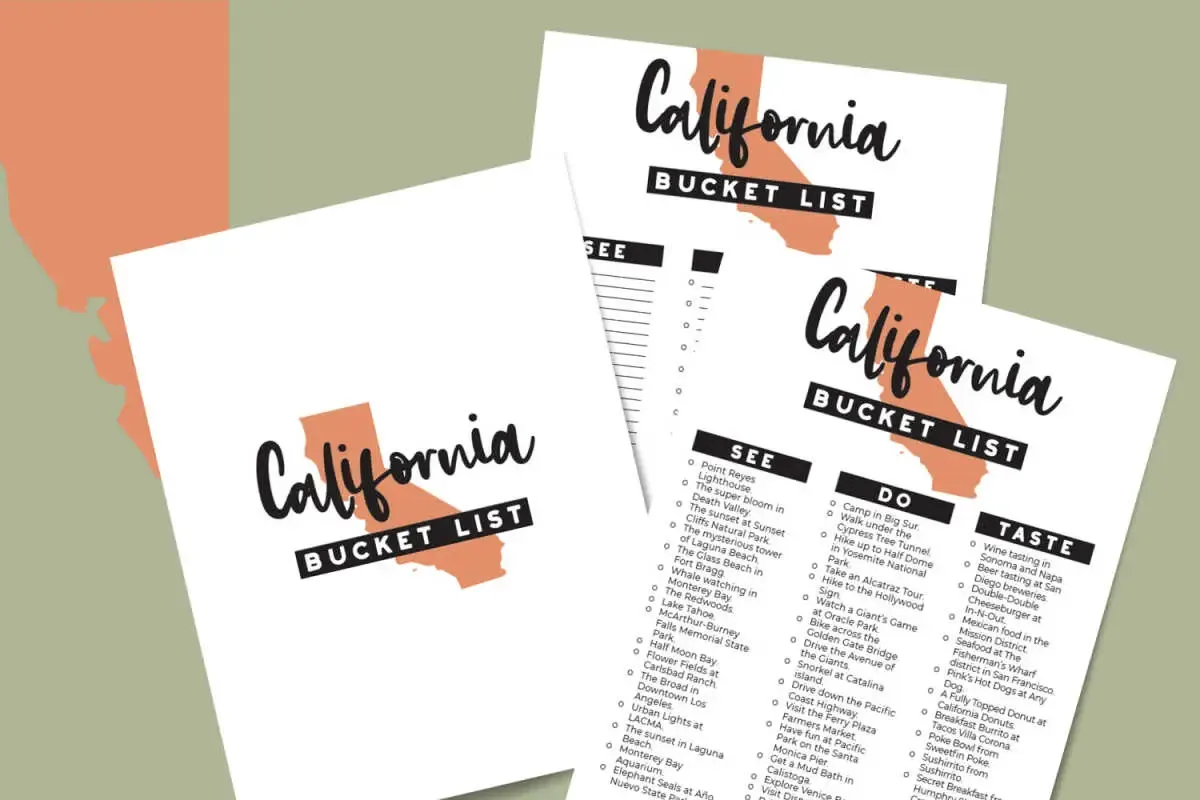 1. Explore California's Wild Westin the ghost towns of Gold Point, Calico and Bodie
2. Visit the palm tree lined beaches of Southern California
3. Hike to the top of a snow-capped mountain in Northern California
4. Spend an afternoon at a vineyard tasting wines from all over the world
5. Listen to classical music on one of LA's many free stages downtown
6. Go surfing or paddle boarding on Newport Beach
7. Take your family up into the Redwoods and camp under their immense canopy
8. Enjoy wine and seafood while watching dozens of species frolic nearby at The Pacific Marine Mammal Center in Laguna Beach
9.Visit Universal Studios or Knott's Berry Farm for some fun family entertainment
10. Check out The Getty Center, an architectural gem that showcases world famous artwork inside of a stately museum building.
11. Scout out the California coast with a whale watching tour from San Diego
12. Go back in time at the Old Town State Historic Park
13.- Watch surfers catch a few waves while soaking up the California sun in Malibu
14. Put your own spin on a local tradition and try an authentic "Taco Tuesday" at a trendy restaurant in Orange County
15.Take part in the city's free public art projects downtown Los Angeles
16. Watch dolphins, sea turtles and pelicans play together at The Sea Lion Show at Marineland California
17. Check out the local art galleries in Laguna Beach during the annual Festival of Arts
18. Camp in style at Joshua Tree National Park
19. Take a scenic drive through the redwood forest and visit The Redwood National & State Parks
20. Walk along Rodeo Drive or Beverly Hills' Rodeo Drive, two of the most expensive shopping destinations in Southern California
21. Check out the unique and eclectic boutiques of Solano Avenue, a historical district in Berkeley with hip restaurants and shops
22. Explore San Francisco's picturesque Golden Gate Park, an expansive urban green space that features Japanese gardens, lakeside paths and even open air theaters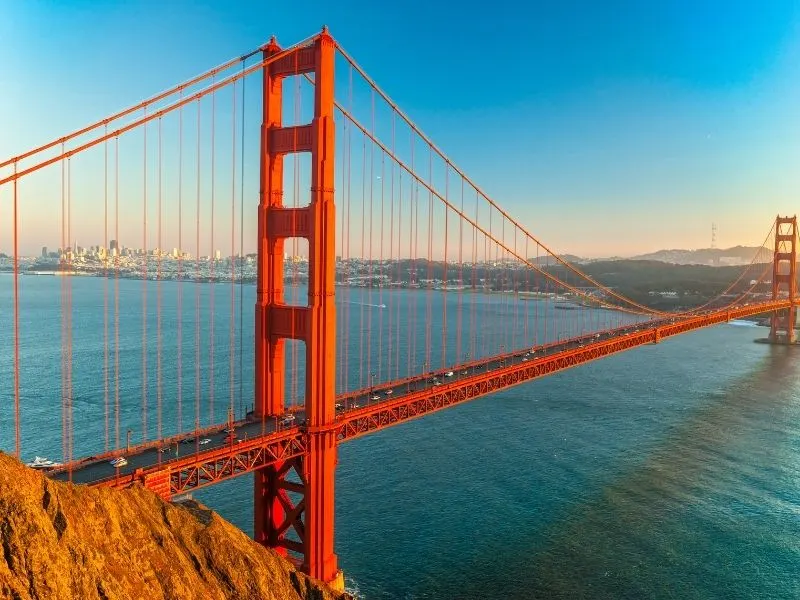 23. Spend a day at the San Francisco Zoo, which showcases over 1,000 animals and takes up an entire city block in the heart of the city.
24. Take part in a demonstration at The Free Speech Movement Cafe near UC Berkeley's campus
25. Walk around Haight-Ashbury, one of the most historically iconic neighborhoods in America, famous for its tie-dyed t-shirts and hippie way of life
26. Catch a show at The Independent, one of the best independently run concert venues in the Bay Area
27.  Hike through California's oldest state park on Alcatraz Island
28.  Catch a performance at The San Francisco Opera, one of the world's premier performing arts institutions
29. Ride the bull at the Saddle Ranch bar in West Hollywood
30.  Swim with some manatees at the Three Sisters Springs in Crystal River, a National Wildlife Refuge
31. Drive to San Diego and enjoy the sunset on Coronado Beach
32. Check out one of the best zoos in America at the world famous San Diego Zoo
33. Take your family up to Mount Whitney, the highest peak in California, for an exhilarating hike through the Sierra Nevada Mountains
34. View some of California's most impressive scenery in a helicopter at Yosemite National Park
35. Take advantage of San Diego's year-round beautiful weather and rent some kayaks to paddle through Mission Bay
36.  Enjoy the crisp air at The El Capitan Canyon, an outdoor adventure paradise located in Southern California
37. Take in the sights at The Getty Center, one of the most popular destinations for tourists visiting Los Angeles
38.- Enjoy an evening at Walt Disney Concert Hall, LA's premier concert venue
39.  Take a tour of the stars homes in Hollywood
40. Attend the La Jolla Festival of the Arts
41. Walk through Little Italy in San Diego to enjoy a taste of authentic Italian cuisine
42. Go on a motorized trip around the city with one of LA's famous "trolley tours"
43. Hop on board the ferry to Catalina Island, an island just 22 miles off the coast of Los Angeles with hiking trails and beaches that will leave you speechless
44. Hike your way to Hollywood's famous hilltop signpost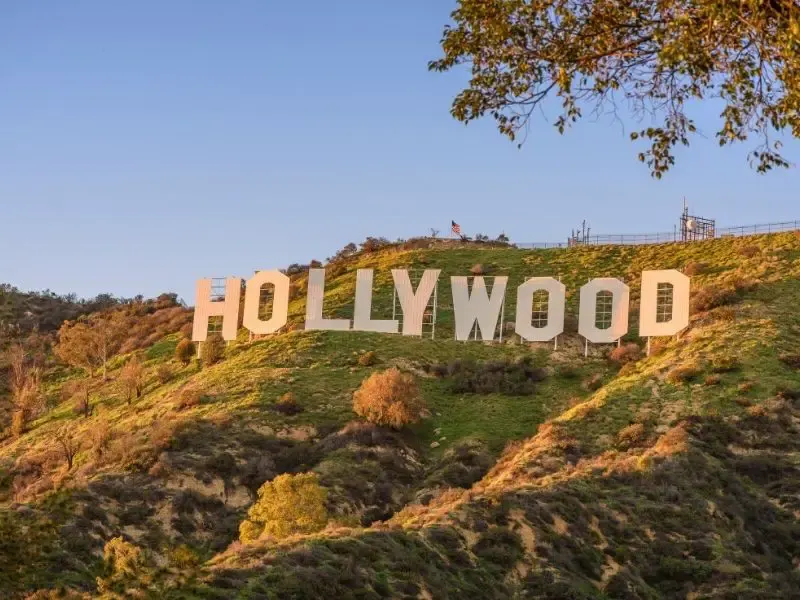 45. Check out Yosemite National Park's Valley Loop Drive, a scenic route that takes you past some of the park's most famous landmarks
46.  Check out California's best beaches at the Santa Monica Pier
47.  See some great live theater at the Ahmanson Theater in Los Angeles
48. Take a stroll through Chinatown In San Francisco,  one of the largest Chinese communities outside of Asia
49. Learn some local history at the The Museum of Contemporary Art in Los Angeles
50. Take a stroll through Griffith Park, LA's largest public park
51.- Go for a hike through the beautiful rows of vines at Robert Mondavi Winery in Napa Valley
52. Enjoy an evening performance at the world famous Hollywood Bowl
53.  Explore some of California's oldest wineries on a "Wine Tasting" tour of Napa Valley
54.- Take your family to Disneyland in Anaheim, it's California's most visited theme park
55.- Rent bikes and cycle through Venice Beach , home to a vibrant art community and some of the best street art in the world
56. Drive across one of America's iconic bridges, located in San Francisco, on your way to Sausalito
57. Take in the views at Muir Woods National Monument , one of California's most popular nature preserves
58.  Check out California's most popular beach town, Laguna Beach , on a "Walking Tour"
59. Try out some incredible restaurants at Downtown LA's Arts District
60. Take the Pacific Highway up to Big Sur for some amazing views
Free Printable California Bucket List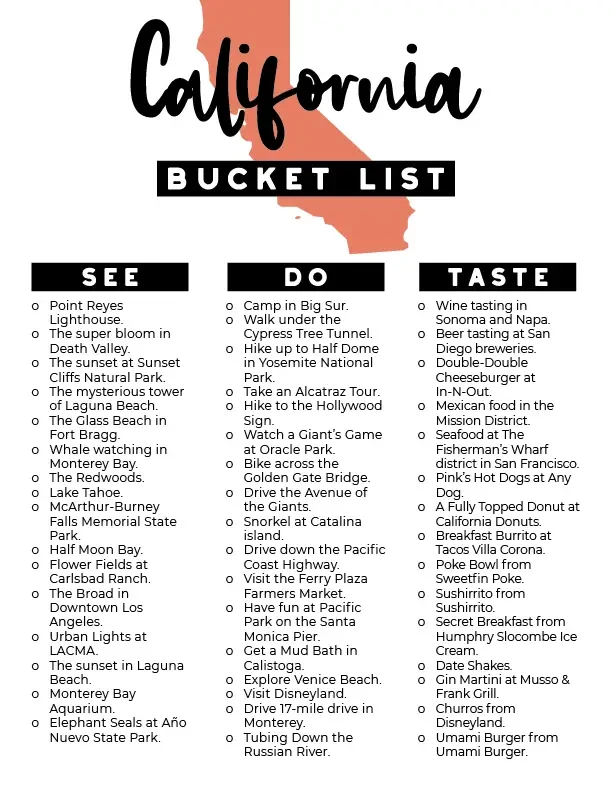 To get your free printable bucket list for the Golden state, just click the link below:
This free bucket list comes with a checklist of the best things to do, see and eat in California as well as a blank checklist that you can fill in yourself.
California Bucket List – Final Thoughts
No matter where you are in the state, there is always something new to explore.
With so many diverse destinations and activities on offer making it easy to find a perfect fit that meets their needs or interests.
Whether you want to explore California's wine country, go camping near Yosemite National Park or take an urban adventure through San Francisco.
Whatever your preferred activity may be, with this list of recommended locations we hope you can plan a visit from start to finish!
More California Bucket List Ideas
Southern California Bucket List – The Best Things To Do in SoCal
Los Angeles Bucket List: 75+ Things to Do in LA
The Ultimate San Diego Bucket List
Epic San Francisco Bucket List {Must-Do Sights & Attractions}