Looking for some fun and new ideas for your Valentine's day date this year? Then look no further!
We've compiled a list of some great ways to make Valentine's Day special.
While we can all agree that Valentine's Day is a commercial holiday, it is still fun to celebrate.
Every day should be treated as special when you are with the one you love but sometimes it helps to have some cute ideas for inspiration.
This list is packed with fun Valentine's day bucket list items for couples to do together.
From cheesy to adventurous, we've got you covered!
So grab your loved one and get planning!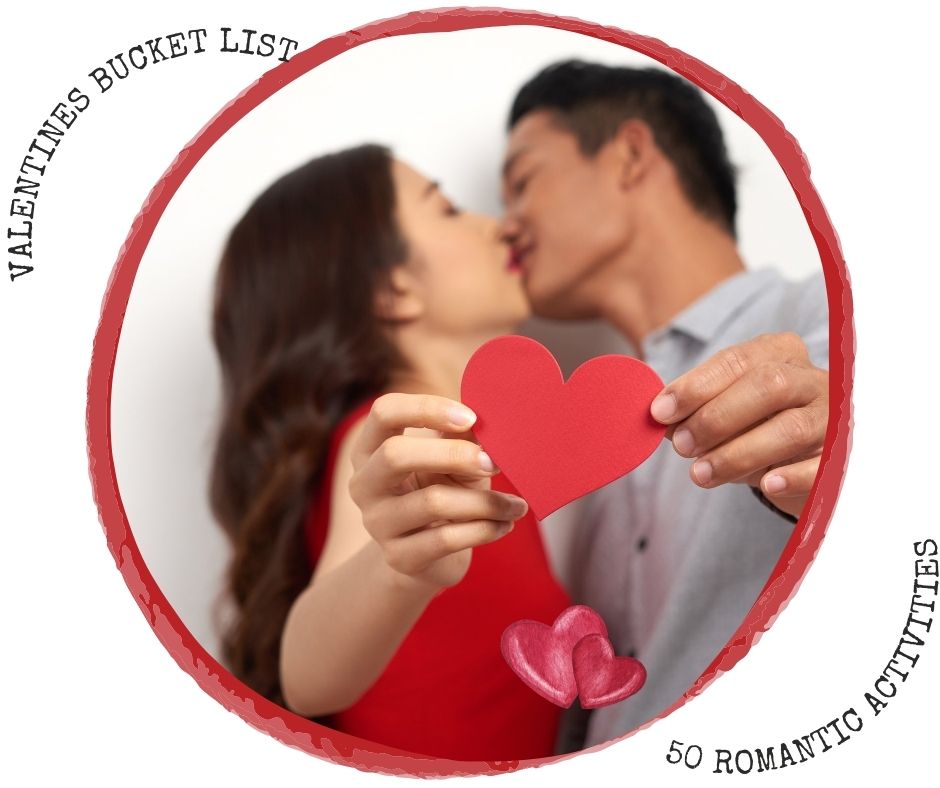 More Fun Date Ideas for Couples
Sex Bucket List – 100 Fun Things To Do With Your Partner
Couples Bucket List: 80+ Bucket List Ideas for Couples
The Ultimate Valentine's Day Bucket List
Make this Valentines Day special with one or all of the ideas on this Valentine's Day Bucket list.
Whether you want to stay close to home or explore new places, we've got something for everyone.
And if it's not Valentine's Day but you still want some fun things to do, make sure to check out my 80+ Bucket List Ideas for Couples to have fun together.
So get ready to celebrate your love in style!
Fall asleep under the stars

Take a random trip

Take a bath together (rose petals optional)

Bonfire by the beach and watch sunset

Have a romantic dinner date

Take a random trip

Go ice skating

Save money and create a romantic haven at home

Go hiking

Take A Pottery Class

Have A Spa Day

Recreate your first date

Ice skate under the stars

Have A Movie Marathon

Breakfast in bed

Write each other love letters

Cook dinner together

Get a couples massage

Spend the night in the fanciest hotel in town

Go snowshoeing

Have a day full of your favorite things

Create a scavenger hunt for each other

Create a vision board for your future together

Play board games all day

Take an online cooking class

Make a scrapbook of your relationship

Take a walk in the park or by the coast

Put a pin in the map and take a day trip adventure

Head to a winery for some tastings

Have afternoon tea at a hotel together

Take a dance class

Practice yoga together

Volunteer at a soup kitchen

Hire bikes and go exploring

Eat only heart shaped foods all day

Build a snowman in the back yard

Have a pillow fight

Spend the afternoon at a trampoline park

Go bowling

Call in sick for the day

Do an epic puzzle together

Go to an escape room

Head to a thrift store and find each other a gift under $10

Have a fondue party for 2

Try horse riding together

Pop a bottle of champagne and enjoy each other's company!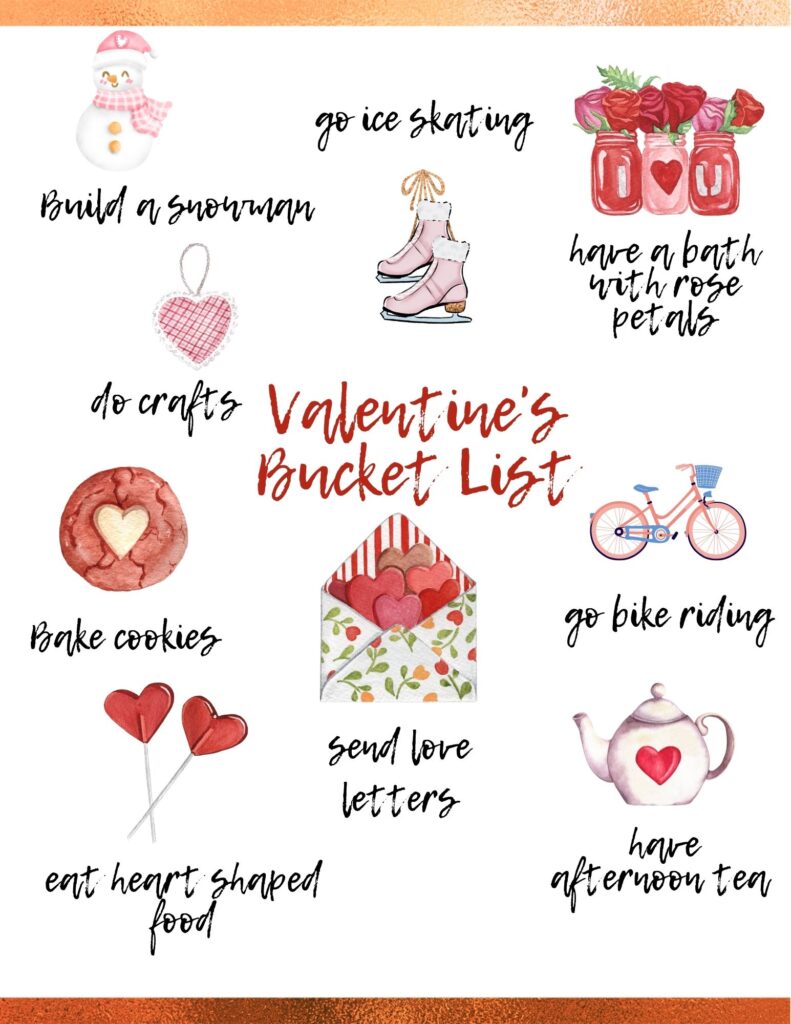 Valentine's Bucket List date ideas
I hope you enjoyed this bucket list of activities to help get you started on a Valentine's day to remember.
From romantic getaways to playful adventures, there is something for everyone on this list.
And you don't need to spend a lot of money to have a really fun time together.
So grab your partner and get ready for some unforgettable memories!
More Romantic Bucket List Ideas For Couples
Fall Bucket List For Couples- 31 Romantic Fall Date Ideas
40 Christmas Activities For Couples (Couples Christmas Bucket List)
Couples Bucket List: 80+ Bucket List Ideas for Couples