Looking for fun St Patrick's day activities for adults? Look no further!
We have put together a list of some of the best activities that will keep you entertained all day long. From festive pub crawls to engaging crafts, there is something for everyone.
So get out your green gear and get ready to celebrate in style!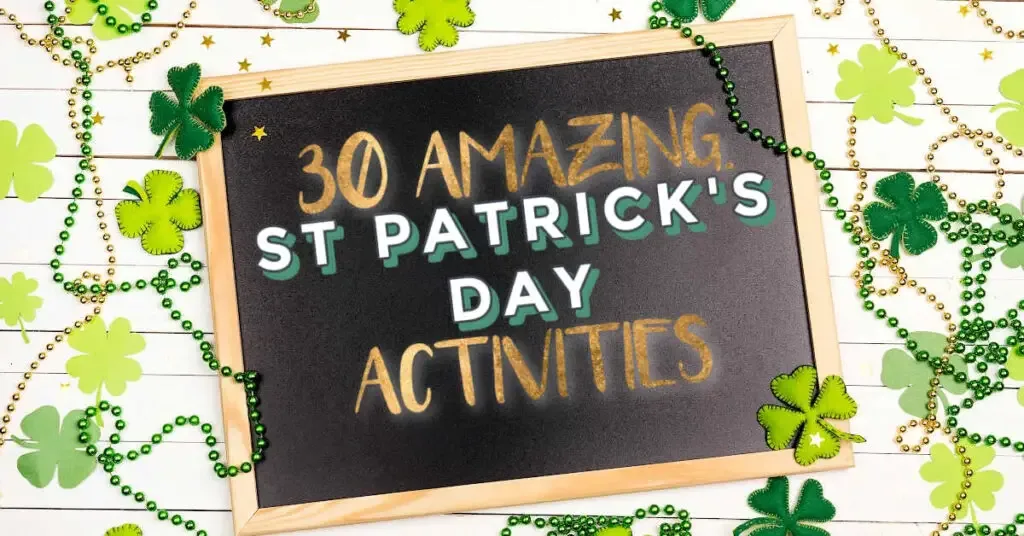 This post may contain affiliate links. Please read my  Disclosure for more information
RELATED POSTS
Easter Bucket List – 25 Fun Things To Do At Easter
Birthday Bucket List – 65 Epic Things To Do On Your Birthday
30 St Patrick's Day Activities For Adults
St Patrick's Day is a fun holiday that everyone can enjoy!
There are lots of things to do on this day, whether you're Irish or not.
These fun St Patrick's Day ideas for adults are not necessarily real Irish traditions (at least not all of them) but they are sure to make your day super lucky!
Here are some fun St Patrick's Day activities for adults that will keep you entertained all day long. Enjoy!
Drink green beer
Throw an Irish themed party
Only eat green foods all day
Attend a St Patrick's Day parade
Go on a Irish pub crawl
Take an Irish Dance lesson (here's a good one from YouTube)
Make traditional Irish stew
Listen to The Corrs or The Cranberries on repeat
Make some fun Irish flag shots
Dress up like a leprechaun and run around all day
Enjoy a pint of Guinness
Trace your family tree and see if you have any Irish ancestors
Have a Irish movie marathon
See who can list the most famous Irish celebrities
Go to Chicago and to see how they turn the Chicago river green every year
Make Irish soda bread
Eat corned beef and cabbage
"Drown the shamrock" by putting it in a glass of whiskey then drinking it
Make a fantastic Rainbow dessert
Grow your own magic leprechaun garden
Eat Lucky Charms for breakfast
Go on a hunt for 4 leaf clovers
Kiss an Irish person
Pinch anyone not wearing green
Enjoy a Shamrock Shake from McDonalds (or make your own)
Make some awesome St Patrick's Day crafts like this rainbow sand terrarium
Say "Top of the morning to you" to everyone you meet
Read some traditional Irish fairy tales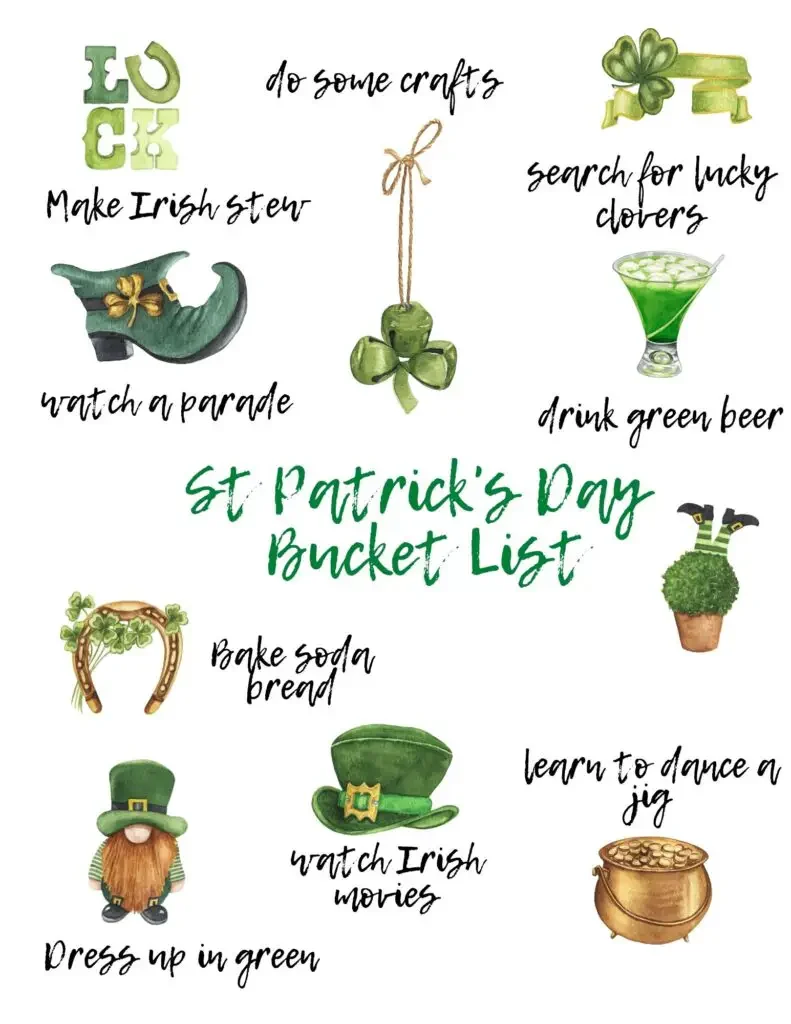 Exciting Irish Ideas For Adults – Final Thoughts
Looking for something fun to do on St Patricks day?
Check out these Irish themed activities that are perfect for adults!
From silly outfits to delicious food, there is something for everyone.
So grab your friends and get ready to celebrate in style!
More Fun Bucket List Ideas
Anime Bucket List – 28 Anime Every Fan Should See
16 Bucket List Marathons To Do Before You Die
40 Funny Bucket List Ideas -Silly Things To Do Before You Die