It's the most wonderful time of the year! Get into the holiday spirit with this fun family Christmas bucket list.
From watching festive movies to baking cookies to making gingerbread houses, there are plenty of activities to enjoy with your loved ones.
Check items off the list as you go and create lasting memories that will be cherished for years to come.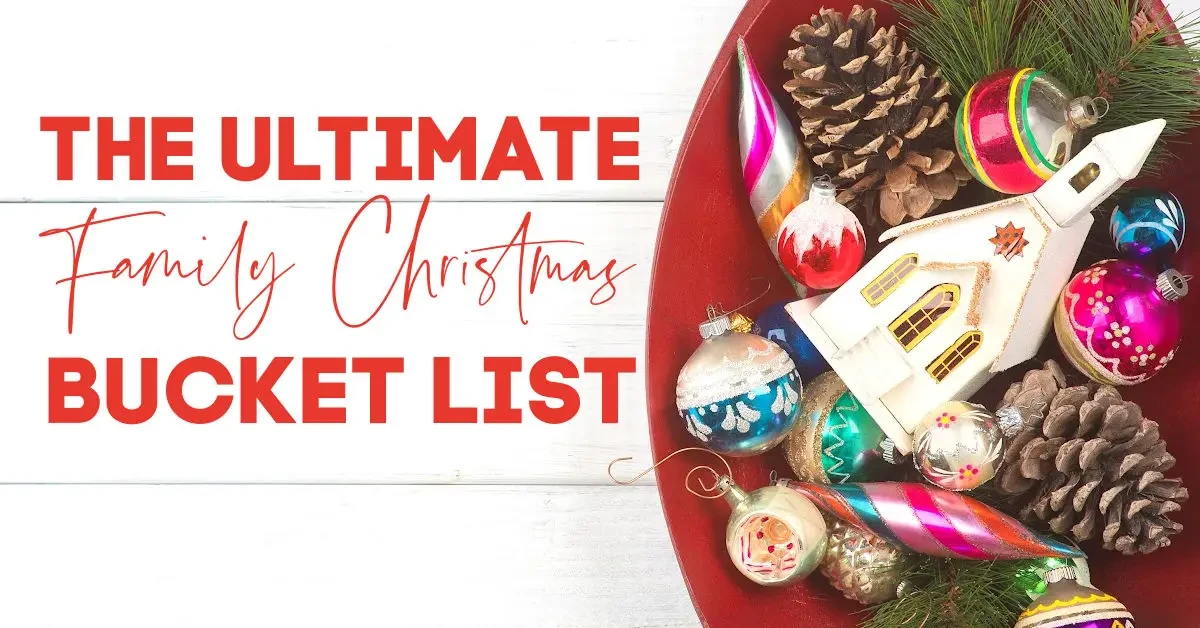 This post may contain affiliate links. Please read my Affiliate Disclosure for more information
The Ultimate Family Christmas Bucket List
The holidays are a time for family, love, and tradition. What better way to celebrate the season than by creating new traditions with your loved ones?
Here are 25 ideas to get you started on your family's Christmas bucket list.
1. Cut down your own Christmas tree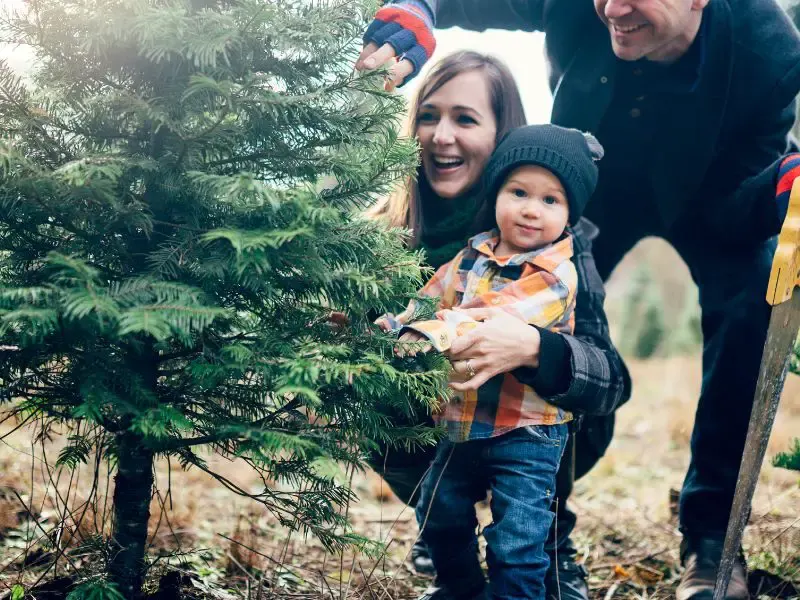 This is a fun activity for the whole family and it's a great way to get into the holiday spirit!
We just started doing this two years ago and now it is a must-do on our family holiday bucket list. 
2. Make homemade gifts for each other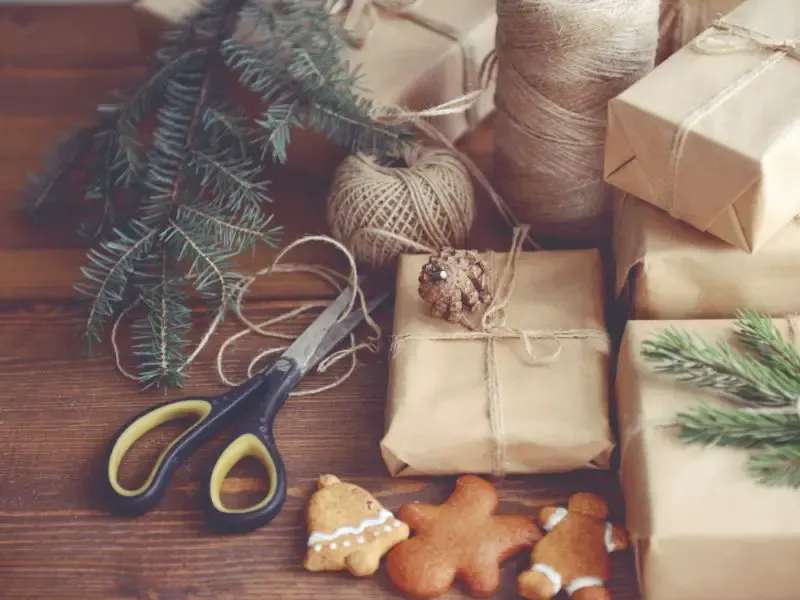 This is a great way to show how much you care and it's also a lot of fun!
3. Go carolling together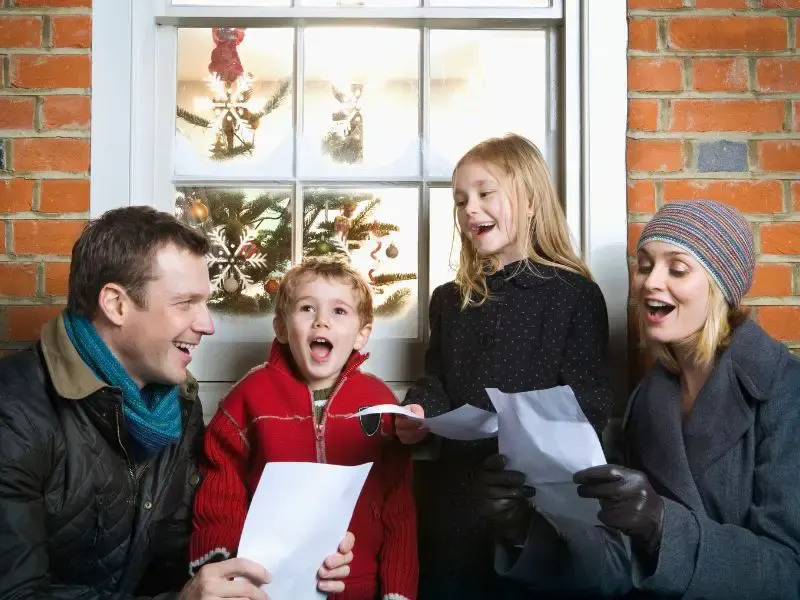 This is a great way to spread some holiday cheer and it's also a lot of fun!
4. Decorate gingerbread houses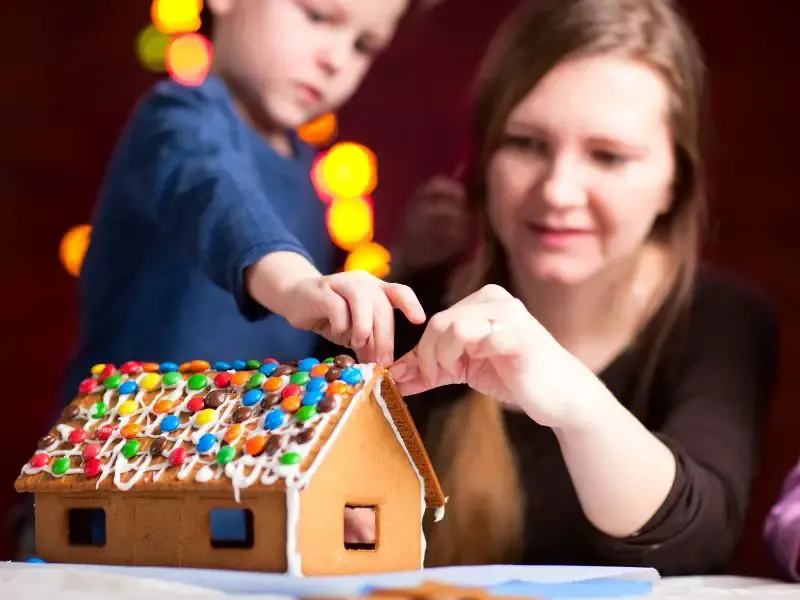 This is a great activity for the whole family and it's also a lot of fun!
5. Have a snowball fight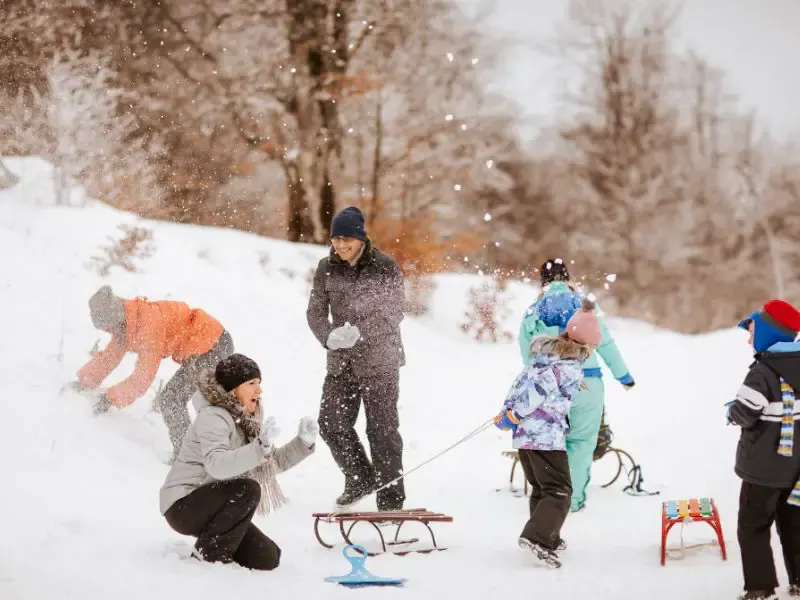 What is more fun than getting outside in winter and having a snowball fight? 
6. Visit Santa's workshop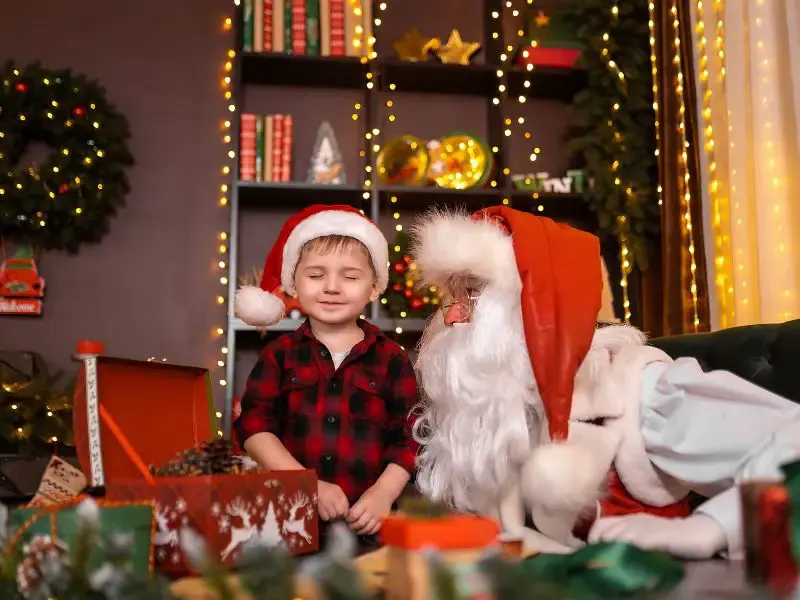 A visit with the big man should be on everyone's family Christmas list – don't forget to take a photo! 
7. Go ice skating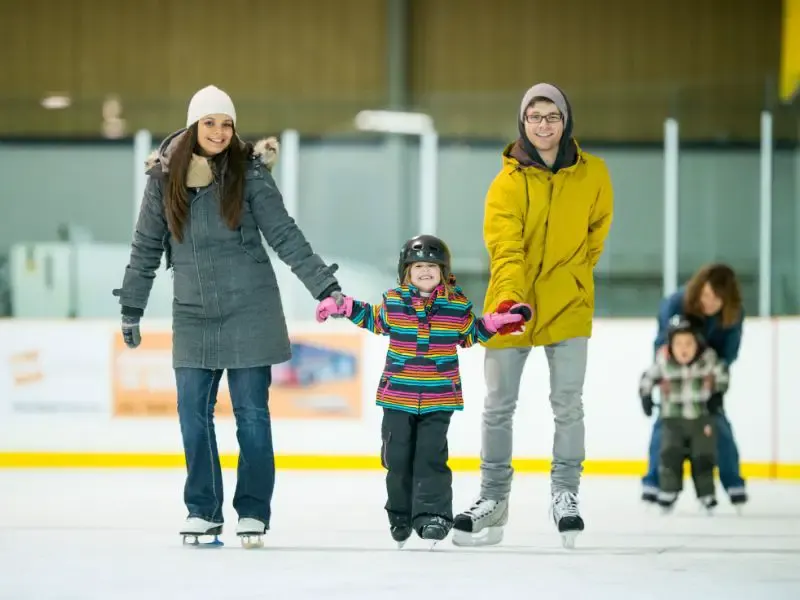 Don't live somewhere cold? Never fear, there are lots of indoor ice rinks around the country, including lots of malls that have their own skating rink! 
8. Make a snowman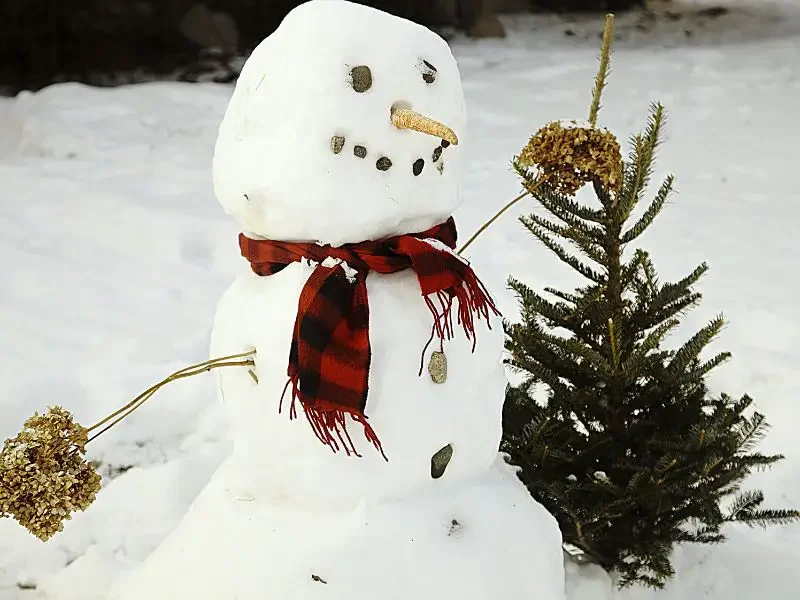 Making a snowman with the family is one of those Christmas bucket list activities that you have to try and do at least once a year!
9. Watch a Christmas movie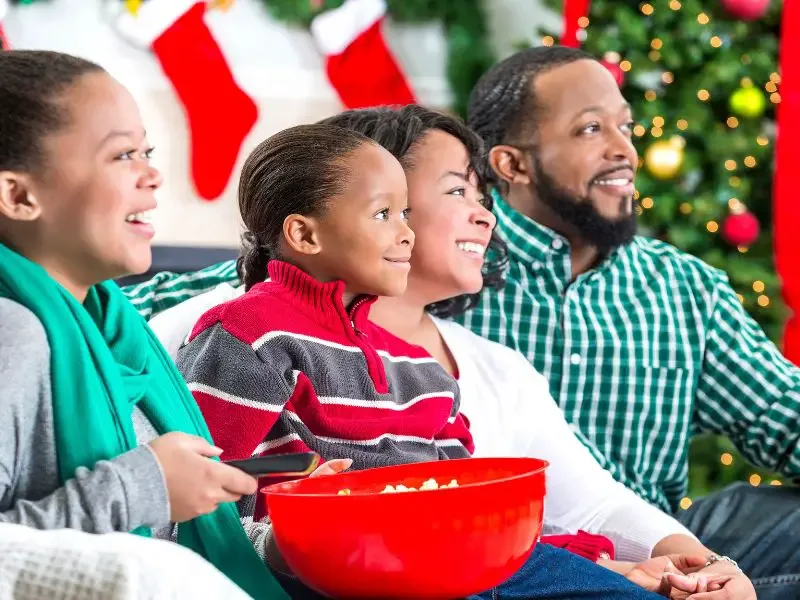 Grab the popcorn and watch some fun holiday movies together as a family. Can't decide what to watch? Check out our list of 60+ Must-Watch Holiday Movies. 
10. Bake Cookies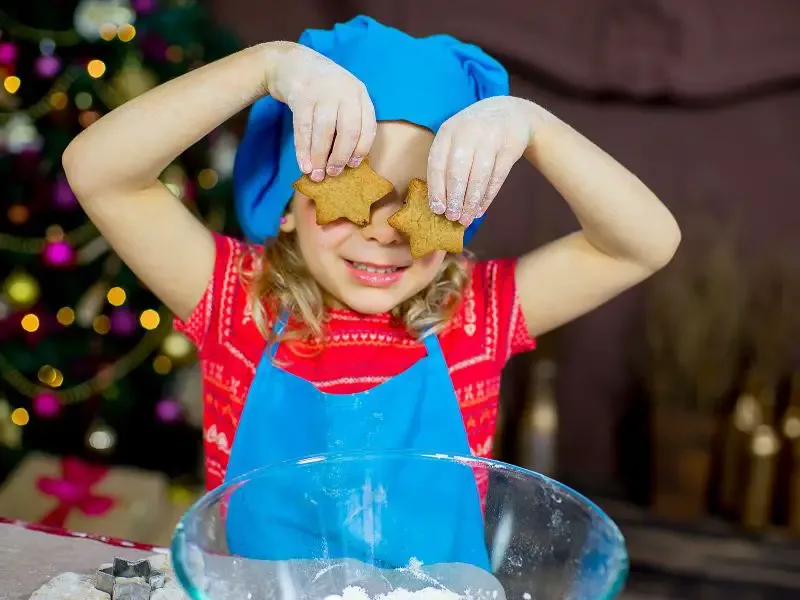 Many families have a holiday tradition of baking cookies and other treats together. It can be fun to make grandma's recipes and pass the traditions down to the younger generations. 
11. Go to Christmas Eve Services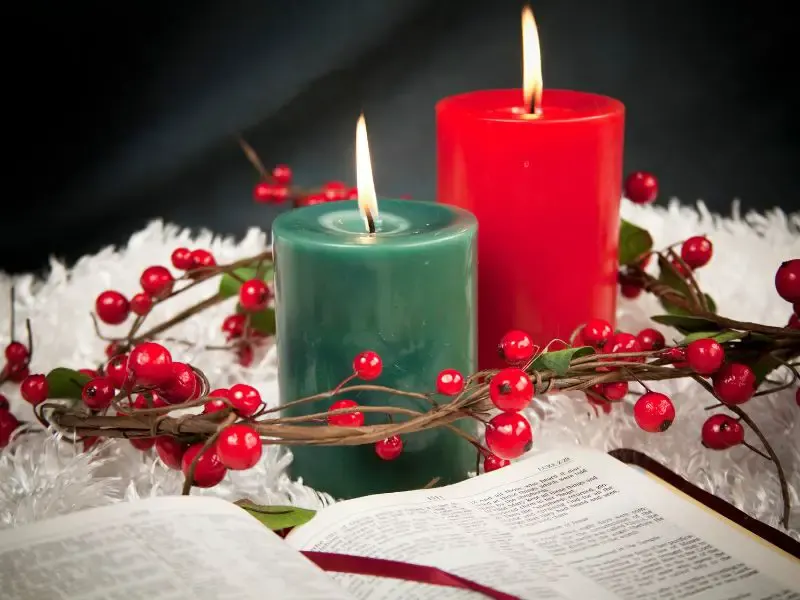 Even families who don't attend church throughout the year will often look forward to the Christmas service. 
Check out our Christ-centered Christmas bucket list for more fun ideas. 
12. Drive around and look at the lights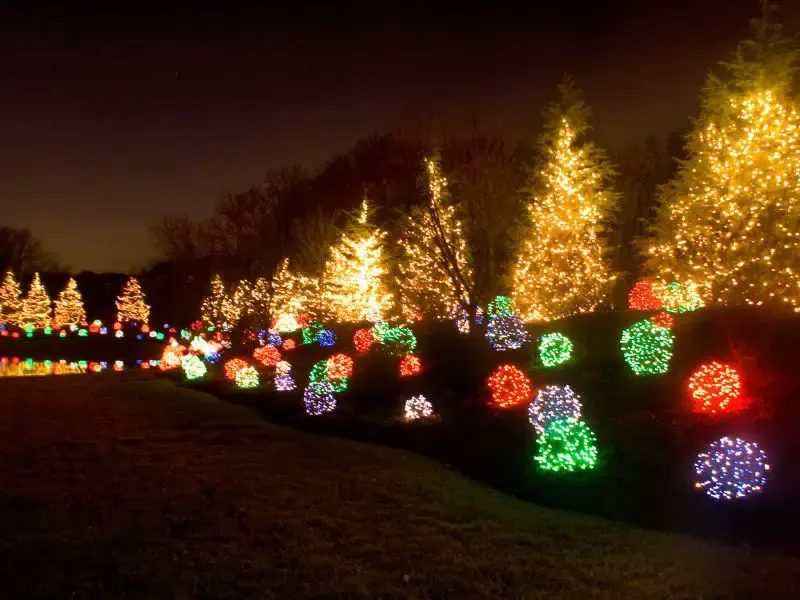 Make some hot chocolate to go and drive around looking at the lights together. This is a really fun way to spend an evening without spending any money! 
13. Decorate the Tree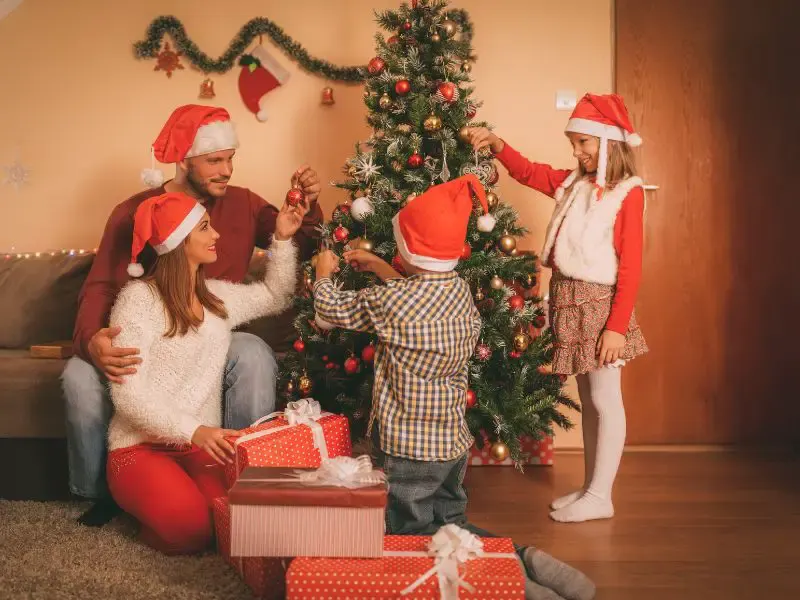 Whether you do it on the 1 December or the 24th, trimming the tree is one of the most fun parts of the holidays. 
14. Donate to the toy drive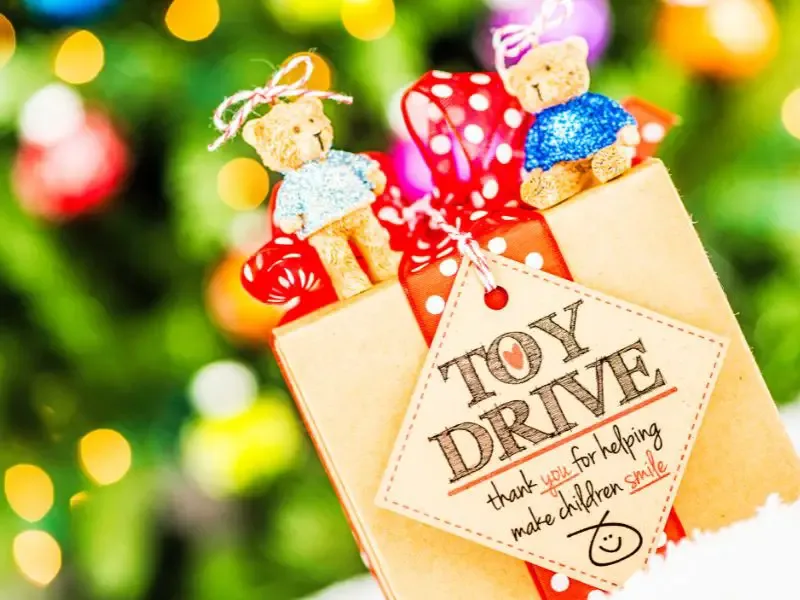 You can pick a person to sponsor from the angel tree or donate some toys to the toy drive. Whichever you choose, it is a great way to give back during the holidays. 
15. Send Christmas Cards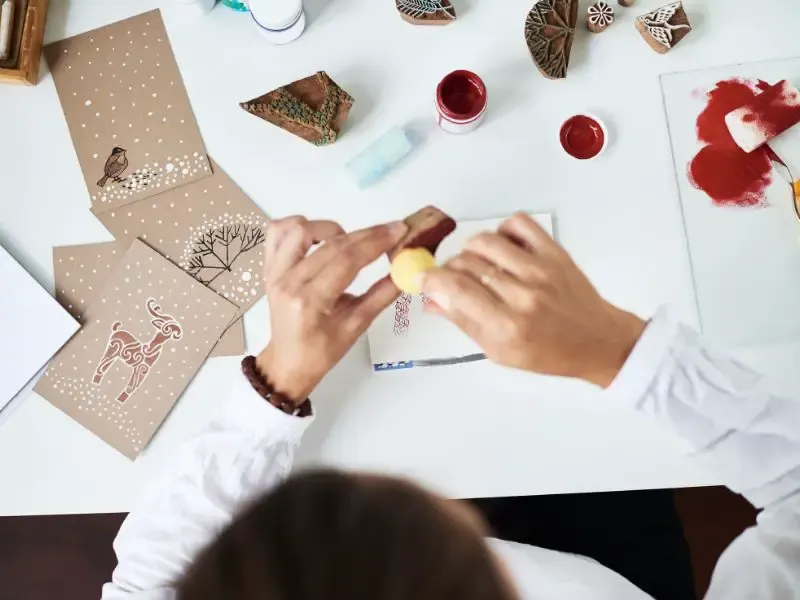 Fewer and fewer people send cards nowadays but we all love to receive them! 
16. Watch a Holiday Play or Show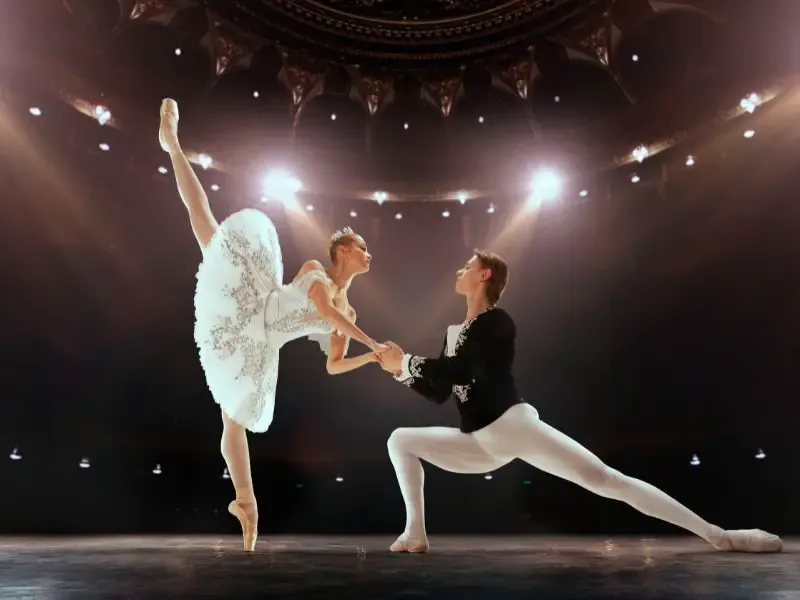 Maybe you live in NYC and can see the Rockettes or maybe the Nutcracker is more your style. 
17. Read Christmas Stories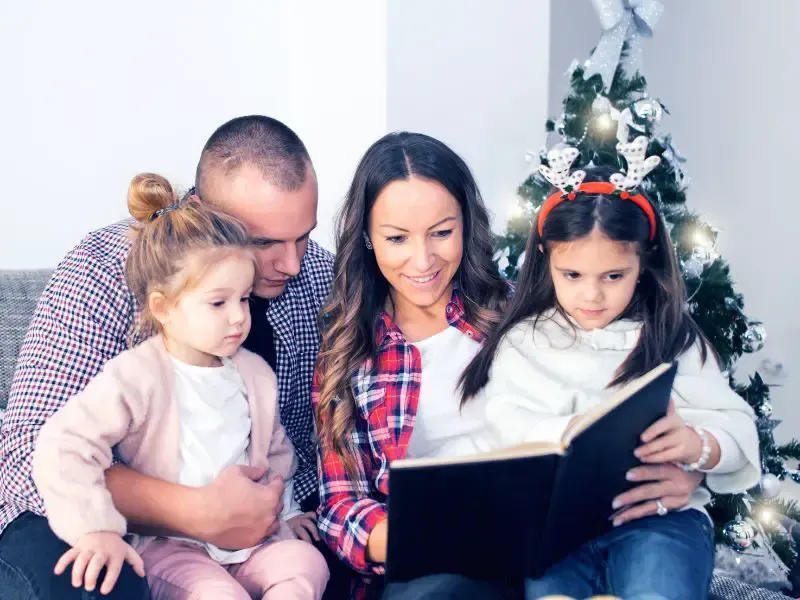 You can even make a fun advent calendar out of Christmas themed books and read one a day during December. 
18. Random Act Of Kindness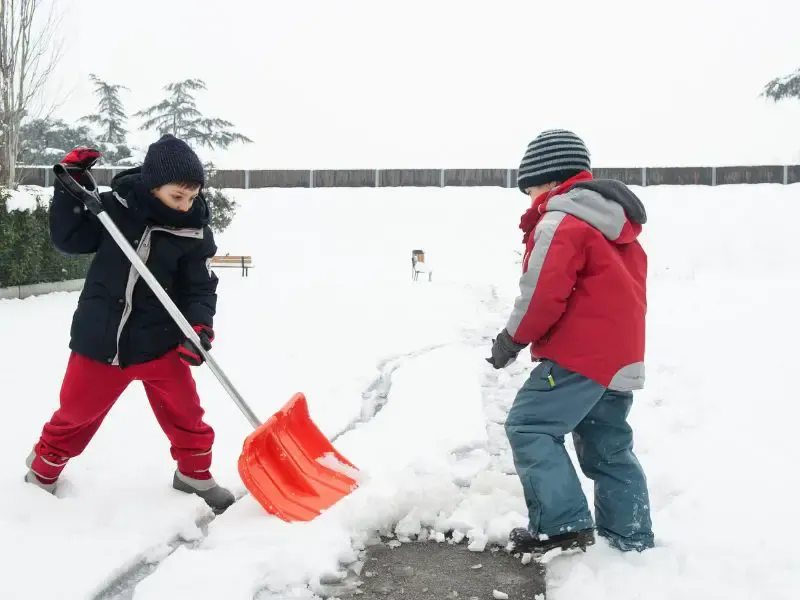 Keep the meaning of the season by doing a good deed. Help a neighbour bring in the groceries or shovel their driveway as a family. Doing good feels good too!
19. Watch a Christmas Parade
You might watch the Thanksgiving parade on TV or the Santa Claus parade in your home town. 
20. Visit A Christmas Market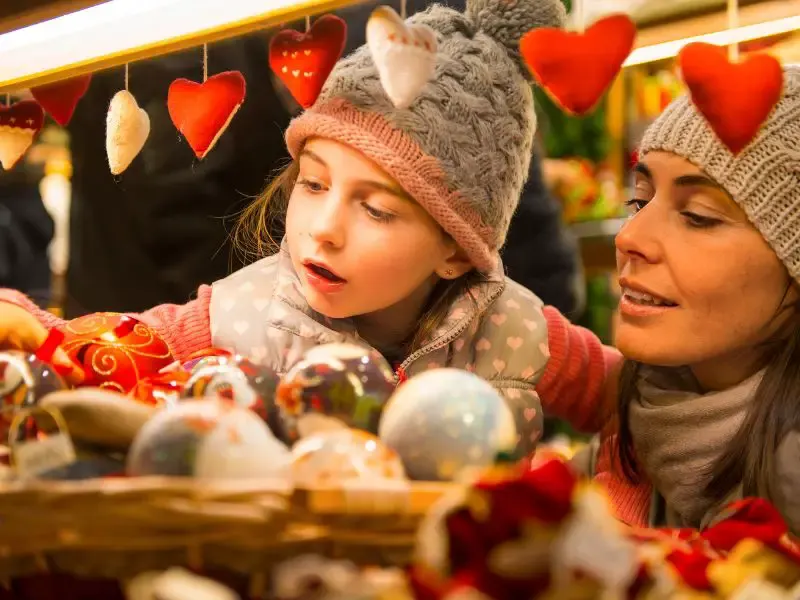 European style Christmas markets are popping up everywhere and are a fun way to spend a holiday evening. 
21. Make a Hot Chocolate Bar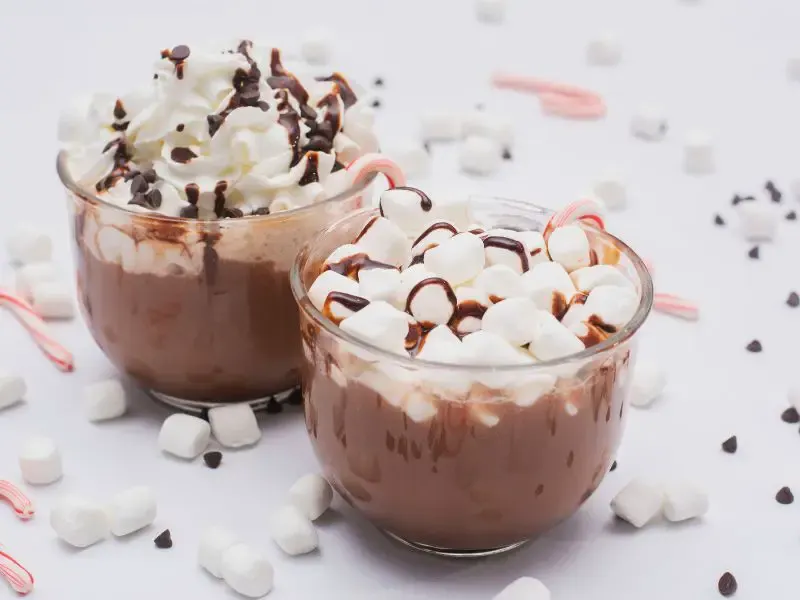 This is a really fun activity you can combine with your holiday movie night. Simply lay out lots of fun topping options with spoons and let everyone go to town making their own creation. 
22. Sleep Under The Christmas Tree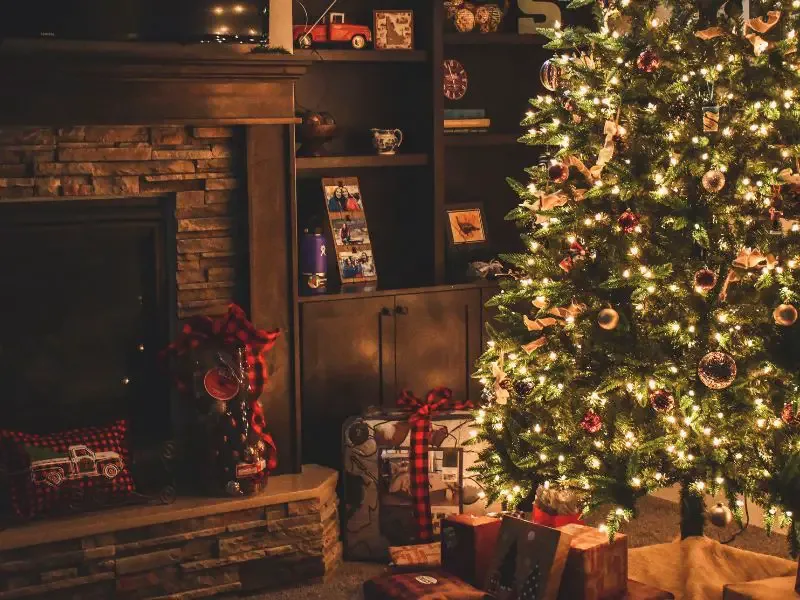 Of course, there probably isn't room to actually sleep under the tree, but having a living room (or wherever your tree is) sleepover is really fun!
23. Mail A letter To Santa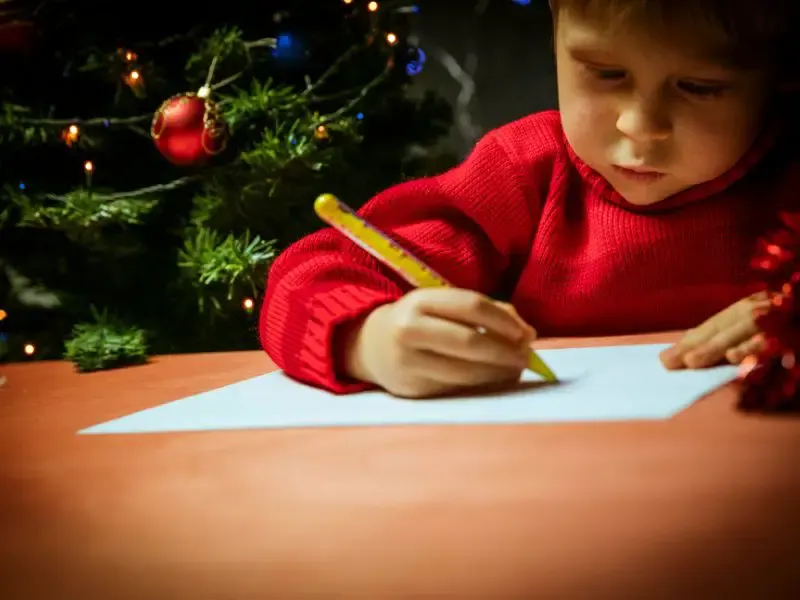 As soon as the ToyRUs catalogue hits our mailbox, my kids are cutting and circling as many items as possible.
Writing your own letter to Santa is a fun tradition that even adults can do! Grab these free printable letter to Santa templates to start you off. 
24. Get Your Advent Calendar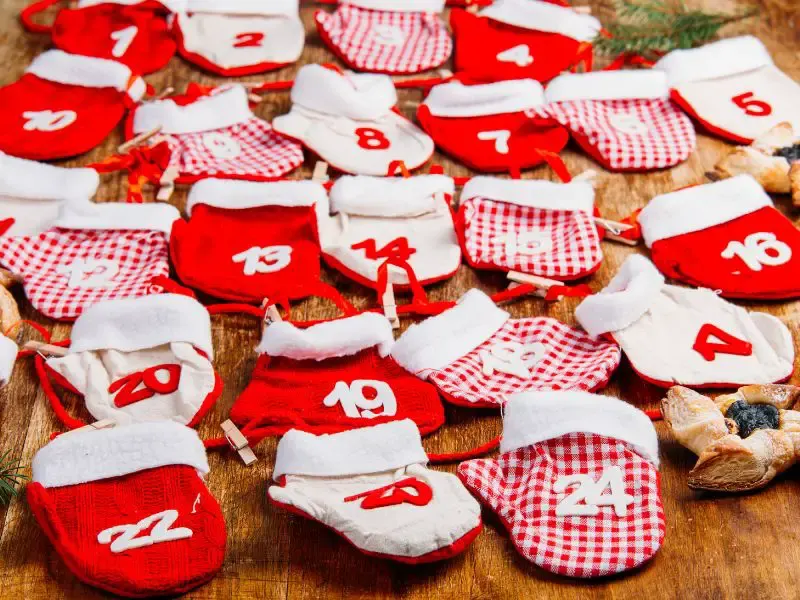 In our household, the advent calendar is the topic of a lot of discussion. Do we want chocolate ones or do we want to go all out and get the fancy Lindt ones this year? 
25. Make An Ornament For The Tree
Salt dough ornaments are always a big hit but there are lots of other kinds that you can make as a family. Here are some fun DIY Christmas ornaments ideas for you to check out. 
The Importance of Family Christmas traditions
When it comes to family Christmas traditions, it's important to make sure that everyone is on board.
This means getting everyone's input on what traditions are most important to them and making sure that those traditions are carried out each year.
For some families, this might mean decorating the Christmas tree together or making gingerbread houses.
Others might prefer watching holiday movies or attending festive concerts.
Whatever the traditions may be, they should be ones that everyone can enjoy and look forward to.
Not only do these traditions help to bring the family closer together, but they also create lasting memories that can be cherished for years to come.
So if you're looking to start some new Christmas traditions this year, be sure to involve the whole family in the planning process.