Get ready to ring in the new year with our amazing New Year's Eve bucket list!
Forget about the usual club or restaurant and start your new year with a bang by experiencing the best the world has to offer! 
From once-in-a-lifetime experiences to the top places to watch the clock strike midnight, we have it all. 
Whether you're into far-off places,  staying close to home, or adopting some new NYE traditions from around the world, there are so many options. 
So don your sparkly dress (or pants) and get ready to pop some Champagne!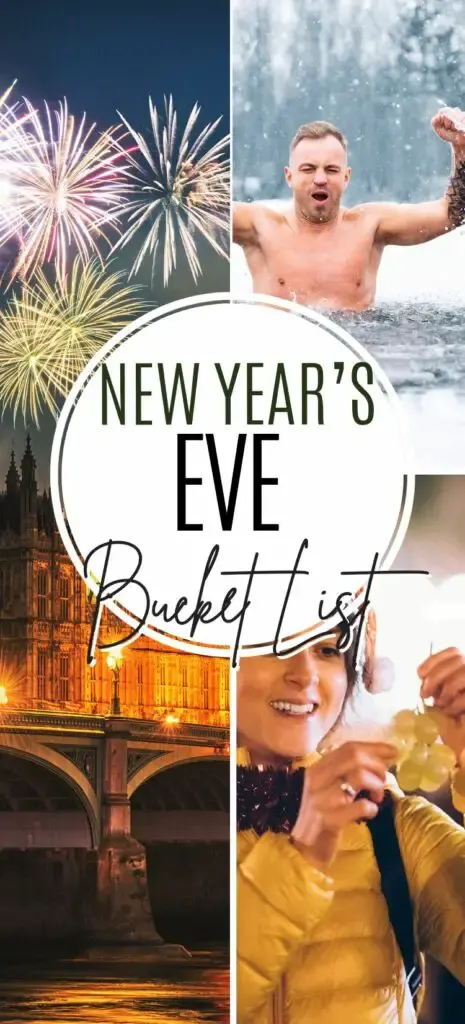 This post may contain affiliate links.  Please read my Affiliate Disclosure for more information
MORE BUCKET LISTS FOR YOUR BEST LIFE EVER
50 Meaningful Spiritual Bucket List Ideas
Kissing Bucket List: 34 Places To Smooch Before You Die
The Best New Year's Eve Bucket List 
This bucket list is packed with the absolute best places in the world to spend NYE. 
In addition, we have added some fun must-do experiences for those of you staying closer to home this year. 
From cultural traditions to fun things that don't cost a thing, we have you covered. 
Below are some memorable and unique ways to spend New Year's Eve to give you some inspiration.
Amazing Ways To Spend New Year's Eve
You'll love this list of the best ways to enjoy the new year in style! 
Save the New Year's Resolutions for tomorrow and enjoy these once-in-a-lifetime experiences! 
The Best Places To Ring In The New Year
New Year's Eve is a globally celebrated event, and people all around the world come together to bid farewell to the old year and welcome the new one with spectacular fireworks, vibrant parties, and unique cultural traditions.
If you're seeking an unforgettable New Year's Eve experience, consider visiting one of these top destinations known for their extravagant celebrations and festive atmospheres.
Sydney, Australia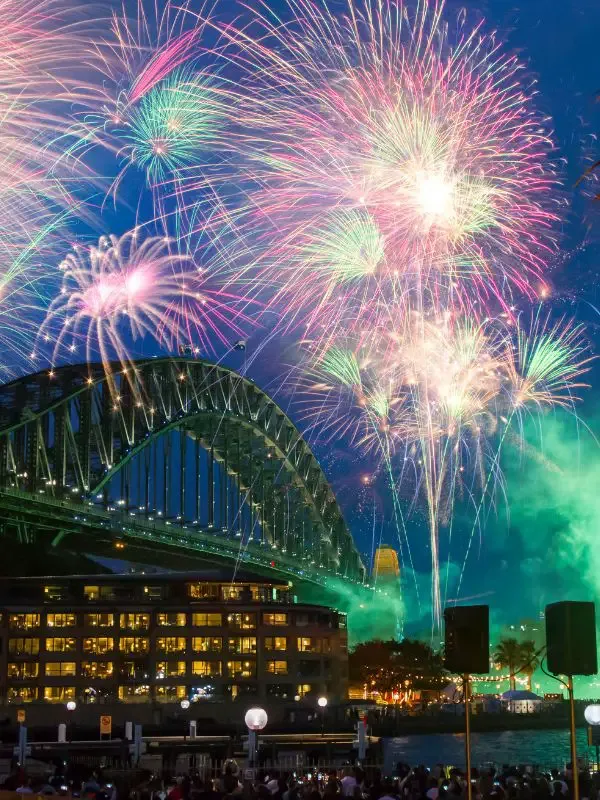 Sydney is one of the first major cities to welcome the New Year, and it does so in style with its iconic fireworks display over the Sydney Harbour Bridge and the Sydney Opera House.
The harbor is illuminated with a breathtaking pyrotechnic show that attracts millions of visitors every year.
You can also book a harbor cruise for an up-close view of the festivities or enjoy the party atmosphere at one of Sydney's many waterfront venues.
New York City, USA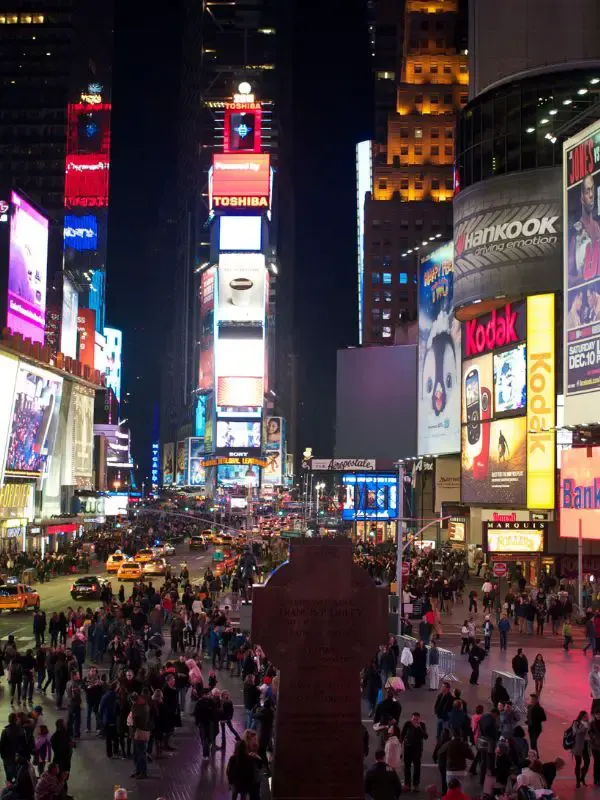 Times Square in New York City is famous for its annual New Year's Eve ball drop, which has been a tradition since 1907.
Joining the crowd in Times Square to watch the ball descend as the clock strikes midnight is a bucket-list experience, and for good reason. 
The event features live music performances, celebrity appearances, and a jubilant atmosphere that's unmatched anywhere else.
Rio de Janeiro, Brazil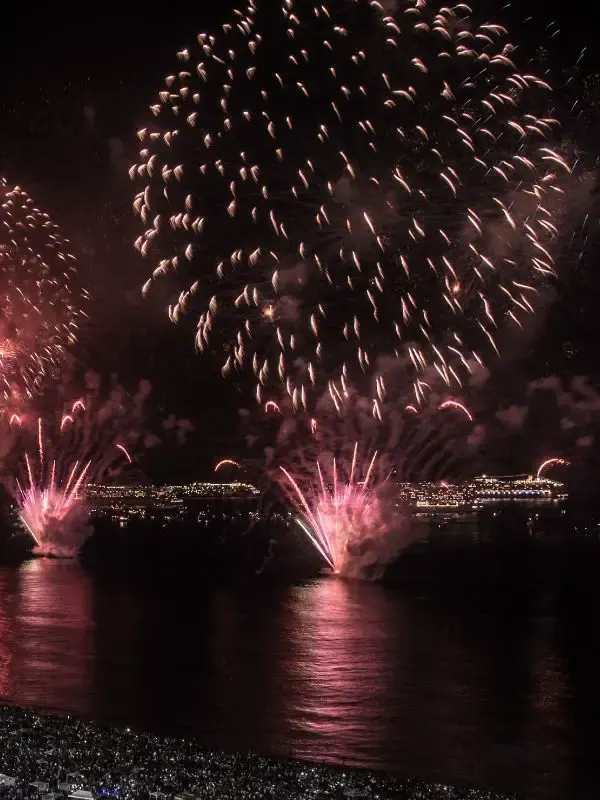 If you're looking for a New Year's Eve celebration with a tropical twist, head to Rio de Janeiro.
The city's Copacabana Beach hosts one of the world's largest open-air parties, known as "Réveillon."
Locals and tourists alike gather on the beach dressed in white (a symbol of peace and good luck) and launch colorful fireworks into the sky.
The backdrop of the stunning Sugarloaf Mountain adds to the magic of the night.
Edinburgh, Scotland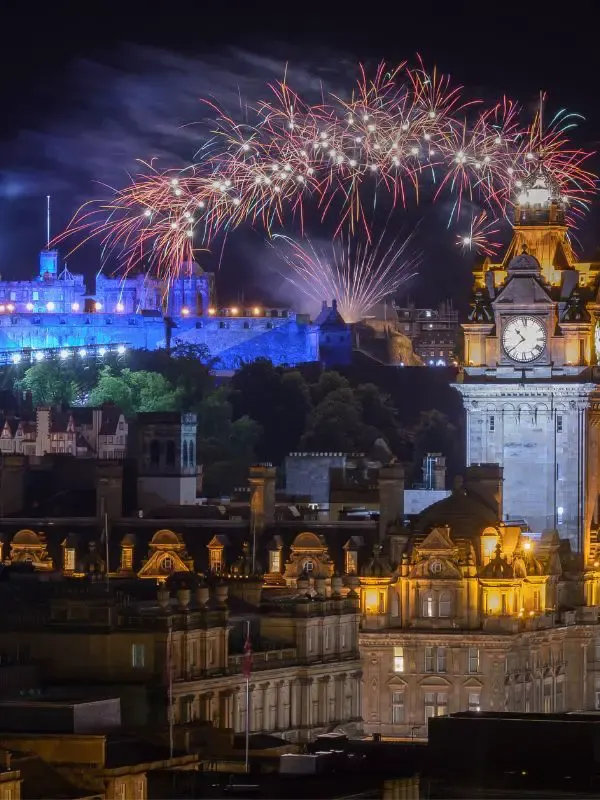 Edinburgh's Hogmanay celebration is renowned for being one of the most spirited and inclusive New Year's Eve events in the world.
The festivities span several days, with street parties, live music, and traditional Scottish customs.
The highlight is the "Torchlight Procession," where thousands of people carry torches through the city to create a mesmerizing river of light.
Tokyo, Japan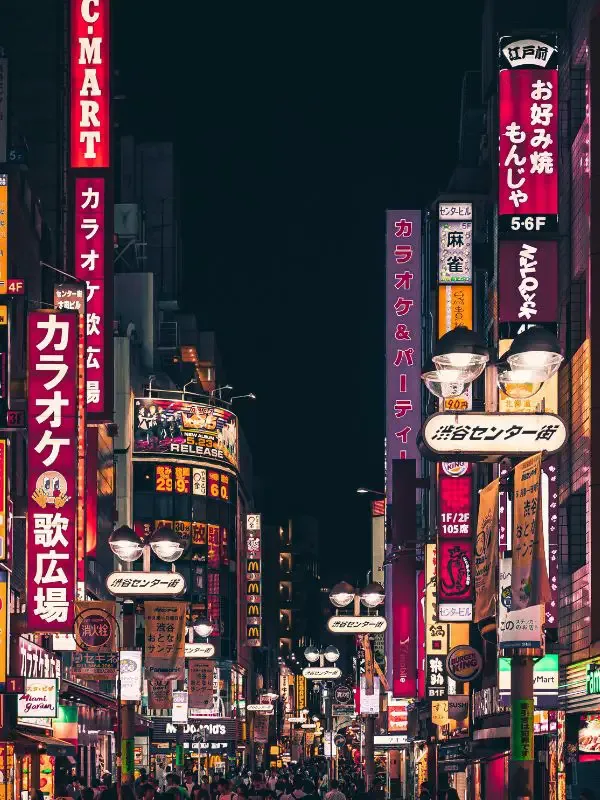 Tokyo offers a unique blend of ancient traditions and modern festivities for New Year's Eve.
Locals celebrate with the ringing of temple bells, visiting shrines, and enjoying traditional dishes like toshikoshi soba (buckwheat noodles). 
Noodles are eaten as long food is supposed to bring long life and prosperity. 
As the clock strikes midnight, the skies light up with spectacular fireworks over Tokyo Bay, and the Shibuya Crossing becomes a bustling party scene.
Cape Town, South Africa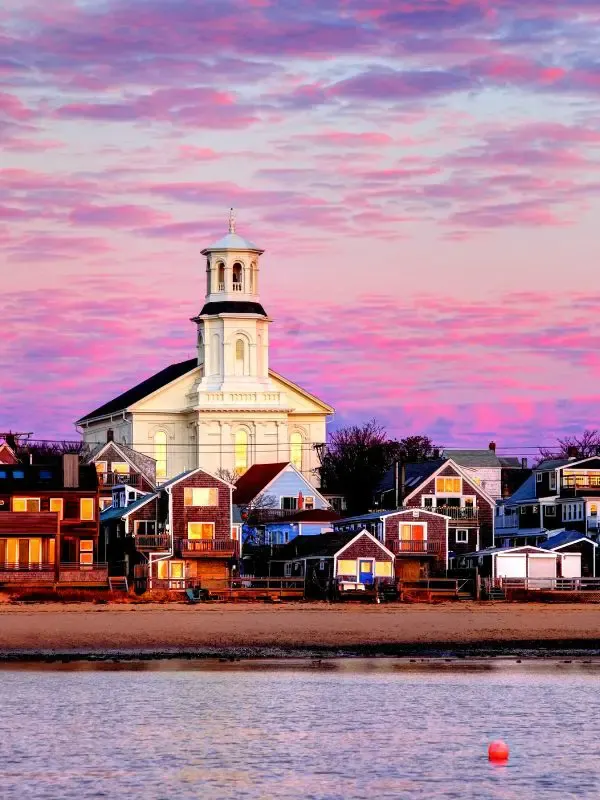 Cape Town's New Year's Eve celebrations are set against the backdrop of the stunning Table Mountain and the V&A Waterfront.
The city hosts a vibrant carnival and street party with live music, food stalls, and a fantastic fireworks show.
Many locals and visitors gather on Signal Hill to watch the midnight fireworks and enjoy panoramic views of the city.
Prague, Czech Republic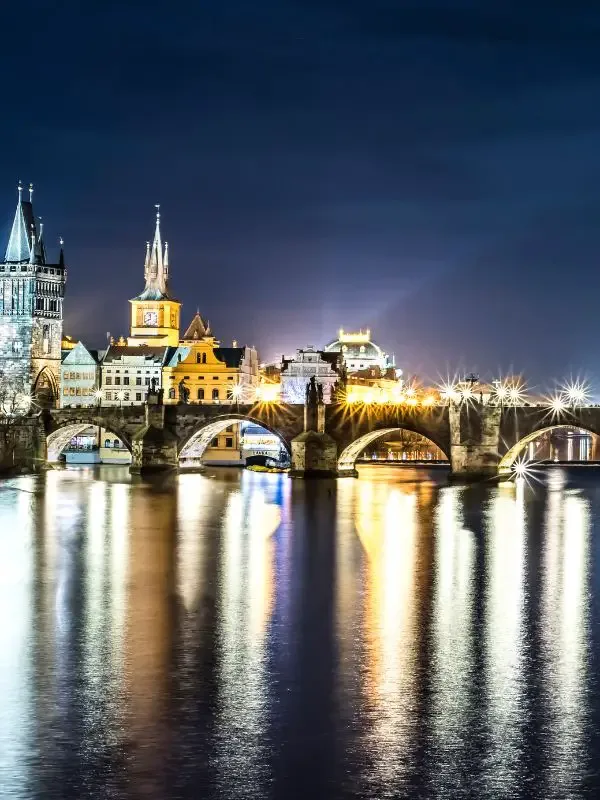 Prague's fairytale-like setting becomes even more enchanting on New Year's Eve.
The city's historic Old Town Square and Charles Bridge transform into lively party hubs with live music, street performances, and plenty of mulled wine to keep you warm.
As the clock strikes midnight, the night sky above the Prague Castle is illuminated with dazzling fireworks.
The Bahamas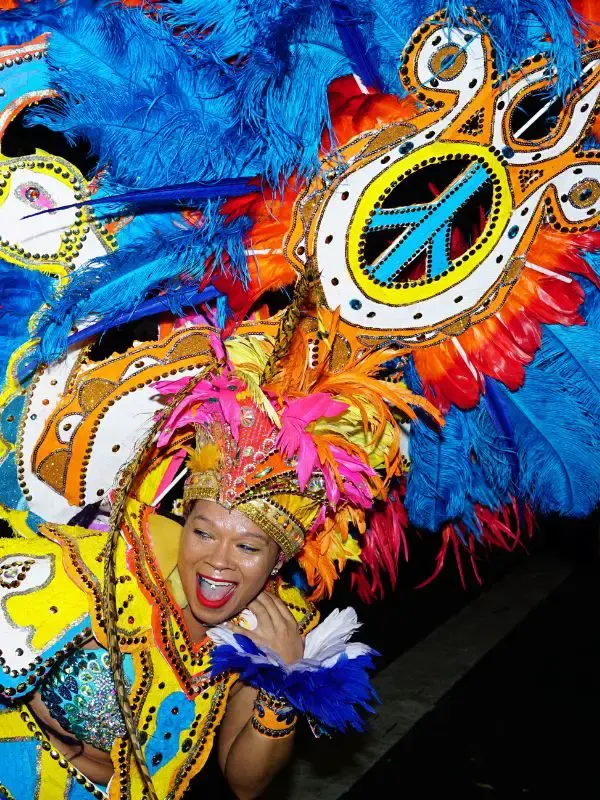 Head to the Caribbean for some fun in the sun this NYE! 
Bahamians know how to put on a show, and New Year's Eve is no exception.
The capital city, Nassau, hosts a spectacular fireworks display over the harbor that lights up the night sky in a brilliant array of colors
No New Year's Eve in the Bahamas is complete without experiencing the Junkanoo Parade.
This vibrant and energetic street parade is a beloved Bahamian tradition. Dancers and musicians in elaborate costumes march to the rhythmic beat of drums and cowbells, creating a lively atmosphere of celebration.
London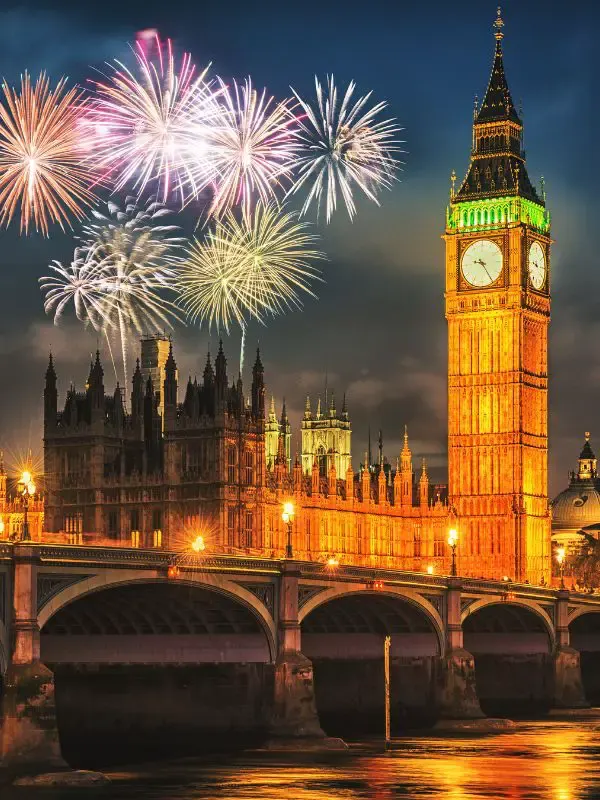 Spending New Year's Eve in London is an iconic experience.
As the clock ticks toward midnight, the city's historic landmarks, including Big Ben and the London Eye, light up the night with a dazzling display of fireworks.
Thousands gather along the Thames River to witness this breathtaking spectacle, creating an electrifying atmosphere.
Trafalgar Square is one of the most popular places to spend NYE but the  festive mood permeates the city's streets, with vibrant parties, live music, and traditional toasts all over. 
Paris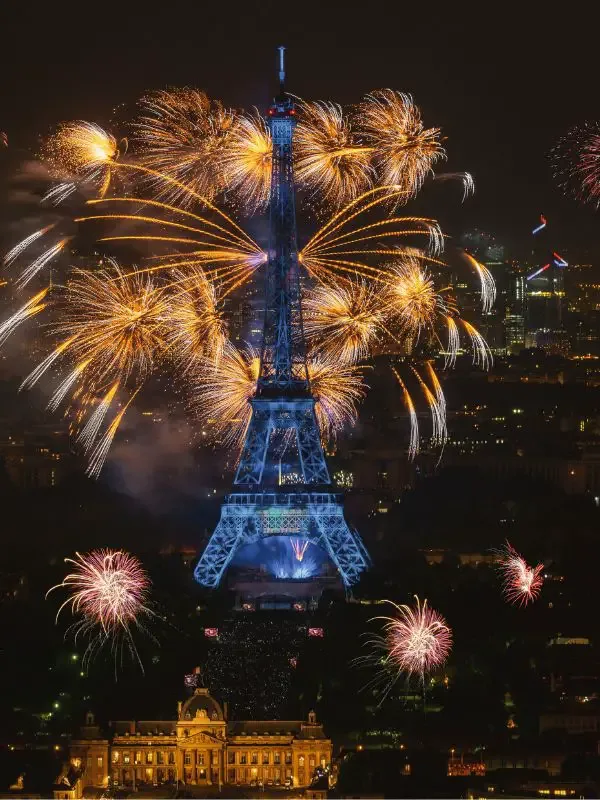 The iconic Eiffel Tower, already a symbol of romance, becomes even more enchanting on New Year's Eve.
As the clock strikes midnight, a dazzling fireworks display bursts over the Parisian skyline, casting a warm glow over the city.
Watching the Eiffel Tower light up with fireworks on New Year's Eve is an experience you'll cherish forever.
Kiribati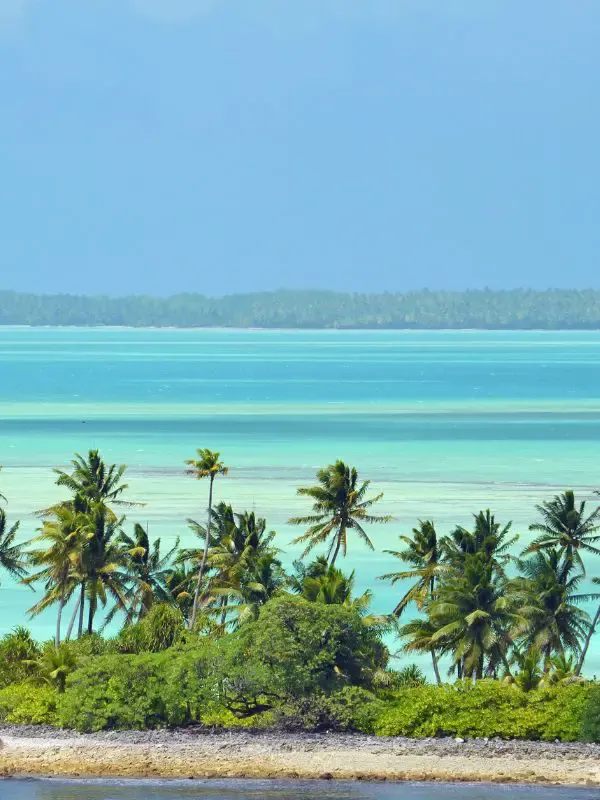 You might not have heard of Kiribati, but it is one place that should definitely be on your New Year's Eve bucket list! 
Why? 
Well, it's the first place in the world to celebrate the New Year! Yes, that's right, the clock strikes twelve in Kiribati before anywhere else on the planet.
One of the most popular ways to celebrate New Year's Eve in Kiribati is by gathering on the beautiful beaches for bonfires and traditional storytelling.
American Samoa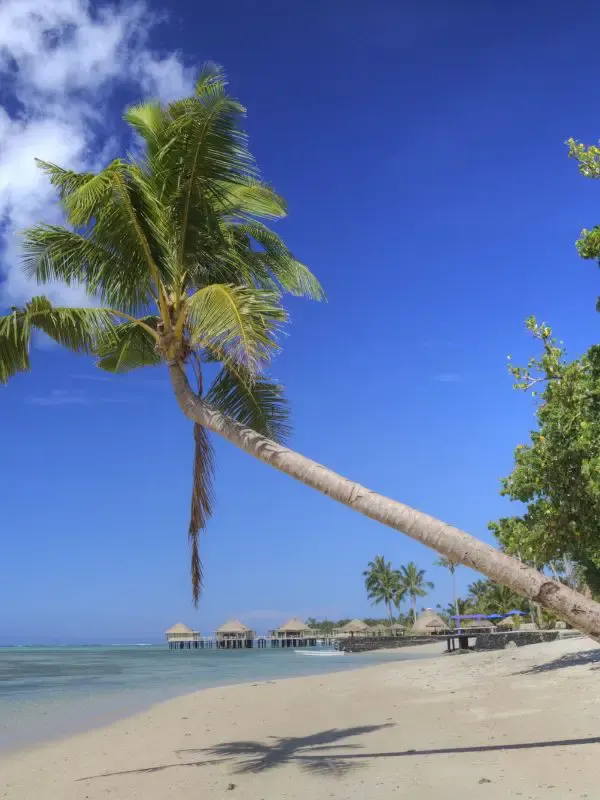 So you you the first place that starts the new year, but how about the last? 
Spending New Year's Eve in American Samoa is a tranquil and culturally enriching experience.
Located in the heart of the South Pacific, this U.S. territory welcomes the New Year with a unique blend of traditional Polynesian customs and island hospitality.
As the clock strikes midnight, locals gather for a 'Taualuga,' a graceful and rhythmic Samoan dance that celebrates the transition to a new year.
Bonfires illuminate the night, and melodious singing fills the air.
The warm tropical climate, pristine beaches, and welcoming Samoan spirit create a serene atmosphere for reflection and celebration, making New Year's Eve in American Samoa a one-of-a-kind experience.
New Year's Eve Bucket List For Those Closer To Home
While the fun travel ideas above are amazing, what if you can't quite make it abroad this year? 
Never-fear, we we have some awesome things to do for those planning a New Year's at home. 
Watch the sunrise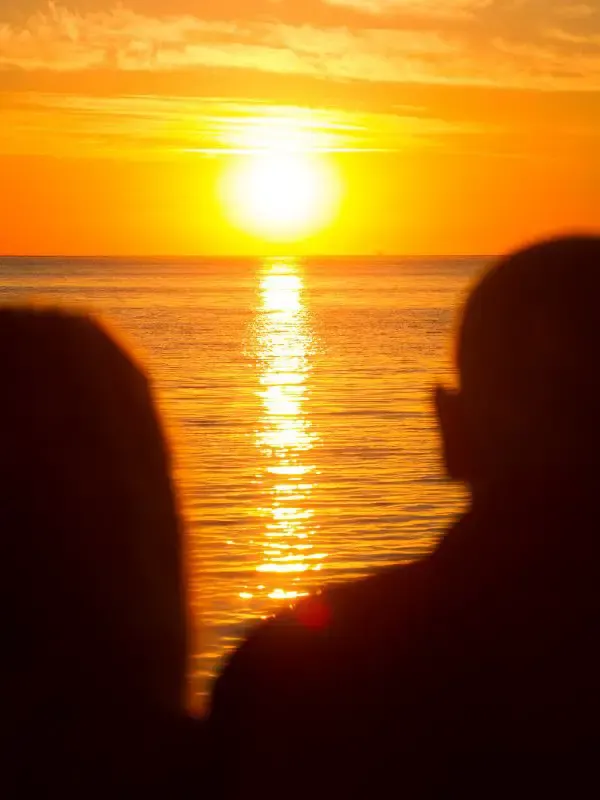 There's something about watching the sun come up that feels incredibly peaceful and romantic and what better way to celebrate the new year than by watching the first sunrise of the year? 
Eat 12 Grapes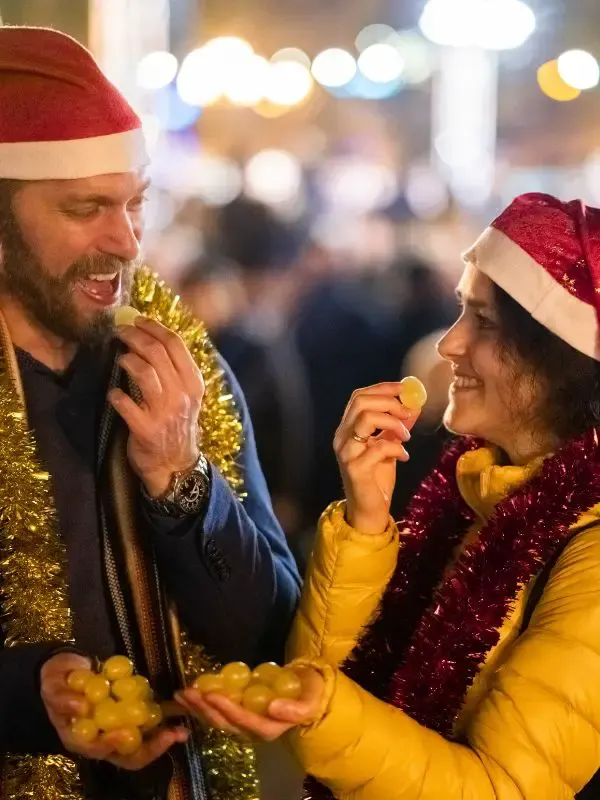 Make like the Italians and Spanish and eat one grape for every chime of the clock at midnight on New Year's Eve. 
This fun (and tasty!) tradition is thought to bring prosperity and good luck. 
Jump Over 7 Waves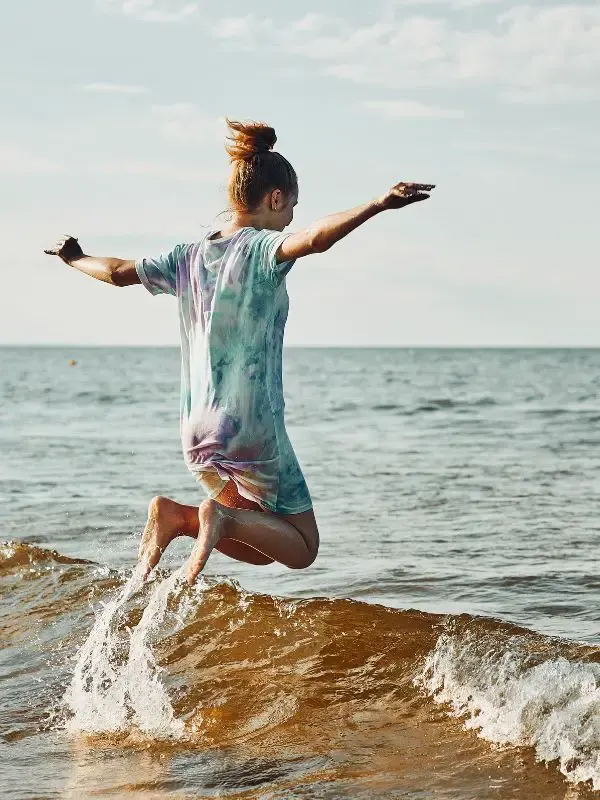 If you live near the shore, why not adopt a fun Brazilian tradition and jump over 7 waves for good luck? 
Become A "First Footer"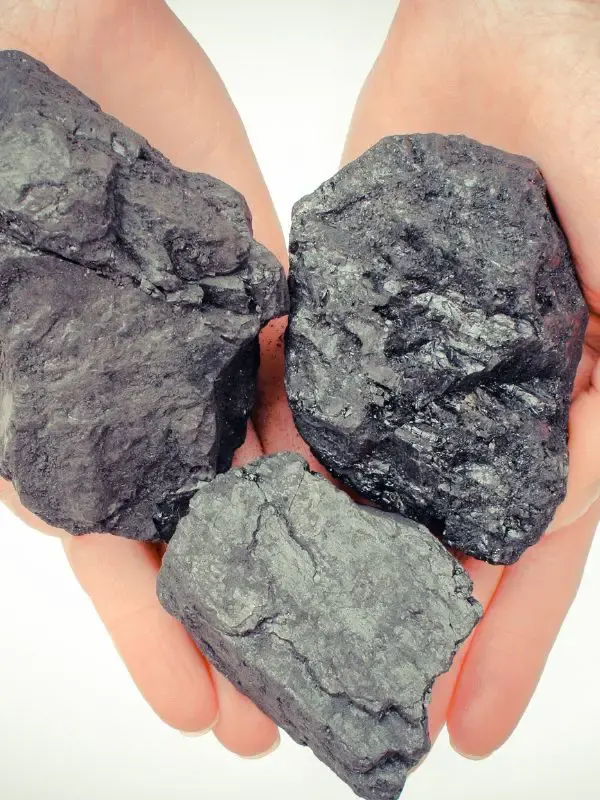 First footing is a traditional custom from Scotland, on Hogmany (Scottish New Year's Eve). 
It involves the first person to enter a home after the stroke of midnight, often bringing symbolic gifts and best wishes for the coming year.
The "first footer" is believed to bring luck and prosperity to the household for the upcoming year.
Traditionally, the first footer should possess certain qualities, including being male, tall, dark-haired, and handsome.
The first footer typically carries symbolic items, such as:
A piece of coal, representing warmth and fuel for the home.
A loaf of bread, symbolizing food and sustenance.
A coin or money, signifying prosperity.
Salt, representing flavor and preservation.
A drink, often whisky, to toast to the health and happiness of the household.
Upon entering the home, the first footer exchanges greetings and well-wishes with the occupants and may offer a toast to the new year.
This tradition is a way of ensuring that the first person to enter the home in the new year brings positive vibes and blessings for the household.
Do A Polar Bear Plunge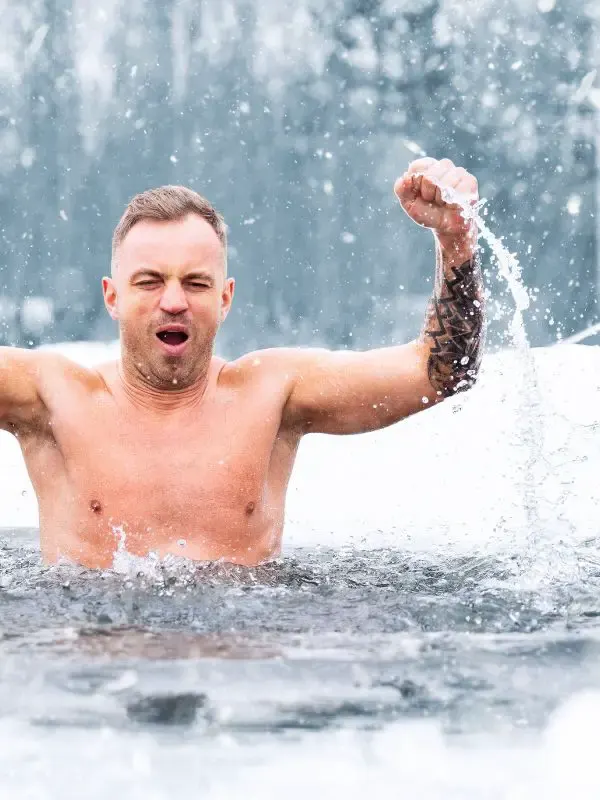 A New Year's Day polar bear plunge is an exhilarating tradition popular in Canada. 
During the plunge, people submerge themselves into frigid waters to welcome the first day of the year.
This icy plunge is not just a test of fortitude; it symbolizes a fresh start, shedding the old year's burdens and embracing new beginnings with invigorating resolve.
Walk Around With A Suitcase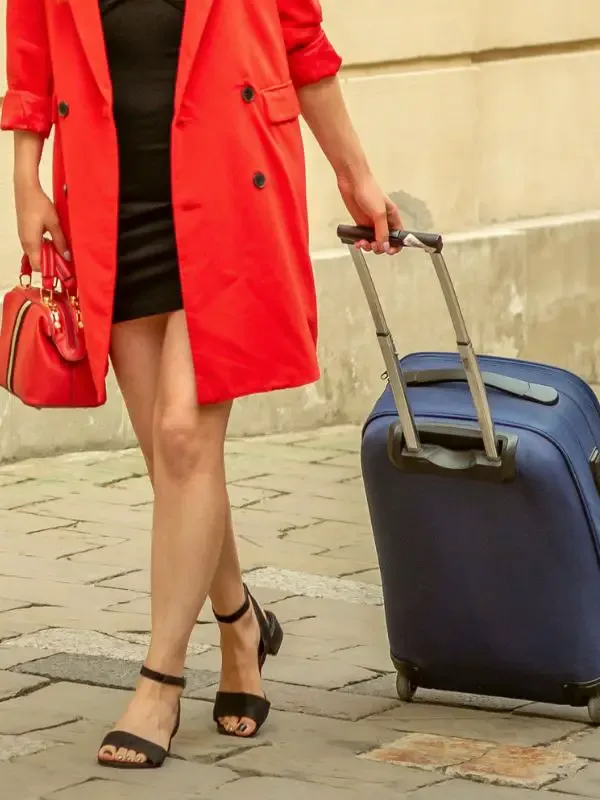 You might get some weird looks from the neighbours for this tradition. 
Walking around the block with an empty suitcase is a popular New Year's tradition in Columbia.
Eat "Hoppin" John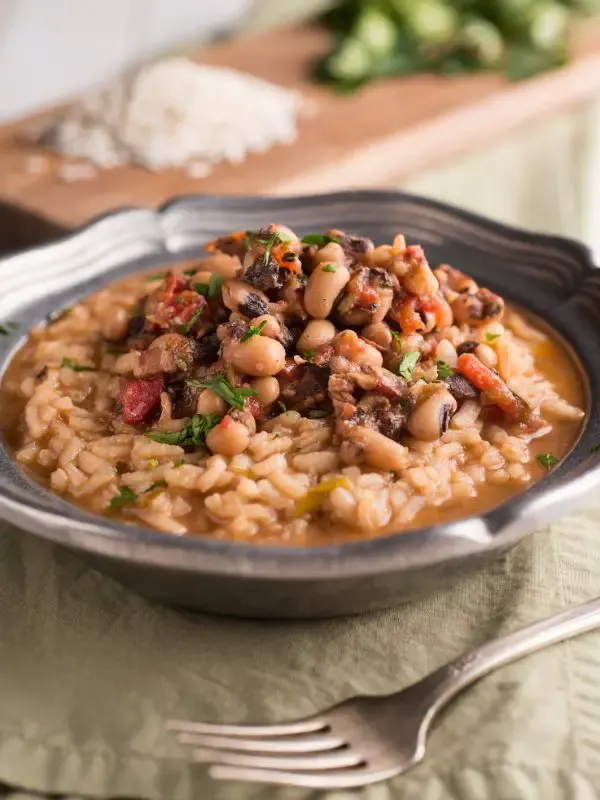 A tasty tradition from the US south, Hoppin John. is a delicious meal to enjoy on New Year's Eve.
Hoppin' John consists of three main ingredients:
Black-eyed peas: These legumes are a symbol of good luck in Southern traditions and represent coins.
Rice: Symbolizes wealth and prosperity.
Pork: Most commonly, a piece of salt pork, ham hock, or bacon flavors the dish. Pork represents progress and positive movement in the new year.
Some variations of Hoppin' John also include greens like collard greens or kale.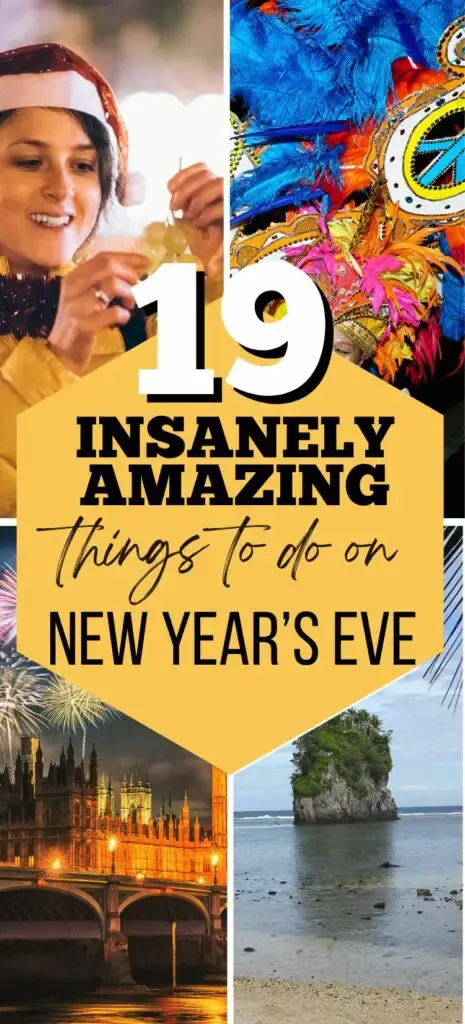 New Year's Eve Bucket List: Final Thoughts 
There are so many memorable ways to ring in the new year.
From the dazzling fireworks in Sydney, the iconic ball drop in New York City, or doing a polar bear plunge. 
No matter where you choose to spend New Year's Eve, make sure to savor the moment. 
Happy New Year!