If you love gothic and fun movies, then this Tim Burton Movie Bucket list is for you! 
t's been nearly three decades since Tim Burton's first feature film, "Pee-wee's Big Adventure," was released, and his distinctive style – characterized by its Gothic aesthetic and strong use of color – has become more popular than ever.
If you are a fan of his fun movies that are just a little bit kooky, you will love this free printable Tim Burton Movie Bucket list. Download it and start planning your movie marathon weekend! 
I've also included a free printable bingo that lists all of Tim Burton's movies so you can play along as you watch. 
So get your popcorn ready and start watching!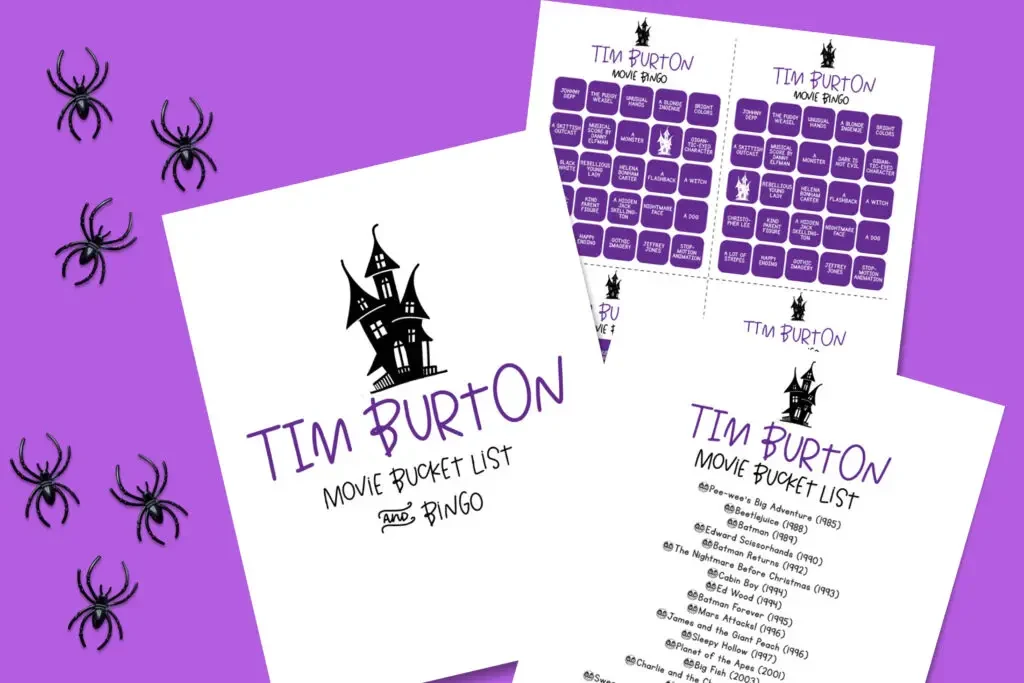 This post may contain affiliate links. Please read my Affiliate Disclosure for more information
MORE FUN MOVIE BUCKET LISTS
Fall Movie Bucket List – 25 Fall Movies Not To Be Missed
Disney Movie Bucket List – 50 Must-Watch Disney Movies
Tim Burton Movie Bucket List
Pee-wee's Big Adventure (1985)
Pee-wee's Big Adventure is a 1985 American adventure comedy film and Tim Burton's feature film debut.
The screenplay was written by Phil Hartman and Paul Reubens, who also stars as the title character. The plot follows Pee-wee Herman as he goes on a cross-country road trip in search of his stolen bicycle.
Beetlejuice (1988)
Beetlejuice is a 1988 comedy horror film that is a cult classic.
The plot follows a recently deceased couple who hire a biopic ghost to scare away the new residents of their home.
Batman (1989)
When it comes to Tim Burton movies, few are as iconic as Batman.
The 1989 film starring Michael Keaton as the Caped Crusader and Jack Nicholson as the Joker is a masterpiece of Burton's dark and gothic aesthetic.
The film's success ushered in a new era of superhero films and cemented Burton as one of Hollywood's most creative minds.
Edward Scissorhands (1990)
An American gothic romance, "Edward Scissorhands" tells the story of an artificial man with scissor blades for hands who is taken in by a suburban family after being found alone in a castle.
Although he is initially welcomed, Edward's strange appearance and unusual behavior eventually lead to him being rejected by the community.
Batman Returns (1992)
Batman Returns is the second movie in Tim Burton's Batman series. It stars Michael Keaton as Bruce Wayne/Batman, Danny DeVito as the Penguin, and Michelle Pfeiffer as Catwoman.
The Nightmare Before Christmas (1993)
The Nightmare Before Christmas is one of Tim Burton's most iconic films.
The stop-motion animated musical centers on Jack Skellington, the "Pumpkin King" of Halloweentown. 
He becomes bored with scaring humans and decides to kidnap Santa Claus.
While The Nightmare Before Christmas may be Burton's most family-friendly film, it is still has all of his signature dark and gothic aesthetic.
Cabin Boy (1994)
This comedy stars Chris Elliott as Nathanial Mayweather, a spoiled rich boy who is stranded on a yacht with a bunch of blue-collar workers.
Ed Wood (1994)
Ed Wood portrays the life of the eponymous cult filmmaker, who is notorious for making films that are schlocky, weird, and low-budget.
Mars Attacks! (1996)
Mars Attacks is a satirical parody of the War of the Worlds invasion story, and depicts an alien invasion of Earth by Martians.
James and the Giant Peach (1996)
James and the Giant Peach is a 1996 live-action/animated musical fantasy film based on the 1961 novel of the same name by Roald Dahl.
Sleepy Hollow (1999)
Sleepy Hollow is based on the 1820 short story "The Legend of Sleepy Hollow" by Washington Irving. It marked Burton's fourth film collaboration with Depp
Planet of the Apes (2001)
It's no wonder that one of Tim Burton's most popular films is a reboot of the classic science fiction tale Planet of the Apes.
Burton's version is a visually stunning film that imagines a world where apes have evolved to become the dominant species and humans are little more than animals.
The film follows astronaut Leo Davidson (Mark Wahlberg) as he crash-lands on this strange planet and must team up with the apes to survive.
Big Fish (2003)
Burton's 2003 film Big Fish is a prime example of the director's style. The movie tells the story of Edward Bloom (played by Ewan McGregor), a man who has spent his life telling tall tales about his adventures.
As Edward nears the end of his life, his son Will (played by Billy Crudup) tries to learn the truth behind his father's stories.
Charlie and the Chocolate Factory (2005)
In 2005, Tim Burton directed a remake of the 1964 classic Charlie and the Chocolate Factory. The film starred Johnny Depp as Willy Wonka and Freddie Highmore as Charlie Bucket. 
Corpse Bride (2005)
This film tells the story of Victor, a young man who is to marry Victoria, the daughter of a wealthy family.
When Victor's best friend, Emily, dies, he finds himself married to her corpse.
Sweeney Todd: The Demon Barber of Fleet Street (2007)
Burton's gothic and macabre style is on full display in Sweeney Todd, which features some of the director's most nightmarish images.
The film is visually stunning, with lavish production design and cinematography that make it one of Burton's most beautiful films.
9 (2009)
9 is a post-apocalyptic science fiction film set in a world where humanity is on the brink of extinction. The film follows the journey of nine rag dolls who are brought to life by a scientist in an attempt to save the world.
Alice in Wonderland (2010)
This classic fantasy adventure film stars Burton favorites like Johnny Depp and Helena Bonham Carter.
Dark Shadows (2012)
Dark Shadows is a 2012 American gothic supernatural horror comedy film and based on the 1966–1971 television series of the same name.
The film stars Johnny Depp as Barnabas Collins, a 200-year-old vampire who is inadvertently freed from his coffin and returns to his ancestral home, where he must save his dysfunctional family from ruin while also dealing with his own bloodthirsty appetites.
Frankenweenie (2012)
Frankenweenie is a cute movie about a boy, Victor Frankenstein who brings his dog, Sparky, back to life after he dies.
Abraham Lincoln: Vampire Hunter (2012)
This movie is based on the novel of the same name by Seth Grahame-Smith. It tells the story of Abraham Lincoln's secret life as a vampire hunter.
The movie was not too popular with critics, but it did have its fans. Some people loved the idea of a historical figure like Abraham Lincoln fighting vampires, while others thought it was a ridiculous concept.
Big Eyes (2014)
In Big Eyes, Burton again examines the cult of celebrity and the dark side of human nature, this time through the true story of Margaret Keane.
She was the artist behind the popular "big eyes" paintings of the 1950s and 1960s.
Alice Through the Looking Glass (2016)
The follow on from the Alice in Wonderland movie tells the story of Alice Kingsleigh who must marry a wealthy lord or else lose her family's estate.
She flees to a fantastical world she previously found in an old mirror and there she learns of her true destiny: to end the Red Queen's reign of terror.
Miss Peregrine's Home for Peculiar Children (2016)
The story follows Jake (Butterfield), a teenager who discovers that his grandfather's stories of an orphanage for children with extraordinary abilities are true. 
He soon learns that monsters called Hollowgasts are hunting the children and that he must help protect them while also uncovering the truth about his grandfather's past.
Dumbo (2019)
Dumbo tells the story of a young circus elephant who with oversized ears who the other circus animals and humans make fun of. 
A mouse named Timothy eventually takes him under his wing and helps him learn to fly
Why Do We All Love Tim Burton Movies?
Even as he moves away from the darker tones of his early work, Burton's films retain their sense of whimsy and magic, making him one of the most successful filmmakers today.
Tim Burton Movie Bucket List Free Printable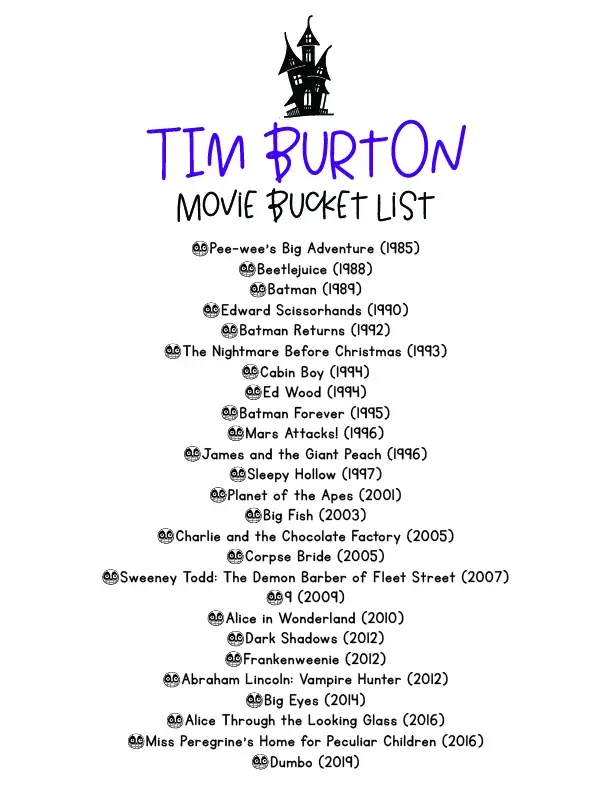 To get your free printable Tim Burton Movie bucket list and the bingo game, just click here for your instant download.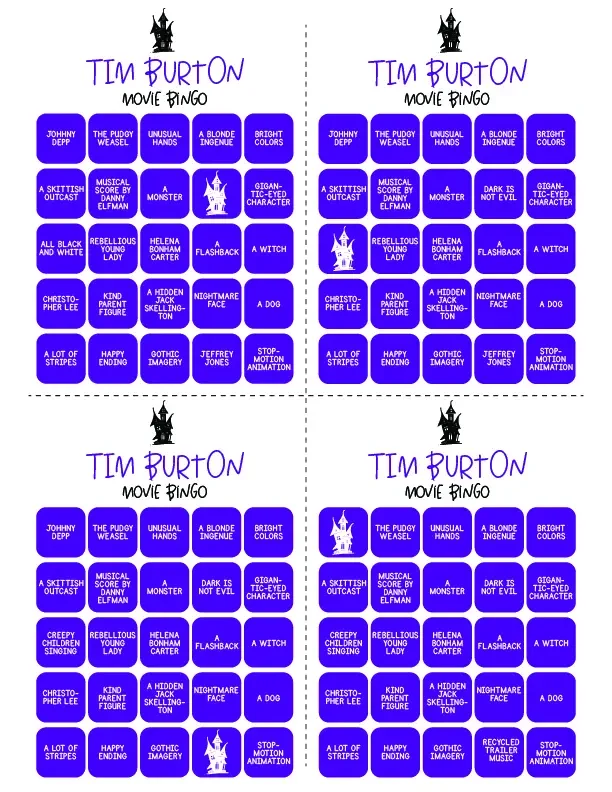 Comment below to tell me your favorite Tim Burton movie!