This Saskatchewan bucket list is packed with the best things to visit, see and do in the heart of Canada. 
Whether you are going for a week or a month, there really is something for everyone in the Prairie province.
Grab your map and let's start exploring.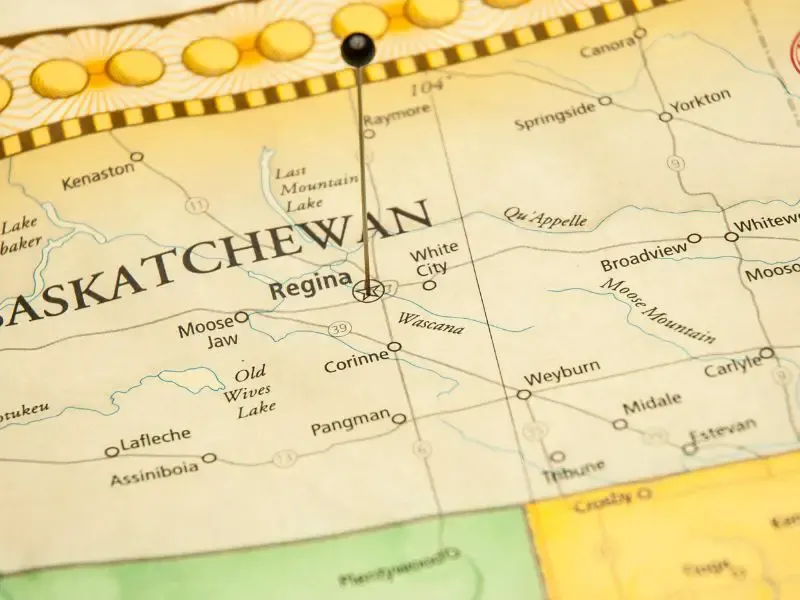 This post may contain affiliate links. Please read my Affiliate Disclosure for more information.
MORE FUN BUCKET LISTS
Canada Bucket List (50 Things To Do and See in Canada)
Camping Bucket List: Camping Bucket List Ideas
The Great Saskatchewan Bucket List
Grasslands National Park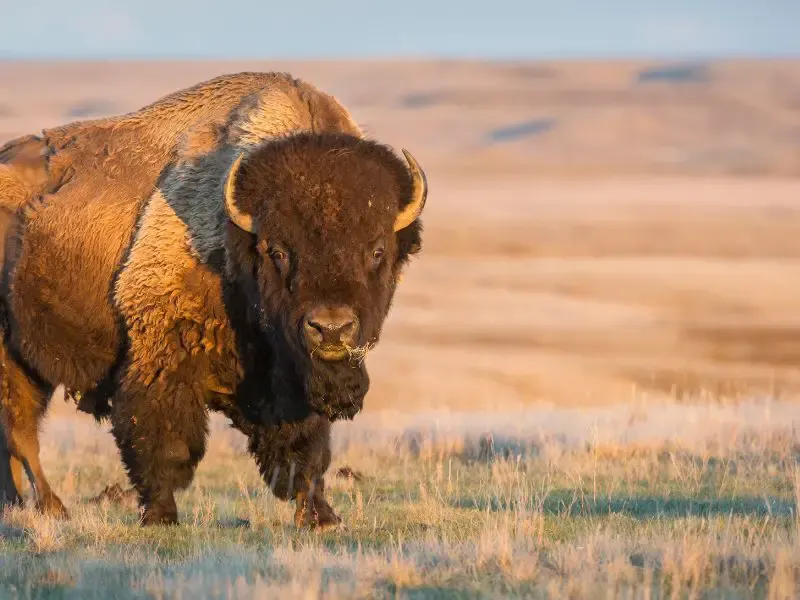 Grasslands National Park is the perfect place to visit if you want to soak up Saskatchewan's natural environment. 
With its rolling grasslands, rugged badlands, and diverse wildlife, this park offers a truly unique experience. 
Explore the park's trails on foot or horseback, witness the incredible star-filled night sky, and keep an eye out for bison, pronghorns, and coyotes along the way.
Royal Saskatchewan Museum
For history buffs and curious minds, the Royal Saskatchewan Museum in Regina is a must-visit. 
Step back in time as you explore fascinating exhibits that showcase the province's natural history and cultural heritage. 
From dinosaur fossils to Indigenous artifacts, the museum provides an immersive experience that brings Saskatchewan's past to life.
Qu'Appelle Valley
Escape into the picturesque Qu'Appelle Valley, a hidden gem of Saskatchewan. 
This enchanting landscape is characterized by its rolling hills, sparkling lakes, and charming towns. 
Take a leisurely drive along the valley, stopping at various viewpoints to soak in the breathtaking scenery. 
If you're up for an adventure, indulge in water activities like kayaking, and fishing, or simply enjoy a peaceful picnic by the shores.
Wanuskewin Heritage Park
Immerse yourself in Indigenous culture and history at the Wanuskewin Heritage Park, located just outside of Saskatoon.
 This sacred site offers a profound experience through interactive exhibits, traditional ceremonies, and guided tours. 
Learn about the rich heritage of the Northern Plains Indigenous peoples, explore archaeological sites, and walk the trails to connect with the natural beauty of the area.
Athabasca Sand Dunes Provincial Park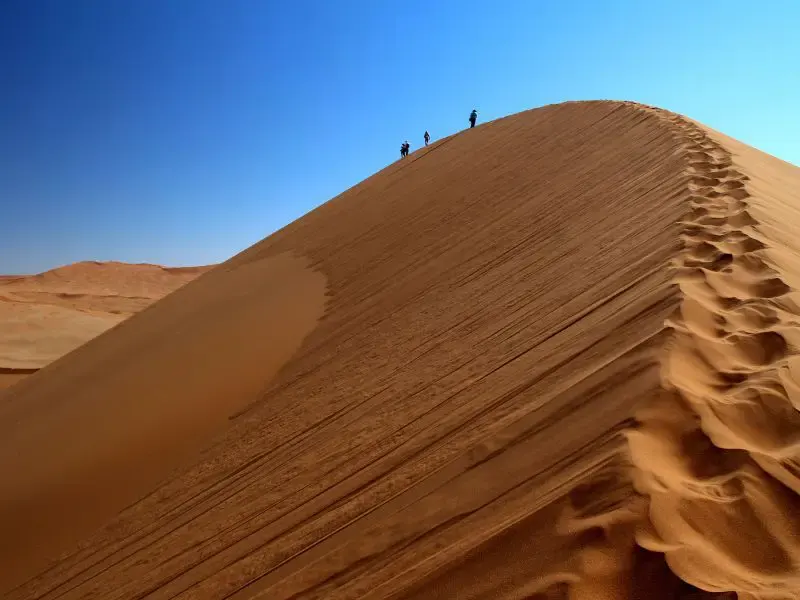 Venture north to Athabasca Sand Dunes Provincial Park, the largest active sand dune area in North America. 
This remote and awe-inspiring destination is accessible by floatplane or boat, adding a sense of adventure to your journey. 
Marvel at the massive sand dunes, hike through the unique landscape and immerse yourself in the tranquillity of this pristine wilderness.
Away from the light pollution of cities, the dark skies of the Athabasca Sand Dunes provide the perfect canvas for the ethereal green, purple, and blue hues of the Northern Lights too. 
Moose Jaw Tunnels
Uncover the hidden secrets of Moose Jaw by exploring the infamous Moose Jaw Tunnels. 
These underground passages, originally built for the city's early Chinese immigrants, were later used for illicit activities during the Prohibition era. 
Take a guided tour and hear captivating stories of bootlegging, gangsters, and the city's intriguing past.
Cypress Hills Interprovincial Park
Nestled on the border between Saskatchewan and Alberta, Cypress Hills Interprovincial Park offers a welcome escape from the prairie landscape. 
This oasis of forests, rolling hills, and sparkling lakes is perfect for outdoor enthusiasts. 
Enjoy hiking, mountain biking, fishing, or even try your hand at geocaching, all while taking in the serenity of this hidden gem.
Saskatchewan Science Centre
If you're traveling with kids or simply have a curious mind, the Saskatchewan Science Centre in Regina is a fantastic place to explore. 
With interactive exhibits, educational programs, and engaging demonstrations, the Science Centre brings science and technology to life. 
Don't miss the opportunity to participate in hands-on experiments and uncover the wonders of the world around us.
Prince Albert National Park
For a true Canadian wilderness experience, head to Prince Albert National Park. 
This sprawling park boasts dense forests, pristine lakes, and an abundance of wildlife. 
Embark on a canoeing adventure, hike through picturesque trails, or go wildlife spotting. 
Keep an eye out for majestic moose, the elusive black bear, and the iconic woodland caribou.
Wanuskewin Heritage Park
Rounding out our list is the vibrant city of Saskatoon, home to the stunning Wanuskewin Heritage Park. 
This urban oasis offers a unique blend of cultural experiences, delicious cuisine, and beautiful riverfront views. 
Explore the city's art galleries, visit the vibrant Farmers' Market, and stroll along the scenic Meewasin Trail. 
Saskatoon's warm hospitality and dynamic atmosphere will leave you wanting to come back for more.
Wood Mountain Stampede
If you're looking to experience the true essence of Saskatchewan's Western heritage, the Wood Mountain Stampede is an event that should be at the top of your bucket list. 
Held annually in the historic Wood Mountain region, this rodeo extravaganza captures the spirit of the Old West and offers a truly authentic cowboy experience. 
From heart-pounding rodeo competitions featuring bull riding and barrel racing to thrilling chuckwagon races, the Stampede showcases the skill, courage, and camaraderie of the talented riders.
Whether you're a rodeo enthusiast or simply eager to immerse yourself in the rich western heritage of Saskatchewan, attending the Wood Mountain Stampede  is a must on any Saskatchewan bucket list. 
Mackenzie Art Gallery 
The Mackenzie Art Gallery is a cultural gem that should be on every art lover's Saskatchewan bucket list. 
Located in Regina, this impressive gallery is renowned for its collection of Canadian and international art. 
With over 4,500 works, ranging from paintings and sculptures to photography and installations, the Mackenzie Art Gallery offers a diverse and thought-provoking artistic experience. 
Its exhibitions feature a blend of contemporary and historical art, showcasing the talents of both established and emerging artists. The gallery also hosts engaging educational programs, artist talks, and workshops, providing a deeper understanding of the art on display. 
Lake Diefenbaker 
Watching the rising sun over Lake Diefenbaker will feel you with a sense of wonder. 
This majestic gem deserves a spot on every Saskatchewan bucket list. 
Located in the heart of the province, this sprawling reservoir stretches across 225 kilometres and offers a wealth of outdoor adventures and breathtaking scenery. 
With its crystal-clear turquoise waters, sandy beaches, and rugged shoreline, Lake Diefenbaker is a paradise for water enthusiasts. 
Whether you're into fishing, boating, kayaking, or swimming, the lake provides ample opportunities to dive into thrilling water activities. 
Hunt Falls
The largest waterfall in the province, Hunt Falls is surrounded by untouched wilderness and is one of Canada's unforgettable natural wonders. 
The most practical way to get there is by float plane from Stony Rapids, about 40 km away. Float planes can land on Eagle Rock Lake, just above the falls, and taxi into a small protected cove.
​Castle Butte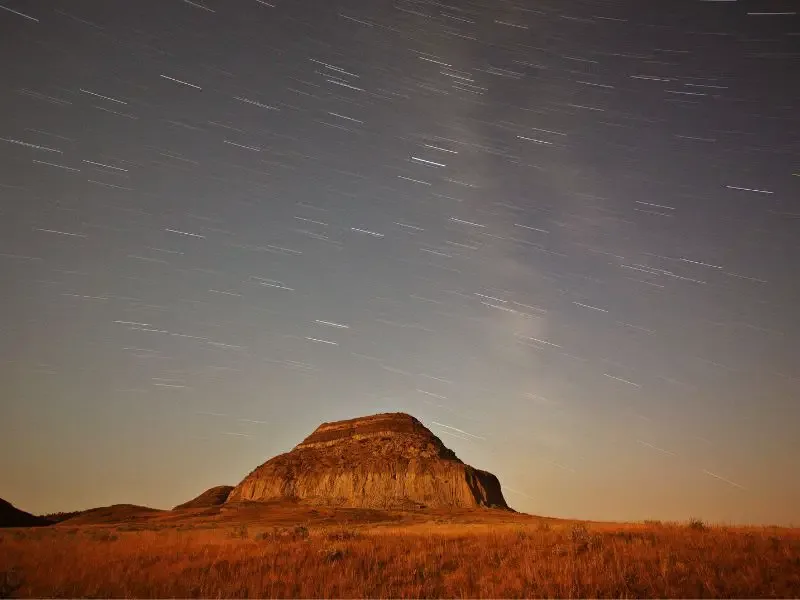 Castle Butte is an awe-inspiring natural wonder that simply cannot be missed on anyone's Saskatchewan bucket list. 
Rising majestically from the big muddy badlands,  this is one of the best sandstone formations in the World. 
The towering sandstone cliffs, eroded by wind and water over centuries, create an otherworldly ambiance that transports visitors to a different time. 
Exploring Castle Butte is like stepping into a prehistoric world, where you can hike its rugged trails, climb its ancient rocks, and marvel at the panoramic views from its summit. 
This geological marvel is not only visually captivating but also holds cultural and historical significance. 
Churchill River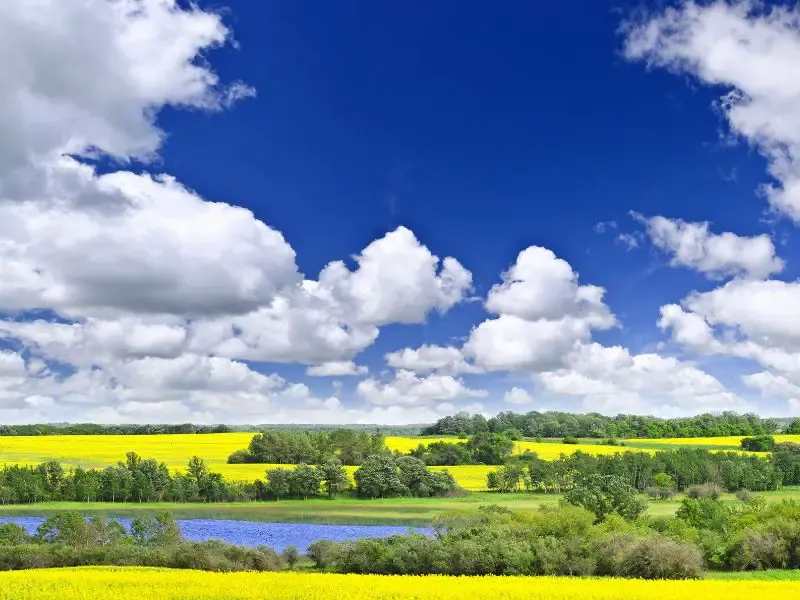 If you are feeling adventurous, explore the power of Saskatchewan with a canoeing trip down the majestic Churchill River. 
 Flowing through pristine boreal forests, this majestic river offers an unparalleled opportunity to immerse yourself in the untouched wilderness of the province. 
As you paddle along its tranquil waters, you'll encounter breathtaking landscapes, abundant wildlife, and the soothing sounds of nature. 
Hudson Bay Museum
The Hudson Bay Museum is a cultural treasure that should not be missed on your Saskatchewan adventure.
Located in the historic town of Hudson Bay, this museum has displays of a tea room, kitchen, living room, doctor's office, drugstore, hair salon, school room, general store and lots of interesting information about the history of the far north. 
Little Manitou Lake
This is one of the most wonderful places to visit in the warmer months if you are in the Saskatoon area. It is the perfect spot to cool down with a swim and float – the lake has about half the salinity of the Dead sea making it a fun place to just lay around. 
'Lake Manitou beach is great for kids and makes for a fun day out for the whole family. 
5 Festivals and Events To Visit In Saskatchewan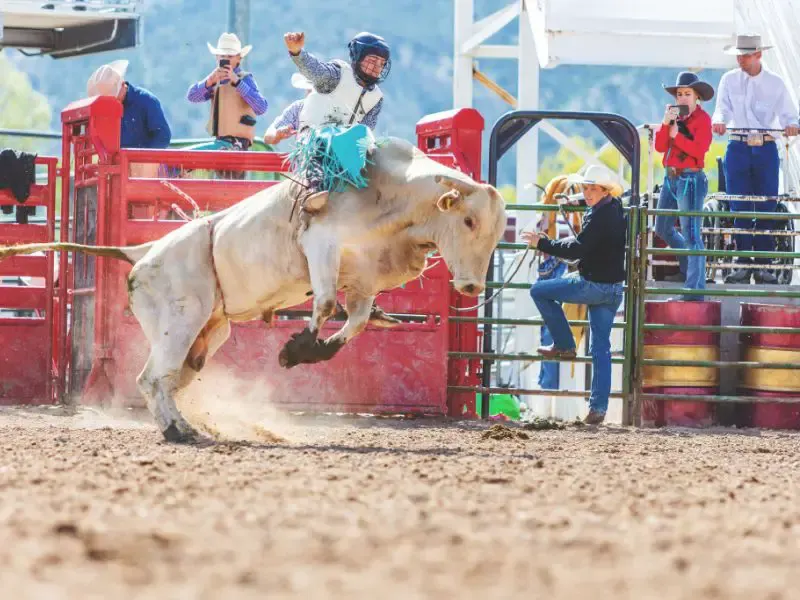 Regina Folk Festival
The Regina Folk Festival is a beloved annual event that brings together music lovers from near and far.
Held in Victoria Park, this three-day festival showcases an impressive lineup of local, national, and international musicians across multiple stages. 
From folk and indie rock to world music and everything in between, the festival offers a diverse range of musical genres. 
With its vibrant atmosphere, food vendors, and interactive workshops, the Regina Folk Festival is a celebration of music, community, and creativity.
Saskatoon Fringe Theatre Festival
For theater enthusiasts, the Saskatoon Fringe Theatre Festival is a must-attend event.
 Taking place in the heart of downtown Saskatoon, this ten-day festival features an array of independent theater productions from both local and international artists.
From comedy to drama, from one-person shows to ensemble performances, the festival showcases a wide variety of theatrical experiences. 
Waskesiu Lakeside Music Festival
Nestled in the picturesque Prince Albert National Park, the Waskesiu Lakeside Music Festival combines the beauty of nature with the power of music. 
This outdoor festival takes place on the shores of Waskesiu Lake and features a diverse lineup of musical acts.
From folk and country to blues and rock, the festival offers a laid-back and family-friendly atmosphere.
Moose Jaw Sidewalk Days Festival
The Moose Jaw Sidewalk Days Festival is a vibrant celebration of art, music, food, and community spirit.
Held in downtown Moose Jaw, this annual event spans several days and attracts visitors from all over the province.
The festival features live music performances, street entertainers, artisans, food vendors, and a lively carnival atmosphere.
From sidewalk sales and outdoor patios to interactive activities for all ages, the Moose Jaw Sidewalk Days Festival is a perfect opportunity to experience the lively charm of this historic city.
Craven Country Jamboree
Country music enthusiasts won't want to miss the legendary Craven Country Jamboree.
Located in the small town of Craven, this four-day festival is a highlight for country music fans in Saskatchewan and beyond. 
From camping under the stars to dancing the night away, this festival promises a memorable country music celebration in the heart of the Canadian prairies.
Saskatchewan Bucket List: Final Thoughts
Saskatchewan is a province brimming with natural beauty, captivating history, and unforgettable experiences.
From the vast prairies to the hidden gems, this province has something for every type of traveler.
As you embark on your Saskatchewan adventure, make sure to add these must-visit attractions to your bucket list. I guarantee you'll leave with cherished memories and a deep appreciation for the wonders of this remarkable province. Happy exploring, eh