This food bucket list USA is packed with tasty treats that will have you anxious to start a cross country road trip.
If you're looking for a country to explore, the United States of America is definitely worth considering. Not only are there endless places to go and things to see, but the food here is also some of the best in the world!
For those who love food, there is no better way to explore America than by completing a food bucket list. Here are the must try foods and drinks in America – this list includes every single state and the signature foods and drinks that you can't miss on your travels.
This bucket list includes a free printable list that you can download and use on your next USA road trip too.

Food Bucket List USA
When it comes to food, the United States of America is a top destination. There are so many different types of cuisine to choose from, and the quality is generally quite high. But why is this? What makes American food and drink so special?
One reason could be the sheer size of the country. With such a diverse landscape, it's no surprise that there are all sorts of different flavors and cooking styles to be found. From seafood in New England to Tex-Mex in Texas, there's something for everyone.
Another factor could be the country's melting pot culture. Since America is home to people from all over the world, you can find cuisines from all corners of the globe here. This gives Americans a huge range of options when it comes to dining out or cooking at home.
MORE FUN BUCKET LISTS
The Ultimate Foodie Bucket List: 51 Ideas For Food Lovers
Top Ten Cities To Visit In Europe: European City Bucket List
The Best Foods And Drinks In Every US State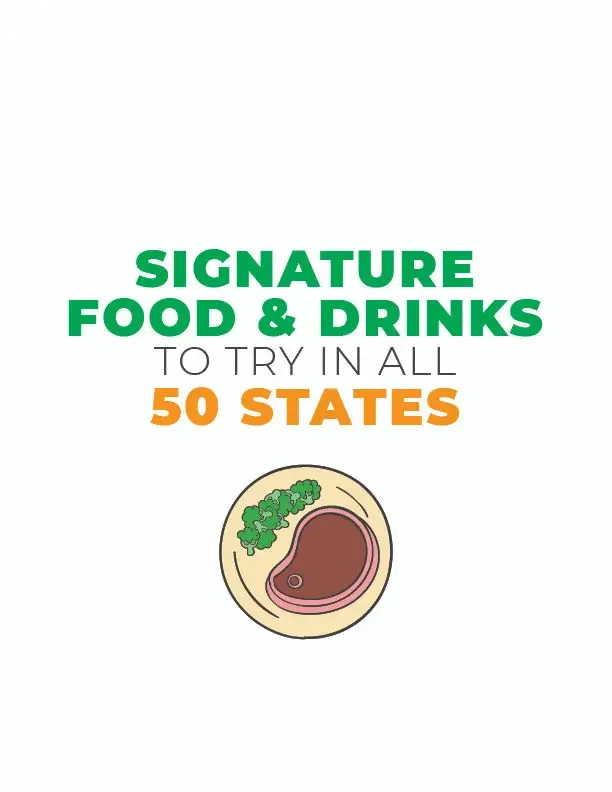 Alabama
Pecan Pie
Fried Green Tomatoes
Shrimp and Grits
Collard Greens
Classic Southern Smothered Pork Chops
Alaska
Reindeer Sausage
Kind Crab Legs
Berry Cobbler
Smoked Salmon
Fish & Chips
Arizona
Fry Bread
Medjool Dates
Sonoran Hot Dog
Cheese Crisp
Prickly Pear Margarita
Arkansas
Fried Catfish
Cheese Dip
Fried Pickles
Sugared Rice
Chocolate Gravy
California
California Burrito
Fish Tacos
Cioppino
French Dip
California Style Pizza
Colorado
Rocky Mountain Oysters
Lobster Macaroni and Cheese
Truffle Fries
Pineapple upside down pancakes
Connecticut
Lobster Rolls
Carpetbaggers
Steamed Cheeseburger
Apple Cider
White Clam Pizza
Delaware
The Bobbie
Chicken and Slippery Dumplings
Blue Claw Crabs
Fries with Vinegar
Italian Water Ice
Florida
Ceviche
Stone Crabs
Fritas
White Ale
Conch Fritters
Georgia
Pimento Cheese
Boiled Peanuts
Vidalia Onions
Meat and Three
Georgia Wild Shrimp
Hawaii
Kona Coffee
Pipikaula
Poke Bowls
Shaved Ice
Kalua Pig
Idaho
Ice Cream Potato
Finger Steaks
Huckleberry Milkshake
Monkey Fries
Beef Tongue
Illinois
Bacon-wrapped Chorizo stuffed dates
Deep Dish Pizza
Apple Fritter
Grand Champion Baby Back ribs
Pizza Pot Pie
Indiana
Coney Dog
Breaded Pork Tenderloin Sandwich
Roast Beef Manhattan
Sugar Cream Pie
Fried Bologna Sandwich
Iowa
Hot Beef Sandwich
Iowa Sweet corn
Scotcheroos
Steak de Burgo
Morel Mushrooms
Kansas
Barbecue Ribs
Chili and Cinnamon Rolls
Barbecue Hot Wings
Chicken Fried Steak
Pot Roast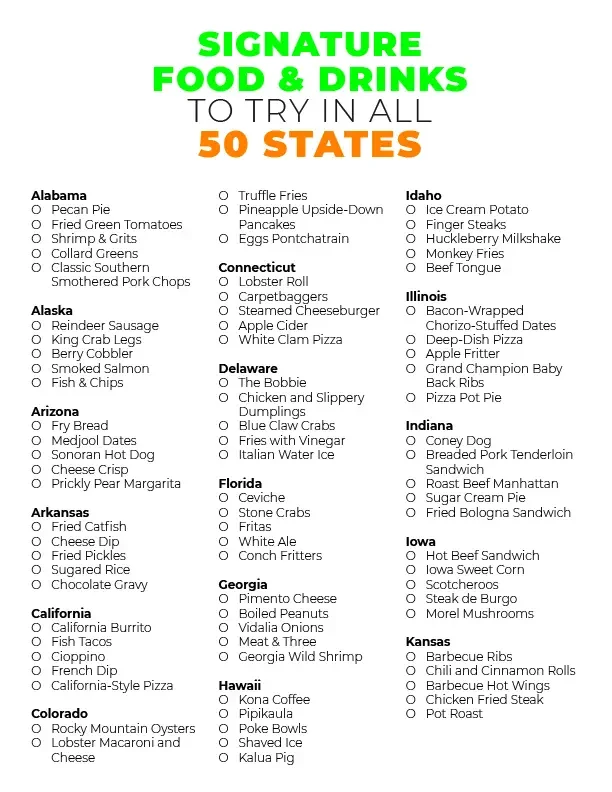 Kentucky
Mint Julep
Deviled Eggs
Spoon Bread
Goetta
Burgoo
Louisiana
Po'boy
Jambalaya
Boiled Crawfish
Gumbo
Boudin Sausage
Maine
Lobster Roll
Wild Blueberries
Whoopie Pies
Red Snappers
Peekytoe Crab
Maryland
Crab Cakes
Pit Beef
Smith Island Cake
Thrasher's Fries
Chicken a la Maryland
Massachusetts
Boston Cream Pie
Fluffernutters
Grilled Blueberry Muffins
Boston Baked Beans
Apple Cider Doughnuts
Michigan
Pasties
Detroit Pizza
Hummer Cocktail
Mackinac Island Fudge
Coney Dog
Minnesota
Honey crisp Apples
Swedish Meatballs
Wild Rice
Polish Sausage
Cheese Curds
Mississippi
Mississippi Mud Pie
Po'boys
Biscuits and Tomato Gravy
Hamburger Steak
Chicken and Dumplings
Shrimp or Crawfish Etoufee
Missouri
Gooey Butter Cake
St Louis-Style Pizza
Toasted Ravioli
Kansas City BBQ
Concretes
Nebraska
Rocky Mountain Oysters
Cheese Frenchees
Reuben Sandwiches
Cheeseburger Pizza
Sonic Screwdriver
Nevada
Shrimp Cocktail
Chateaubriand
Basque Food
Chorizo Sandwiches
Steak
New Jersey
Pork Roll
Hoagies
Salt Water Taffy
Tomato Pie
Hot dogs
New Mexico
Roasted Green Chiles
Blue Corn Atole
Fry Bread Tacos
Sopapillas
Stacked Enchiladas
New York
Buffalo Wings
Eggs Benedict
Garbage Plates
Chicken Riggies
Spiedies
North Carolina
Carolina Pulled Pork BBQ
Eastern & Lexington Style BBQ
Deviled Eggs
Cheerwine Float
Red Slaw
North Dakota
Chocolate Covered Potato Chips
Knoepia
Fleishkuekle
Hotdish
Hot Beef Sandwich
Ohio
Buckeyes
Cheese Coney
Goetta Sausage
Barbeton Chicken
Polish Boy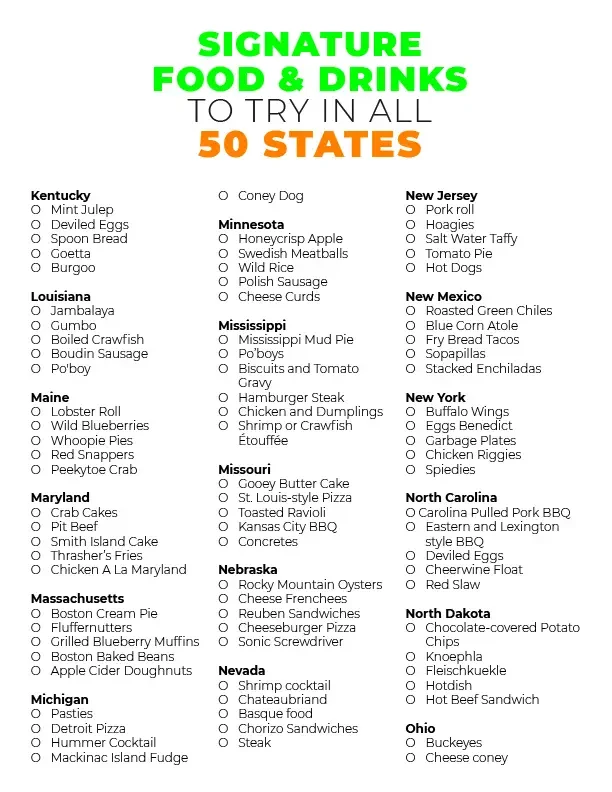 Oklahoma
Chicken-Fried Steak
Fried-Onion Burger
Indian Taco
Banh Mi
Theta Burger
Oregon
Tator Tots
Meatball Sandwich
Cuban Sandwich
Marionberry Pie
Maple Bacon Donut
Pennsylvania
Stromboli
Cheesesteak
Scrapple
Shoofly Pie
Pierogis
Rhode Island
Clams Casino
"New York System" Wieners
JohnnyCakes
Clam Cakes
Stuffies
South Carolina
Shrimp and Grits
Frogmore Stew
Pimiento Cheese
Boiled Peanuts
Huguenot Torte
South Dakota
Kuchen
Indian Tacos
Walleye
Chislic
Wojapi
Tennesse
Fried Pies
Sweet Tea
Fried Catfish
Stack Cake
Memphis Ribs
Texas
Chili
Fried Okra
Tex-Mex Cheese Enchiladas
Chile Con Queso
Brisket Tacos
Utah
Utah Scones
Pastrami Burgers
Funeral Potatoes
Amish Chicken
Frog Eye Salad
Vermont
Maple Baked Beans
Gravy Fries /Poutine
Corn Fritters
Strawberry Rhubarb Pie
Fiddleheads
Virginia
Pimiento Cheese
Fried Pies
Ham & Biscuits
Apple Butter
Peanut Pie
Washington
Smoked Sockeye Salmon
Oyster Stew
Razor Clam Chowder
Cedar Planked Salmon
Fish & Chips
West Virginia
Pepperoni Rolls
Black Walnuts
Buckwheat Pancakes
West Virgina Slaw Dog
Dixie Dog
Wisconsin
Cheddar Beer Stew
Limburger Sandwich
Poached Burger
Wisconsin Kringle
Butter Burger
Wyoming
Bison Jerky
Chicken-Fried Steak
Elk
White Chili
Rack of Lamb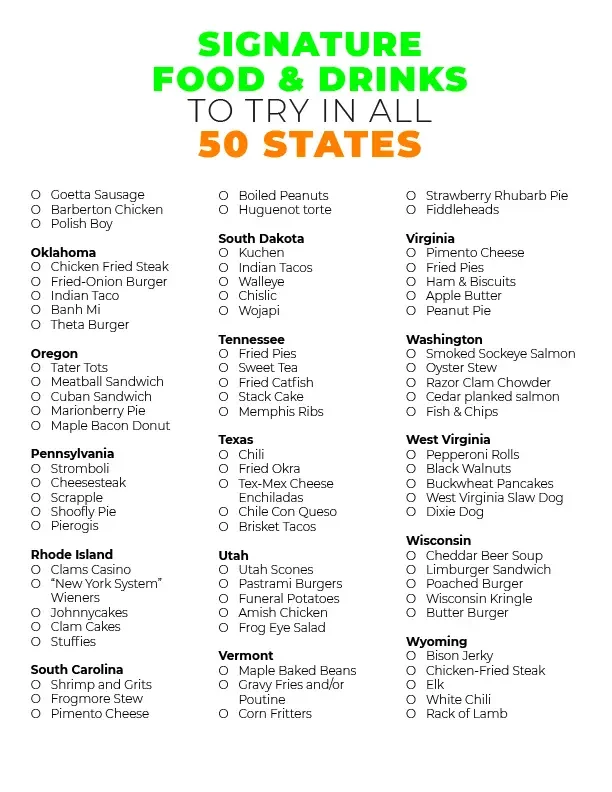 Free Printable Food Bucket list USA Checklist
Grab a free printable version of this bucket list so you can check it off as you try each delicacy.
Just click the link below to get your PDF copy